I was going to call this "lazy mom's home school preschool letters," but that's not quite accurate. It's not that I'm lazy, it's just that I need a SIMPLE way to teach my kids their letters, without spending a fortune on printer ink.
Pinterest is great, but I am not going to cut "A" stamps out of apples, y'all. I'm just not doing it.
I am going to share with you the exact plan and workbooks I used to teach my oldest child his letters. I am not a teacher, I have no magic method to make your kid read. I was just a mom with a nursing baby who had to get a kid ready for kindergarten at home. And this year, I'm a mom with a bottle-fed baby who has to get ANOTHER kid ready for kindergarten, and I'm going to use the exact same cheap home school workbooks.
And I'm going to read an excessive number of books to my kids, because that's my favorite way to expose them to letters.
This post may contain referral links to Amazon for these products. As an Amazon Associate I earn from qualifying purchases. It does not cost you extra to purchase through my links.
Best Workbooks for Easy Home school Preschool Letter Learning
Monday – Do-a-dot letter using do-a-dot markers.
There are lots of Do-a-Dot Alphabet workbooks available. I happen to like this one, A Dot Markers & Paint Daubers Kids Activity Book: ABC Coloring Book, because it has both upper case and lower case letters for preschoolers to learn. (I am aware that the graphics look cheap and the title is missing an apostrophe…I want easy and cheap, not fancy!)
It really doesn't matter which one you use, AS LONG AS THE LETTERS ARE ONLY ON ONE SIDE of the paper. Those dot markers bleed through like crazy. So, make sure to cut out the page before you use it. There are also some free versions of do-a-dot alphabets you can print at home if that's easier for your family. Again, just avoid the double-sided printing!
During your regular picture book reading, point out the letter at least 5 or 6 times.
Tuesday – Using the dot pages from Monday, show how to write the actual letter. During regular picture book reading, point out the letter at least 5 or 6 times.
Wednesday – Use old cereal or food box to make practice for the week's letter. All of my kids eat a lot of food, so I seem to always have an extra box. Use a marker to write the letters or numbers. Add a number or letter map, and a little letter search. Have your kids trace the letters with a highlighter, and find all of the focus-letter in the letter search. Don't forget the lower case letters!!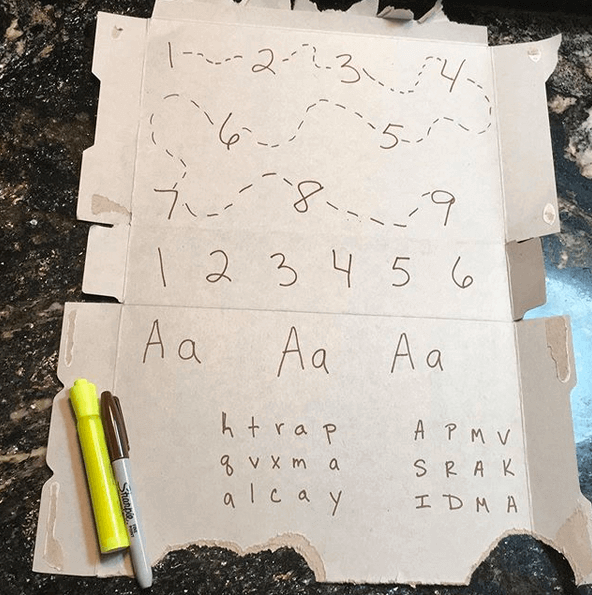 Or, do nothing but read today, because sometimes life is crazy.
Thursday – Do the letter worksheets from Scholastic Pre-Kindergarten Jumbo Workbook. (Here's a link to the workbook. Although now they're on a new edition, so the cover looks a little different.)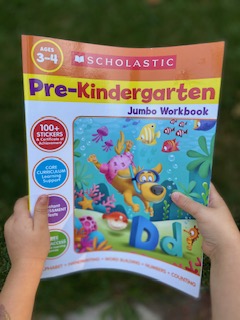 This is the book I used for my oldest, I'm going to use it again for my second preschooler this fall. There's nothing magical about it, I like it because it has EVERYTHING in one jumbo preschool workbook, it's in full color on every page, and it focuses more on lower case letters than upper case letters. (That is important for reading, because most of what we read is lower case.)
Heads up that the order of lessons might not be right for your kids. For example, writing the colors comes before just tracing different shapes. For this reason, I do not recommend just following the book exactly. Instead, I tend to jump around, keeping an eye on the difficulty of the page. I go through the letters in order because I'm not a psychopath.
Also, cutting is an important skill that can be really hard to master. After tracing the shapes, have your child practice cutting them out along the dotted line. (With supervision, of course!) Double use of the worksheet page, and no need to print out those cutting practice sheets that are all over Pinterest.
And I never used the flashcard pages as flashcards. I used them as "letter searches," saying things like, "mark out all of the ks."
Friday – Do other worksheets (ones that aren't about letters) from Scholastic Pre-Kindergarten Jumbo Workbook. Have your child point out the letter you have been focusing on all week during your regular reading time.
P.S. My kids don't naturally jump at the chance to do "mommy school." So, I offer the incentive of 15 minutes of playing on an educational app after their school work is done. I am SUPER picky about what apps I let the kids play. These are the best FREE educational apps for preschoolers.