There are Christian picture books that are pro-LGBTQ+. There are also Christian picture books that are pro-1 man/1 woman only.
The problem is, you can't really tell which is which from the way publishers market these books.
For example, I was sent a book by a gay picture book author that was marketed as "the most affirming faith based picture book ever." What does THAT mean?!?
Another book had marketing material that claimed, "The correct Biblical view of gender is presented." No, but seriously, what does THAT mean?!?! Correct according to who?
Even turning to reviewers doesn't help. Most of the time they dance around what a book actually says, and use words like, "displayed all types of families," or "Biblical picture of the church," or "lovingly discusses gender." Leaving me to ask, yet again, WHAT DOES THAT MEAN???
I found myself in a quandary. I knew what our family believed, I knew that picture books could help us have conversations as a family that we wanted to have, but I couldn't figure out which books lined up with our beliefs because NO PUBLISHER WOULD JUST COME RIGHT OUT AND SAY WHAT THE BOOK SAID.
My solution was to purchase every single Christian picture book that addresses LGBTQ+ issues and review them myself to determine what was right for our family's book basket.
Drastic? Yes.
Necessary? Also, yes.
I've compiled all of my reviews into a downloadable pdf e-book called Guide to Christian Picture Books about LGBTQ+, Volume 1. I decided to compile all of this info for you because surely I'm not the only one lost in a sea of different meanings of the word "affirming."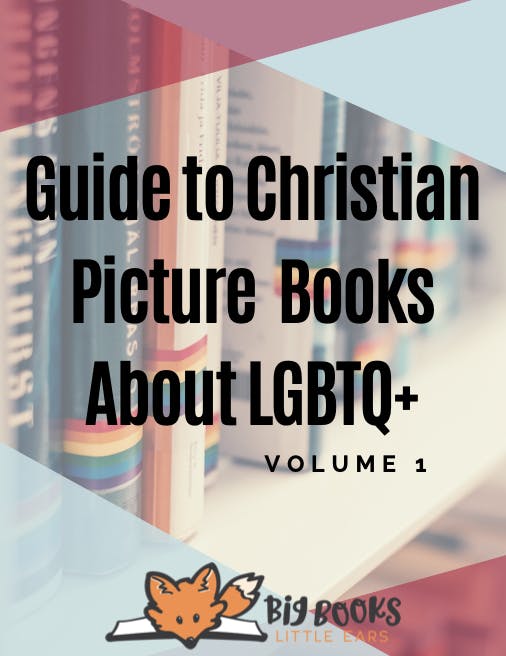 In this picture book guide I will not recommend any books. Instead, I'm going to tell you EXACTLY what is in each book. This includes quotes that you would want to know about before adding the basket to your book basket.
You will find picture books that cover every view in the guide. Some of the books have illustrations of a church covered in rainbow flags. Some say that gender is set at birth and can't ever be changed. You will not agree with all of the books. I'm telling you that right now, because the various authors contradict each other.
But the point of my guide is not to recommend which books I think are good or bad, but rather to simply clue you in on what's in them, so you can do what you want to with that information. It's what I wanted when I started looking for books on this topic.
I kept this guide to myself for a long time, but now I've decided to make it available to you all. I've set it up as a pay-what-you-want product. That means that you can pay whatever you feel like is fair, anything over $1. The e-book is 37 pages long, and addresses all types of books.
Here's the table of contents, so you can know exactly what's in it –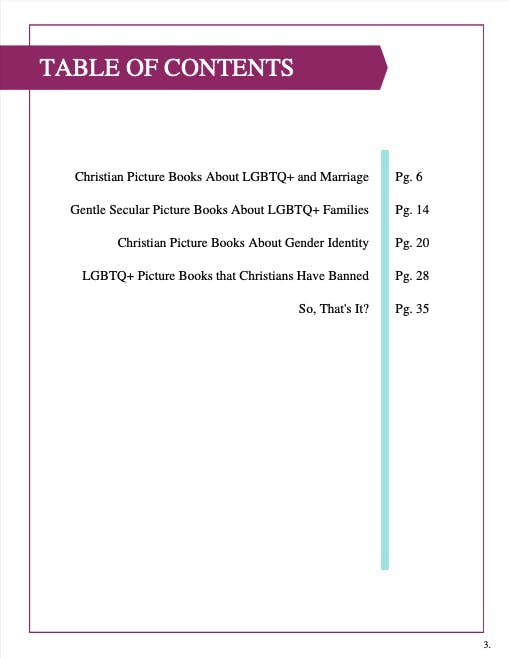 And here's a sample review, so you know what I mean when I say it's "just the facts, no recommendation" –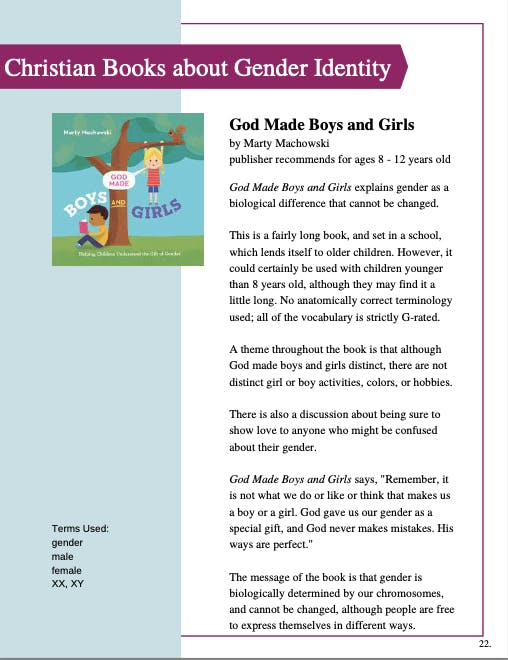 Let me know if you have more questions that I don't address below. There are Christian picture books for families of all types. However, not all Christian picture books are right for all families. Let's find some that are right for your family!
FAQs:
Why are you charging??
This project took me a really long time. I make money from the blog by people clicking on the links to books and purchasing them. I use this money to run the website, buy the family pizza on Saturday nights, and buy more books. However, a downloadable book can't have affiliate links, so I won't make any money from publishing it as a download instead of as a blog post. It takes money to run a website.
Also, I had to buy a lot of books myself in order to review them. The library didn't have most of these available for ready perusing, and when I asked them to buy picture books like Transgender Children of God they were like, "Lol, no."
What should I pay for the book?
It really is pay-what-you-think-is-fair. If I were to price it, basing it on similar guides out there, I'd probably price it at $24 normally, and offer a sale price of $17 for those on my email list. But really, it's as-the-spirit-moves, I will never be offended if you buy it for just $1.
Can I share it with others?
You are welcome to send a link to this page to other people. But I ask that after you download the book, you don't share it with other people. Instead, encourage them to get their own copy.
Why aren't you pushing this on your social media channels?
Honestly, I don't want to be known as the "Christian LGBTQ+ picture book whisperer." Because people are crazy, and I reviewed books that lots of people think shouldn't even exist. So, idk, maybe don't post about this on social media. (First time you've ever read an advertisement saying that.) But DO forward a link to this page to fellow readers who would understand the purpose of the guide and find it helpful!!
Be present. Be intentional. Be reading!