Do you struggle to bring Jesus into your everyday life with your kids? I struggle with that.
It is so easy to forget that your kids aren't too young to hear about God, or that they have to be taught his ways.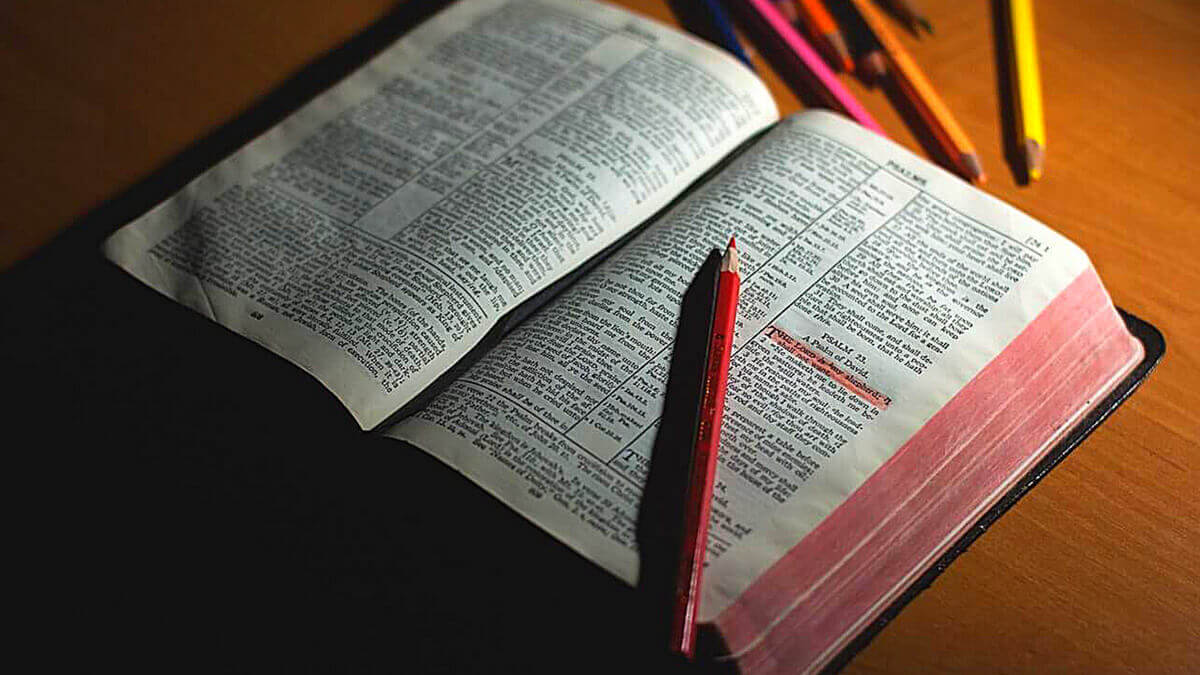 Unintentionally, the sacred stays separate from the everyday.
Jesus and Books
Effectively communicating the kindness of the Savior to your children is a big task. Why not use your read aloud time to share Jesus with them?
Now, you might be thinking that if a book isn't overtly spiritual, it isn't a perfect time to talk about spiritual things. Lots of us do this: we assume that if it isn't directly talking about Jesus, he's not a part of the story.
Story time, to illustrate what I mean.
My dad is a pianist. Like, a really good pianist.
For a long time he was also a music professor.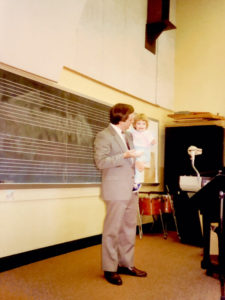 (For the younger readers here, that thing behind him and me is called a chalkboard.)
When I was growing up we used to travel with him as he'd perform, mostly at churches. One time we were at yet another concert and my brother asked him, "Dad? Are you going to play any of that UNGODLY music today?"
My brother didn't really mean that. He was trying to ask if Dad was going to play any secular music, versus only hymns and worship music. If it wasn't about Jesus, it must be ungodly!
Of course, that wasn't what he was thinking. But it sure was funny the way he asked it – that ungodly music!
Sometimes I feel that way about our book choices. I love Jesus, I want my kids to be surrounded by the sacred everyday. However, I choose all UNGODLY (still good, but secular) books to read aloud.
Confession time: I stick with secular fiction. I just don't read Christian fiction…really, ever.
I know, I know. Listen, before y'all start sending me hate mail or old World Magazine issues, it's not that I'm AGAINST Christian fiction. I just haven't gotten into it for myself, or found excellent Christian read aloud chapter books for my kids.
Part of why I don't pick up Christian read aloud books is accessibility. The vast majority of our books come from our local public library. This is because we are on the Dave Ramsey plan. See, I'm saved even if I don't read Christian fiction. You can tell I love Jesus because I follow Dave Ramsey! (That was sarcasm…too much?)
Part of why I don't pick up Christian read aloud books is knowledge. I just don't know about that many quality Christian read aloud chapter books. It doesn't mean they aren't out there, I just don't know about them!
I know about several very good Christian fiction authors who write for adults. However, I just don't know of any who write read aloud chapter books.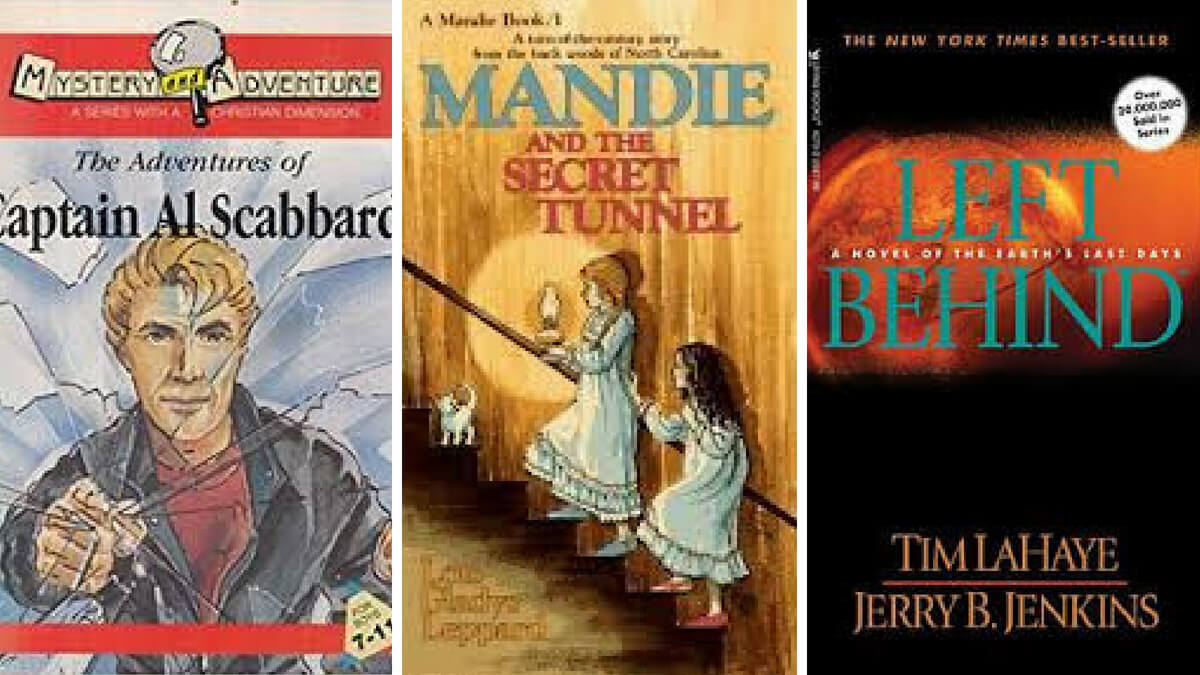 As a kid, pretty much my whole exposure to Christian fiction was reading the Mandi Series. I've also kept my dad's old copies of Captian Al Scabbard that he used to read to us.
Oh, and I used to sneak my parents' copies of the Left Behind Series when I was WAY too young and impressionable to be reading that kind of stuff about the end days. I took those books as Biblical fact, y'all. It wasn't until I got to college that I found out some of my beliefs about the end times came from a best seller…not the actual scriptures.
However, my kids are too young for Mandie or Al. What else is there?
(I'm genuinely asking, WHAT ELSE IS THERE? I'm looking for a read aloud chapter book with great writing, solid theology, modern yet Biblical gender roles, interesting story, exciting characters, all without being cheesy or heavy handed. Anyone? Hit me up in the comments if you know of a series we need to read aloud!)
Anyway, long story short, we don't read Christian fiction.
However, I still want to seamlessly take advantage of our read aloud time to talk about Jesus. But how?
The Three Questions
Enter the three questions.
About a year ago one of our dear friends shared something during small group that has radically simplified how we talk about Jesus with our kids. She told us about the three questions.
What was your number one happy today?
What was your number one sad today?
How did you see Jesus today?
The three questions are supposed to be a way to connect with your family every day. I speak from personal experience to say, they work! Asking these questions everyday will give you an instant view into your child's heart.
You should be answering the questions, too. Don't just ask your kids the questions!
I have no idea who originally invented the three questions. I hit up Google in an attempt to find the origin. Let me just tell you that when you search for, "how did you see Jesus today question" you can go right down a rabbit hole into some weird sections of the internet.
So, Google let me down, and I couldn't find an original author of the three questions. If you know where they come from, leave a comment so I can give credit where it is due!
Making Every Book a Christian Read Aloud
So, the three questions are great. They are perfect dinner time conversation.
However, they are also great for bringing up Jesus in your read aloud story time!
After a read aloud time, ask a version of the three questions:
What did you like from that chapter?
What didn't you like in that chapter?
How did you see Jesus in that chapter?
It is so simple!
Best of all, the questions are so generic that they can be used with ANY read aloud book you're reading!
There's no need to agonize over if the time is right to bring up some deep spiritual truth. Using the three questions, you'll never be at a loss at what to say to bring Jesus into the discussion!
Only the Beginning
The three questions make it easy and natural to infuse your discussion with God. But don't worry if it feels like your kids aren't understanding it! That's normal!
My toddler says her brother's name as her happy…and her sad…every single day.
She obviously doesn't really get it. (Or maybe she does? They do have a love/hate relationship…)
That's totally ok, though! Even if she's too young to understand, we're making it a habit in our family to talk about Jesus in a conversational way.
It's important that your kids hear your thoughts. So, if you ask them the questions about a story, make sure you answer them, too!
The question that can be difficult to answer at first is, "How did you see Jesus in the story?"
If you or your children are struggling with this question, look for someone who was kind to someone else. Or, mention something bad that happened, and share that there is always hope. Or, just say how much Jesus loves everyone, and if the characters in the story were real, he would love them, too.
You don't have to stop there, though! Using the three questions as a starting point, you can ask variations of the questions to bring up other spiritual themes.
Wondering how to do that? No worries, I've created a resource for that.
Read Those UNGODLY (I Mean Secular) Books
So, now you know a ridiculously simple way to bring up your faith while reading aloud. And it doesn't even require a worksheet!
With the three questions, all books provide opportunities to talk about the spiritual!
What are your "go to" questions while reading? Are you going to try the three questions?