My husband is an awesome dad. He really is, I'm not just saying that because I forgot Father's Day this year.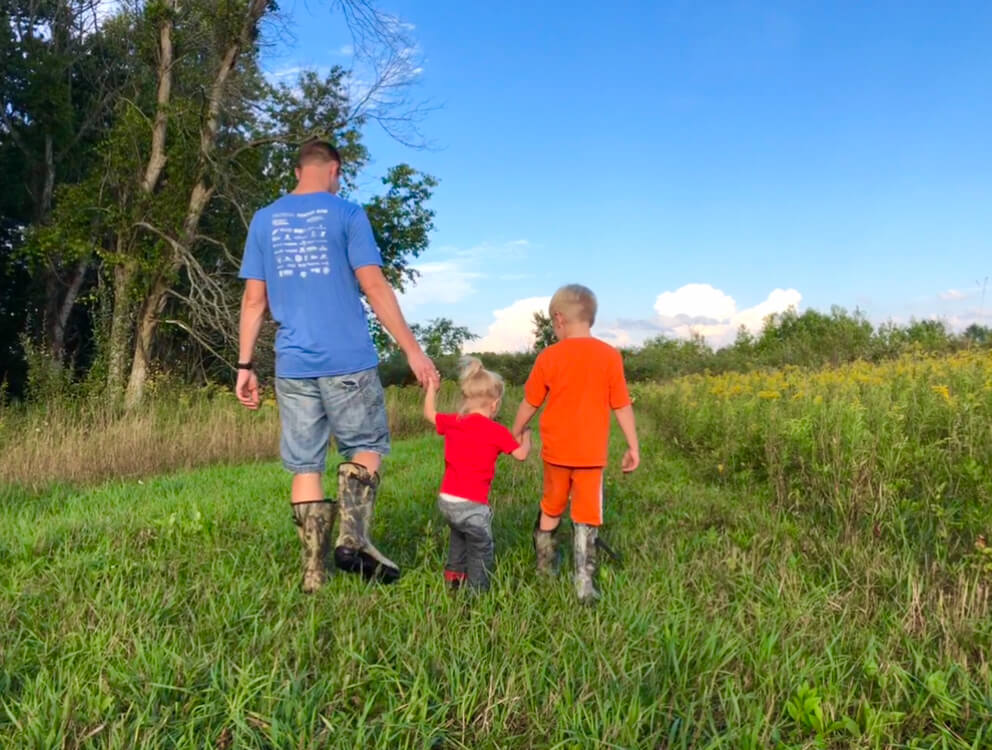 He is a packaging salesman. I had no idea that packaging was so important until he started working for a packaging company! I used to just recycle boxes and containers…now I'm texting him pictures of eye shadow pallets with notes like, "Look at this foil!"
He loves his job. Since he loves his job, I love his job.
The only thing I don't really like about it is that he travels out of state for a few nights every week. It's hard to read aloud a book as a family when a member of our family is missing a significant percent of the time!
Who does the reading aloud?
Since my spouse is gone frequently, I definitely do the bulk of the chapter book reading aloud. Since I also have an entire website devoted to reading aloud to kids, that probably doesn't surprise you much.
My husband does read to our kids some. He especially enjoys reading to them from his collection of Calvin and Hobbes.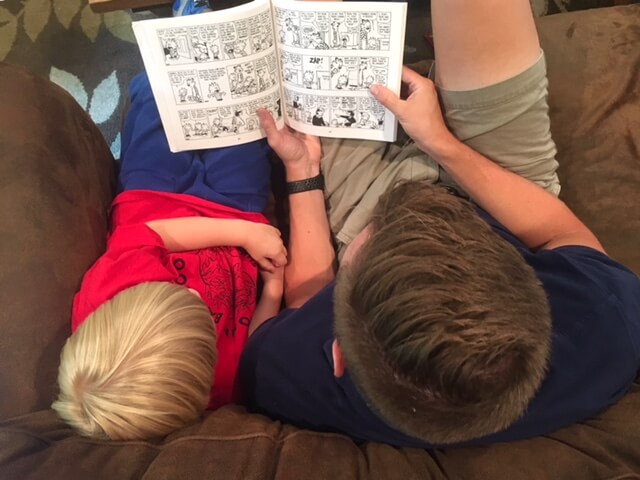 I don't think we are unique in the fact that I do most of the reading. In most families, even those who don't have one partner traveling overnight regularly, it is normal for one parent to do the bulk of the reading aloud due to scheduling or interest.
So, it's normal if you are the only one who reads the chapter books. But that doesn't mean that you can't all benefit from your read aloud chapter books, even if you don't read them all together.
One of the goals of reading chapter books aloud is strengthening family bonds. That's difficult, though, when your husband is less available to be involved in your read aloud time!
In addition, missing the read aloud time means missing out on the conversations that come from reading together. It can feel like it is impossible for your husband to use the book to teach your children your family values when he hasn't actually read the book!
Reading aloud is beneficial: you don't want your husband to miss out on that!
You Know I'm Going to Have a Solution
I got tired of not being able to ALL enjoy talking about these great books I read to the kids. So, I created Family Read Aloud Questions!
You can download them at the end of this post, but let me tell you what makes them special.
These questions are split into two groups: Book Questions and Open Questions.
Book Questions are broad questions that could be answered about any book. You can use them with your current read aloud chapter book, or even picture books.
The non book questions are labeled Open Questions. They correspond to some of the book related questions, but don't require any knowledge of the book.
For example, your kids could answer a Book Question like, "What happened in the book that scared you?"
Then, your husband could answer the corresponding Open Question, "What scared you today?"
Now, everyone can get involved in our book discussions!
Half of the questions are related to the book, and half of the questions require no knowledge of the story at all!
How to Use the Question Cards
There are several ways you can use the Family Read Aloud Questions.
First, you could print them out. The printable is formatted to line up with front and back printing. If you print them front and back on one piece of paper, when you cut them out, the Open Question on one side of the card will relate to the Book Question on the other side.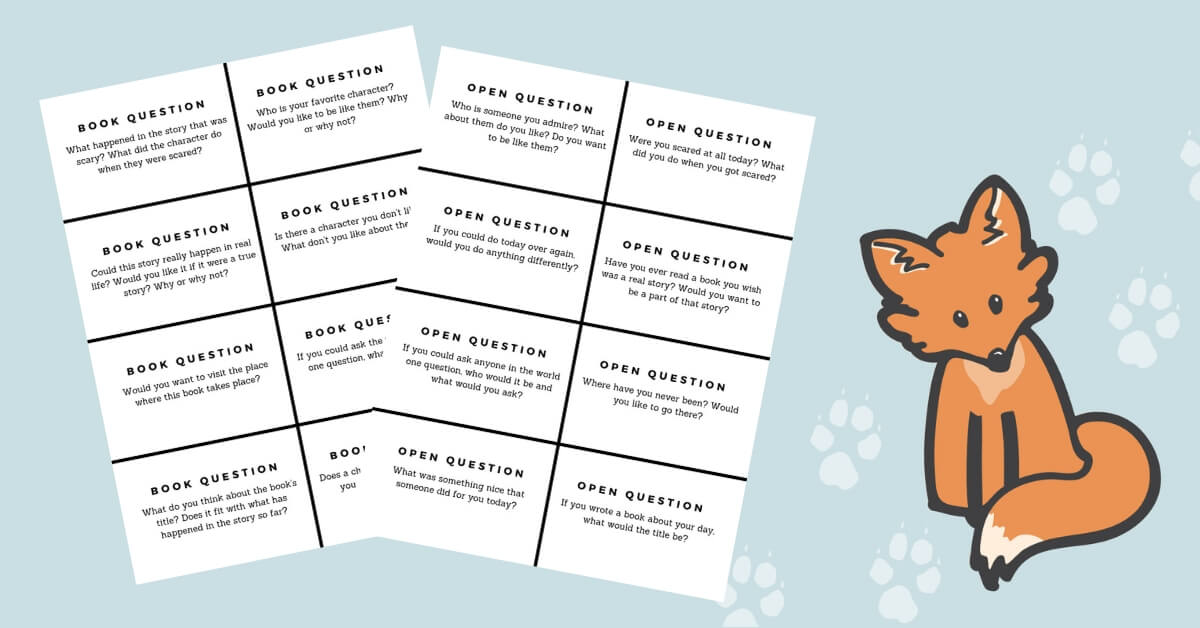 Second, you could put the questions separately on different colors of cardstock. This is a good option if you don't want your kids to ALWAYS have to answer Book Questions. Everyone can pick from the pile of questions. Just make sure to tell your spouse (or whoever is there who hasn't read the book) what color you put the Open Questions on so he can only pick those.
Third, you don't have to print them out at all! You could always download the list, then write the questions on different colored popsicle sticks, slips of paper, puzzle pieces, or anything!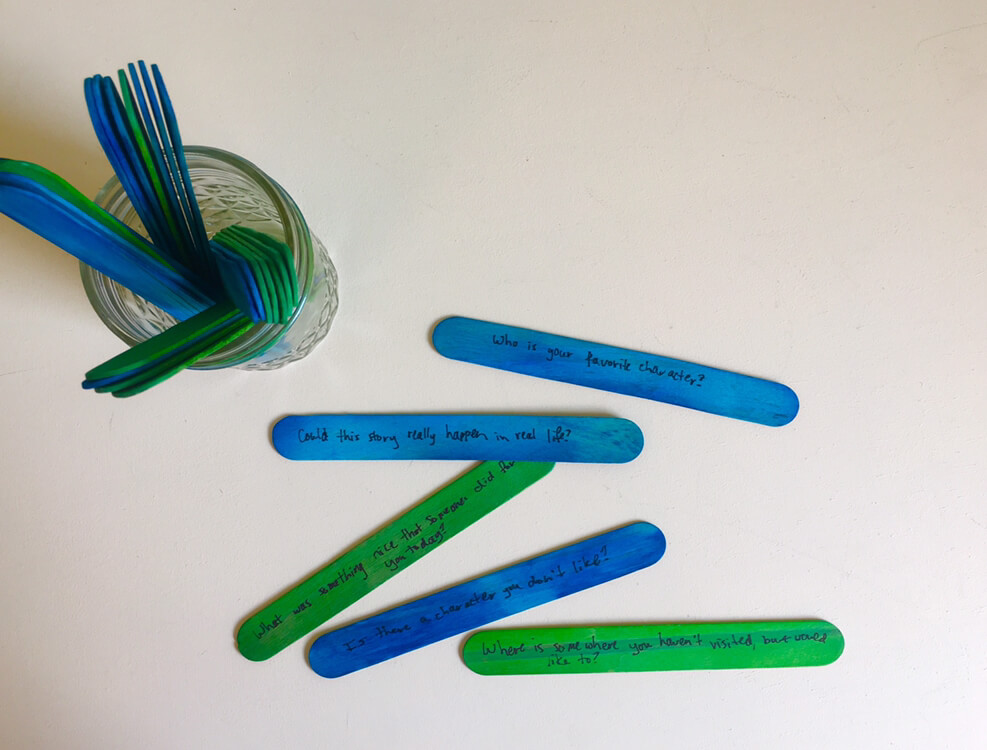 I like the idea of each pulling out a popsicle stick at dinner, one color for Book Questions for kids who have read the book, and one for the Open Questions.
Get Everyone Involved With No Prep
Just because people miss out on read aloud time, doesn't mean they have to miss out on the benefits of reading aloud!
Family Read Aloud Question Cards correspond to any book! Print them once, then use them forever.
(Actually, if you're like me, it's more like, "Print them every 3 weeks because they keep getting smeared with ketchup." But who's counting?)
And I'm all about low-prep activities. I like the fact that I don't have to keep going back to Pinterest to search for "discussion questions for …" whatever book we're currently reading. These work for ANY book.
Our favorite way to use the questions is at dinner time. Everyone participates because half of the questions are not based on a particular book. Nana and Papa came for dinner? No problem, get them involved with an Open Question or two!!
Use the Family Read Aloud Questions and start the conversations.
Get Reading and Talking
My husband loves his job so much that I don't see him looking for a career change anytime soon! (Plus, you wouldn't BELIEVE how many frequent flier miles he has. I'm pretty sure the airline industry would take a hit if he changed careers!)
He'll keep traveling, and we'll keep supporting him from at home. Thankfully, with the Family Read Aloud Questions, he can still connect with the kids over what we are reading!
Does your spouse also travel for work? How do you involve your spouse in your read aloud time?