In Mere Christianity C.S. Lewis said about Jesus, "You must make your choice. Either this man was, and is, the Son of God, or else a madman or something worse. You can shut him up for a fool, you can spit at him and kill him as a demon or you can fall at his feet and call him Lord and God, but let us not come with any patronizing nonsense about his being a great human teacher. He has not left that open to us. He did not intend to."
Jesus is Lord and God.
Just a few words, but such a hard thing to teach our children!
The season of Lent is a great time to help our children picture Jesus. If you're ready to dive into who Jesus is during this Lent season, check out this Lent guide, Picture Jesus!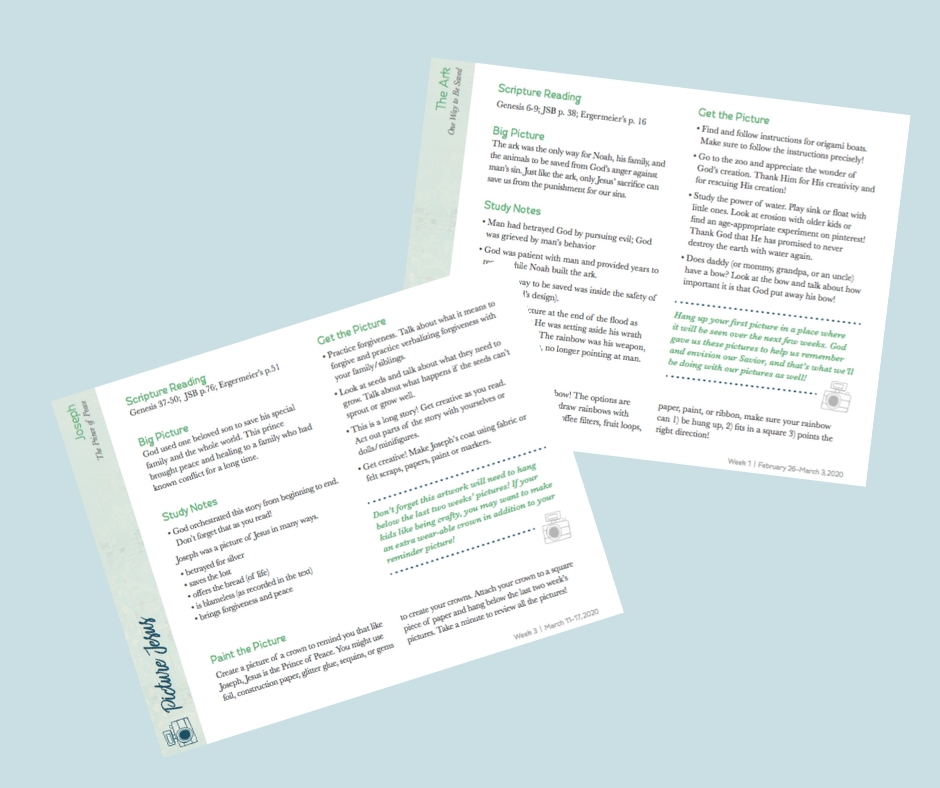 Through a scripture reading, talking points, and an art activity, your kids will walk through the Bible seeing who Jesus was. The Lent activity guide was made for kids ages 4 through 7, but you could easily use it with a wider age range by being more meticulous with the crafts, or reading simpler versions of the Bible stories.
Related: Have younger kids? Check out the Lent guide created for ages 2 through 4 HERE.
FYI, I did not write this guide. A friend from college makes these for her kids every year and she graciously allows me to share them! (Isn't it amazing that we knew each other 13 years ago when we were such different people, but now connect over our shared love of teaching our kids about Jesus? Moment of transparency here, NOTHING about me in college said, "She'll become a stay at home soccer mom with a bunch of kids who's crazy about teaching them about grace and Jesus." But I'm thankful this friend trusts me with her Lent Guide anyway.)
Related: Kick off the season of Lent with this book list and instructions for a monk's meal!

Feel free to share this with anyone!! Listen, I know that this is an amazing resource. I looked online and found similar stuff priced at $20 and up, but my friend who created it does it as a ministry for us like-minded mamas. (She also wanted no credit. But as you can see she's an AMAZING designer, so if you ever need a graphic designer, I know somebody I highly recommend!) So, use it all, no charge, forward to anyone you know who could use it, and enjoy this season of celebrating Jesus' great love for us!