Board books are wonderful resources for our little people! 2022 was a great year for board books in the faith market, and there are a ton of excellent Christian board books right now. Although this list isn't exhaustive of all of the great new board books, it will definitely get your book basket filled with some really stand out new titles for babies, toddlers, and preschoolers!
Best New Christian Board Books in 2022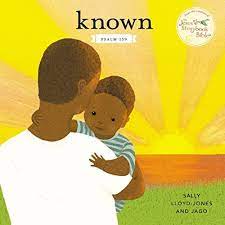 This beautiful non-rhyming Christian board book tells your little ones how much God sees them and loves them. It's by the same author/illustrator team who created The Jesus Storybook Bible, so of course it's stunning. It has minimal text, but what is there is super theologically sound. Highly recommend for birth – preschool.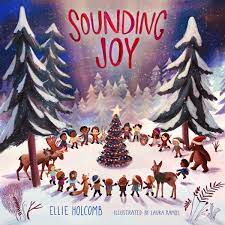 This brand new Christmas board book is so lyrical, it's not just for babies and toddlers, and I recommend it for all ages. The message of the text is that joy sounds like the angels singing about the birth of Christ. It's just so…lilting, I guess. It reads like a song. If you're doing story time at church during the Christmas season, this could be a great option.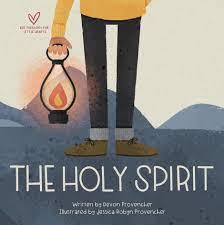 These three new faith based board books came out throughout 2022. They are three more additions to the Big Theology for Little Hearts series. I love this series because the theology is strong, but accessible. There is very minimal text. Plus they have a beautiful color palette in the illustrations and are super modern looking.
Heads up that Creation doesn't talk really talk about 7 literal days, but is more conceptual. FYI if that's important to you. I don't think that these books, because there's so little text, will answer questions your kids come up with about, say, how much the Holy Spirit guides us, but I do think they're nice for introducing important concepts.
Related: More board books that are theology heavy.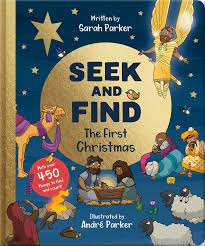 The publisher recommends this brand new Christmas board book for ages 2 through 5, but I recommend bumping that age up a bit. I think a 2 year old can definitely enjoy it, but it will take help from someone older to find everything…and hold the giant book. Even though it's a board book, it's TALL. Plus, because there's SO much to find, my older kids have also enjoyed it, and they're way past 5 years old.
My kids like finding the hidden objects, I like the Biblically sound text about Jesus' birth and the accurate illustrations. (What I mean is that none of the Middle Eastern characters have hair the same color as my Dutch children…) Love it, highly recommend for all ages, with the sweet spot around 4 years old to 7 years old.
The text of this sweet new board book for babies is Psalm 23. Each portion of the encouraging chapter is illustrated with a color. It's lovely, and I adore books that take their text right from the Bible. Because it is focused on colors, it definitely trends young, and I recommend for birth to age three. It could make a lovely baby shower gift, maybe with a stuffed lamb lovey!
Related: My top Christian books to give at baby showers.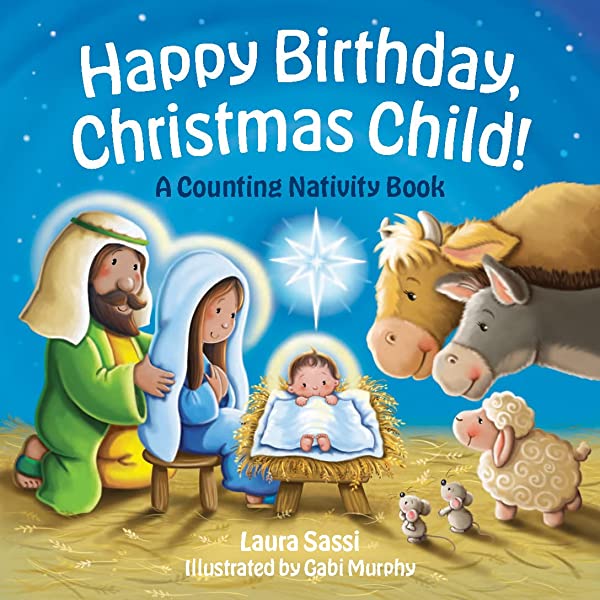 This darling new Christmas board book for toddlers seems simple, just a basic counting board book. However, the message is great – it emphasizes the new baby Jesus' humanity and roll as savior. It has sweet rhymes, and darling imagery of animals coming to see the new baby.
Heads up that not only Jesus, but also Mary and Joseph have halos in the illustrations. I asked author Laura Sassi about their inclusion, and she wrote a lovely explanation of how to explain halos in illustrations to kids.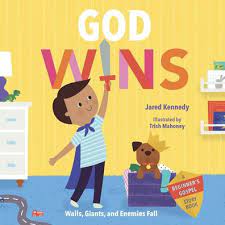 These two new faith based board books are about God's attributes as displayed in some of the classic Bible stories. God is for his people, and these books give lots of examples of that.
I do think (as I do with all of Kennedy's books in the Beginner's Gospel Story Book series) that the age range they are recommended for is deceptive. Yes, it is a board book. Yes, it has simple illustrations. However, I think it trends older than almost everything on this list. There is more text, acknowledgement of some scary stories in the Bible, 24 pages, and fairly high level theology. I recommend for age 3 as the absolute youngest, but definitely think you could push that age up. I don't know many 3 year olds who will comprehend all that is talked about in these books.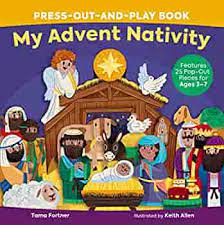 Confession time: when I first checked out this new activity board book, I automatically assumed it would be a little kitschy. But then I read the text, and I should not have judged this book by the cover. It was one of those things where I was like, "Wait a minute…this is super theologically sound!"
The text talks about WHY Jesus came to earth to be born, and describes that first Christmas night. As the story goes along, there are cues to add pop-out pieces to build a complete nativity scene. It's darling, and I recommend for all ages. Even my big kids liked the interactive piece of adding the elements to the scene. (Heads up that wisemen are at the manger.)
Because there are 25 pieces that pop out, you COULD use it as a countdown to Christmas, but I don't think my little ones would be happy with only 1 piece a day, so go with God on that one. Also, the picture is still printed behind the pop-out piece, so no worries if you lose a piece in the Christmas craziness.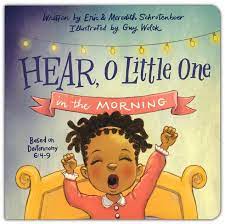 The text of this new board book is an adaptation of the Shema from Deuteronomy 6:4-9. The cool thing about this book is that you flip it upside down to read the two different versions: one for morning and one for evening. SUCH a neat concept! Its like a built in rhythm of prayer in the day, what we're all striving for!
The only thing I'm not crazy about is a few places I thought the rhymes are just a tad clunky. The original text in the Bible the book is based on didn't rhyme, so why did they try to force rhyme in the picture book? However, overall I think it's fabulous, so I can look past a lack of lyricism in places because of the strong theology. HIGHLY RECOMMEND!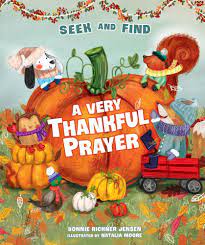 I almost didn't include this new board book because it's not TECHNICALLY new, but it is a new seek-and-find-edition, so I'm counting it. It's a lovely rhyming story about woodland creatures giving thanks to God in fall. If you have the original, the text is the same, the only difference is that this new version adds a seek-and0find element to every page.
I like the fact that the list of what to look for is pictures, so kids can enjoy the seek and find element before they can read. Super cute, I recommend for any kid who is old enough for an easy seek and find, probably 2 and half or 3, up to 5 years old. There isn't a ton to find on each page, and it's fairly easy, so this one doesn't trend as old as the other seek and find book on this list.
More Christian Board Books
Be sure to check out lists from previous years:
Best Christian Board Books of 2021
Best Christian Board Books of 2020