Using books is a really wonderful way to explain the Gospel to our kids! These are my current top Christian board books for babies. Board books are for anyone – don't forget that the big kids can learn a lot from these Christian board books, too!
On this list I only included Christian board books that were blatantly theology based. There are lots of great board books for babies out there that are sort of spiritual, or about love or Christian holidays. They aren't on this list. (Although you can find some of them on this list of the best Christian books to give as baby shower gifts!) This list is only the sound-doctrine-heavy-hitters of the board book world. They will help you share big truths with your little listeners.
If you click on the book title it will take you to the Amazon page to purchase the book. As an Amazon Associate I earn from qualifying purchases.
P.S. I put them in a rough order of my favorites (although they're all great), starting with my absolute favorite first. I think it's my favorite, anyway…they really are so good that they've all been favorites at one time or another!
Bring on the THEOLOGY!!!
Best Christian Board Books for Babies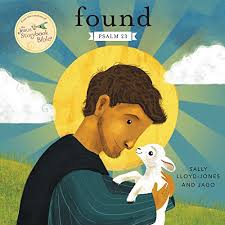 Loved and Found by Sally Lloyd-Jones
These two board books focus on how God cares for us as his children. Heads up that the words are exactly the same as certain stories from the long chapter book, The Jesus Storybook Bible. Loved is the text from Lloyd's retelling of the Lord's Prayer, and Found is Lloyd's treatment of Psalm 23. However, in the board book versions, there are more pictures, and it is more accessible to little listeners than the large Bible-version. Also, heads up that it's not the actual BIBLE text, so don't expect it to help your little one memorize Psalm 23.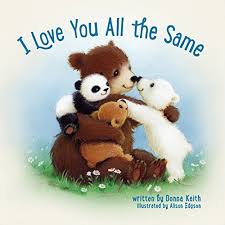 This Christian board book features an adoptive family of bears. Yes. I love adoption, I love bears, and I love Jesus, so you know I love this book. It is about how mom and dad bear love their unique cubs. (Notice I said dad? It's hard to find books that feature both parents prominently in the same book.) I also like I Love You Even When, which features the same bear family.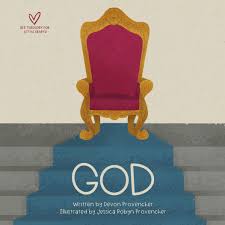 These three theology heavy hitters are part of the series Big Theology for Little Hearts. They are definitely some of the most clear explanations of these big concepts. Basically they're Christian board books for your little seminary student…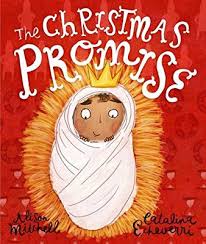 Ready to share the TRUE meaning of Christmas? This is the book I recommend. It's accessible but theologically DEEP for a Christian board book. I also like that most of the books from The Good Book Company have diverse characters, and show Bible characters that actually look like what they probably looked like. AKA, Jesus in this book does not look like my blond children. (Side note while we're talking about diverse Christian picture books, a favorite in our home is the Seek and Find Old Testament book, which I recommend for ages 3-with-a-grown-up and up.)
Related: The Best Christmas Picture Books About Jesus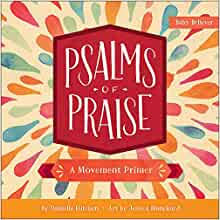 I love Psalms of Praise because it's so great for reading aloud and MOVING! Also, Holy Week is absolutely my favorite Easter board book. So Biblical, so unique – not an Easter bunny in sight. (Seriously, buy that one for Easter. SO EXCELLENT.) These are my two favorites of the Baby Believer series.
This series is written from a slightly different faith background than the one we're raising our kids in, so I do recommend a preview before purchasing the entire series. There's nothing heretical in the other titles in the series, but it is worth previewing to make sure it perfectly aligns with what you teach in your home. However, I feel very comfortable recommending these two titles to you with no caveats.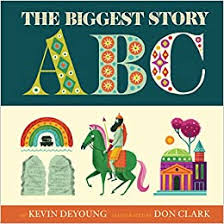 There isn't a ton of text in this Christian board book, but it is still powerful. Each letter of the alphabet is used in a sentence to explain part of the Bible. Heads up that this book is mainly about the Old Testament – there is no mention of the New Testament or Jesus until the letter R. However, it is, in my opinion, the best board book that explains the overall picture of the Bible, since it focuses on the main theme of sin/redemption/eternity.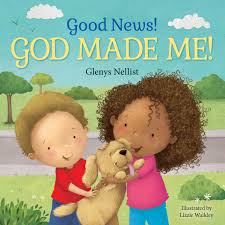 This Christian board book sweetly talks about God as our creator. It follows a pattern of questions and answers, making it fun to read aloud to very young kids. The illustrations feature a beautiful biracial family. It is not as serious as most of the books on this list, and that's a strength. Highly recommend!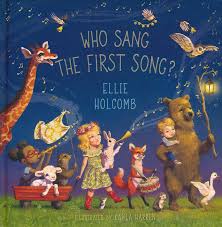 Ellie Holcomb was first famous as a musician. Now she writes beautifully musical board books! Both books feature gorgeous illustrations to go along with the lyrical text. They focus on creation worshiping God and God's great love for the world. (If you're choosing one, I prefer Who Sang the First Song, but both are good, especially if you're a fan of Ellie's writing.)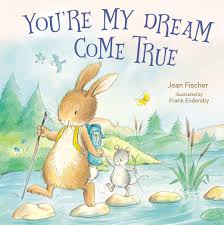 This sweet board book celebrates how God makes the family – whether it's through pregnancy or adoption. Although much of the text focuses on how much families love each other, it is clear that God is the one who brings the family together and helps them love each other.
Related: Christian Picture Books About Adoption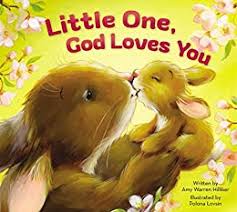 This Christian board book says that we were created by God to love God. Yes! It features darling bunnies, too. It should be in your book basket. It is very simple, so I recommend for very young kids, younger than most of the other books on this list.