Christmas is here! I love Christmas picture books about Jesus because they are the perfect way to teach my kids about why we celebrate during this time of year.
I love longer Christmas chapter books for reading during Advent. (Check out these Advent reading plans that don't take 25 days!) However, there's something about a good picture book that gets the kids excited about the season.
These Christmas picture books are perfect for reading aloud during the holidays. Only Christmas picture books that are completely about Jesus' birth earned a spot on this list!
(If you're looking for secular Christmas picture books, I also curated this list of the 10 best Christmas picture books NOT about Jesus.)
Special Considerations
Some of the books have Special Considerations noted for them.
Any books that I noted as having "simple text" are ones that have not very many words per page, and that I've had success reading to toddlers.
Also, if the wise men are at the manger, contrary to what seems to be told in the Bible, I noted that, too.
Finally, some of the books do mention the big guy in the red suit. But, no worries, I included that a Special Consideration. Make sure to look out for that if your family doesn't do the Santa thing.
Now, I was going to note which books had a non-caucasian holy family in them, but that got a little dicey. Almost all of the books have a sort of middle-eastern-but-not-too-tan Jesus. So, what to call that? Is that still caucasian? Do I say the pictures display an ethnically ambiguous Jesus? For A Child is Born, I couldn't say African American Jesus, since Jesus wasn't American… So, I settled on just leaving it to you to look at the pictures to decide what ethnicity you think Jesus is in the illustrations.
(Most have at least attempted to show what Jesus would have looked like. However, you should know that basically EVERY character in Jesus' Christmas Party is fair skinned and blonde. Every. Single. One. So, if you're not ok with it looking like Jesus was born in Scandinavia…skip that one.)
This post contains referral links for these products. As an Amazon Associate I earn from qualifying purchases. It does not cost you extra to purchase through my links.
The BEST Christmas Picture Books About Jesus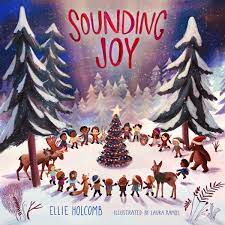 Special Considerations: simple text
NEW IN 2022! This stunning board books is so lyrical, it's like a song. (Sort of makes sense, because Holcomb was a song writer before she turned to picture books.) It talks about true joy of the season, and where that comes from, with a focus on the angels announcing Jesus' birth. It is a rhyming book, and I think it trends young, even younger than the publisher's recommendation. There's very minimal text, and I HIGHLY recommend for baby through 4 years old.
Related: 2022 was actually quite the year for Christmas board books. 4 of them made it onto my list of the top board books of 2022!

The Nativity illustrated by Julie Vivas
Special Considerations: simple text, wise men at the manger
I have had purple hair, blue and green hair, maroon tips, and for a short while I had cherry red stripes in my hair. I like a little color. So, imagine my delight that in this version of the Christmas story the angel Gabriel has maroon hair and wears well worn Doc Martens! Talk about shaking up the traditional imagery!
Although the imagery is different, the story is all tradition. The words are straight from the Bible, quoted straight from Luke. If you normally read the Christmas story aloud on Christmas day, this is a fabulous illustrated way to do it!
The soft, full color illustrations bring the story to life in a unique way. For example, one of the shepherds has a bald spot, and Mary can't get on her donkey without a lot of help. It's a lovely, realistic way to envision a story that we can tend to make somewhat sterile. It is quite possibly my favorite of all of the books on this list.
DID YOU CATCH WHERE I SAID THAT THE TEXT IS STRAIGHT FROM THE GOSPEL OF LUKE? So. Good.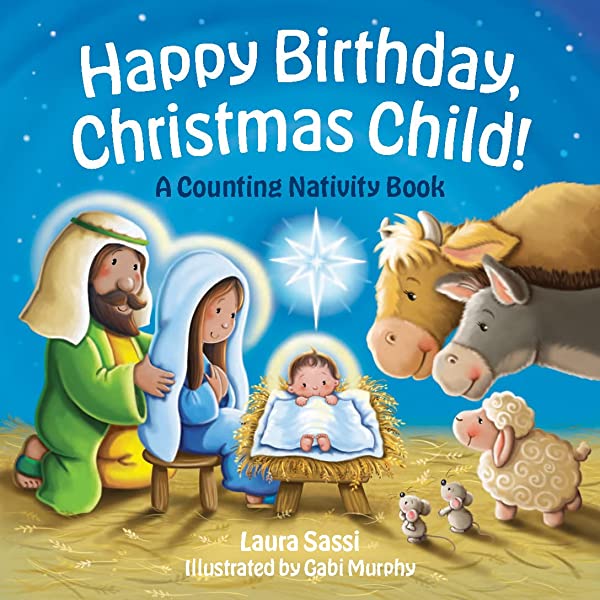 Special Considerations: simple text
New in 2022! Happy Birthday, Christmas Child! is the most DARLING new board book about Jesus. It is a counting story based on the most important birthday ever. Of course, with all Christmas counting stories you wonder, "Is 3 going to be the wise men at the manger?"
Nope, it's not! Only stable animals, Mary and Joseph, and shepherds are in this story about finding a place for the baby to be born. 10 is baby Jesus' cute toes, a darling way to end the story and remind kids of Jesus' humanity.
Heads up that not only Jesus, but also Mary and Joseph have halos in the illustrations. They're fairly subtle, and I feel comfortable with it in our book basket even though I'm rather halo-averse, but I still want you to know in case you have strong halo feelings.
Lilting rhymes, a sweet story, and, most importantly, Biblical truth – I highly recommend for ages 0 – 4.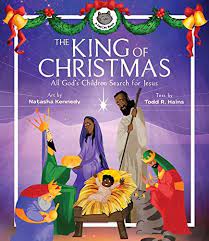 Special Considerations: simple text, wise men at the manger
New in 2022! I love a book that brings theology down and accessible to little listeners. The Fat Cat series tries to do that. This new Christmas book is all about the wise men trying to find Jesus, the king of the Jews. It ties it to Jesus on the cross, and the empty tomb.
There is not a ton of text, but you could definitely take the story deeper. For example, they look for Jesus in the temple, but the illustration shows that they aren't allowed actually in the walls of the temple. The text doesn't say anything about Jesus making God accessible for all of us, but you could bring it up.
Wonderful theology, diverse pictures, highly recommend!
Related: I did a super in depth review of the first book in the Fat Cat series, The Apostles' Creed. That one trended for an older audience than this new Christmas book, The King of Christmas, just FYI.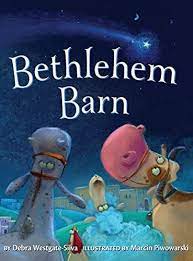 New in 2021! There is apparently an old legend that animals can talk for an hour on Christmas. This adorable picture book plays off of that idea. What if the animals discussed the baby in their feeding trough, what would they say? How would they react?
This story is different, however, in that these animals have some good THEOLOGY! The dove talks about the child being foretold, and they look for signs of the Messiah. It's not often you read a book and think, "Yes, Sheep, preach!"
The pictures are also darling, and kind of "cartoony" with big eyes. I highly recommend for all ages, but it does have quite a few words, so feel it out before you try to read it to a toddler.

The Christmas Promise is true to its title: it's all about how God promised us a king, and that king is Jesus! The book's focus on Jesus as the fulfillment of God's plan and promise to the world is unique.
The way the story is told and the overall themes strongly remind me of The Jesus Storybook Bible. However, I love The Jesus Storybook Bible, so that doesn't bother me at all!
Although there is a lot of great theology in the book, it's not inaccessible. However, the story line may be too much for toddlers or very young children. It's an excellent and visually interesting Christmas picture book about Jesus as the fulfillment of all of scripture.
Long story short, I bought 8 copies to give as Christmas gifts this year. It's that good. New for 2020: The Christmas Promise now comes in board book form.

Special Considerations: wise men at the manger
Humphrey really is selfish. He doesn't want to be helpful, or carry what is a rather small load. And, he's a blanket thief! Did I mention Humphrey is a camel?
Not just any camel, Humphrey is one of the camels in the caravan of kings searching for the baby born in Bethlehem. He eventually learns what makes the baby they are traveling to see so special.
The story is told completely from a camel's point of view. The humor is a little more advanced than your typical picture book. I laughed at the text, my toddler and preschooler laughed at the pictures. What could be funnier than a camel's luscious eyelashes and crooked teeth? The paintings truly are fabulous, and add much to the story.
Also, a board book version of the story has recently come out if that's more your speed. Now little hands can hold Humphrey, too! HIGHLY RECOMMEND TO BE IN YOUR BOOK BASKET!! (Seriously, this one is worth buying, not just getting from the library.)
Related: Looking for more funny Christmas books? Here's 12 great ones!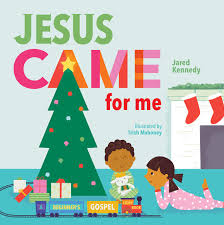 This sweet board book, new in 2020, tells about WHY Jesus came – to save a fallen world from its sin. The pictures are simple and colorful, but the message is so important.
It is meant for children aged 3 to 5. However, don't let the board book format fool you, you could push that age up, especially if you have little ones who aren't familiar with theology or didn't grow up hearing the Gospel regularly. It is also a great choice for children's ministry lessons, or children's church reading because it is so theologically sound.
This is an excellent choice for any age. HIGHLY RECOMMEND. We also pull it out to read together at Easter.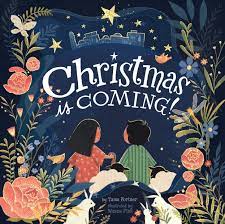 This is a beautiful board book for toddlers and preschoolers about the true meaning of Christmas. The pictures are lovely. The refrain repeated through the book is that Christmas has come, and it's Jesus!
The text dives into more than just the basic story. Mary visiting Elizabeth is brought up. And the wise men visit baby Jesus NOT at the manger, but later when he is older. I'm all about that – lets teach our kids Biblical literacy from the beginning!
I highly recommend it for ages 2 through 6 years. However, because there is so much text, you could EASILY push that age up, even though it is a board book. It could be the perfect option for families like ours that have a wide age range of children.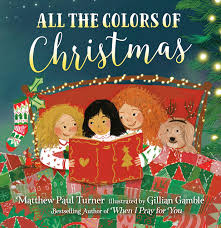 Special Considerations: Santa
Matthew Paul Turner is the master of rhyming picture books that tell our kids all about love and family. (His books make up a not insignificant portion of this list of the best Christian picture books for baby shower gifts.) This holiday picture book is no different. It is rhyming text about how we see each of the colors at Christmas time. However, instead of staying superficial, it gets to the heart of the season. It's lovely.
Don't be fooled by the fact that it's a rhyming book – it is geared for a little bit older kids.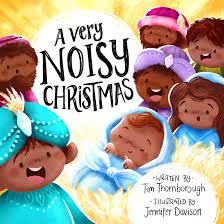 Special Considerations: simple text, wise men at the manger
This is my top recommendation of a Christmas picture book for toddlers. It is a sweet story about the first Christmas, meant to encourage the little listeners to be loud! The best part of the story is that it reminds the listener that Jesus has come so that we can be in God's family forever.
Heads up that it definitely runs toward the younger set – I recommend for ages 2 to 4.
If you're family speaks a few languages, it's also available in Chinese!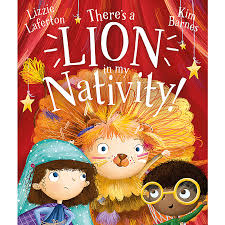 Special Considerations: simple text
Speaking of Christmas picture books for toddlers, There's a Lion in my Nativity is perfect for toddlers. It is a funny story about a Christmas program going…not according to plan. However, beneath all of the silly story is the message that Jesus is the reason for the season. The rhyming text and cute pictures make it great for the preschool and under group. Highly recommend for the littles! Even though it isn't a board book, I think it trends young.

You may have heard of Sally Lloyd-Jones' other wonderful book, The Jesus Storybook Bible. In this Christmas picture book about Jesus' birth you'll notice her signature writing style immediately. Song of the Stars shows the whole earth getting ready for the new baby king. Just like The Jesus Storybook Bible, the prose is melodic but accessible.
The story centers around animals anticipating Jesus' arrival. I love this book because it points to why Jesus' coming was so amazing: redemption has come! Amen! The animals' message rings true today: "The One who made us has come come to live with us!"

Special Considerations: simple text, wise men at the manger
This classic Christmas book was written by Margaret Wise Brown, the author of Goodnight, Moon, in 1952. It has certainly stood the test of time! It has been published several times, and the new edition has illustrations by Anna Dewdney of Llama Llama fame. Need I go on? Talk about picture book royalty!
If you need more info than that, Christmas in the Barn is a sweet poem about Jesus' humble birth. The gentle prose is reminiscent of Goodnight, Moon. It's the perfect simple picture book for toddlers who can't handle much text per page, and all ages will enjoy the soothing book.
Personally, I preferred the almost lyrical story to the pictures in the newest edition. It pains me to say that, because I'm a HUGE Anna Dewdney and Llama Llama fan. I don't know, I just don't love the sort of abstract, dark oil paintings. If you feel the same way, the book has been released so many times that you can find the older editions with different illustrators. My personal favorite is the edition with illustrations by Diane Goode, but to each their own.
No matter what illustrator you go with, the text is calm and lovely. If you're looking for "quiet down for bed" type Christmas picture books about Jesus, this should be at the top of your list!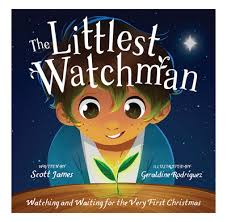 The Littlest Watchman is sort of unique in that it focuses on why the people were waiting for a Messiah. It depicts the excitement that Jesus' birth brought to those who recognized him as God's son. What a wonderful way to celebrate the season – with gratitude for Jesus' first coming, and excitement that he will return someday!
Heads up that although that concept sounds lofty, I think this picture book about the nativity does trend young. You could easily read it to a 3 year old, and it is short. I recommend for ages 3 – 5.

Special Considerations: simple text, wise men at the manger
'Twas the Evening of Christmas is a re-write of the classic poem 'Twas the Night Before Christmas by Clement C. Moore. However, it's masterfully changed to tell the story of the very fist Christmas night.
What I like most about this book is that it takes such a classic Christmas tradition and redeems it with the true meaning of Christmas. I mean, who can resist lines like this description of the stable, ""The pigeons were nestled all snug in their beds, While visions of breadcrumbs danced 'round in their heads."?

Special Considerations: simple text, wise men at the manger
A Child is Born almost feels like it should be sung. The text is quite lyrical. It's very simple, with only a few words on each page. The theme of the story is to hurry and come see the new baby that has been born.
The paintings that accompany the text are also lovely. Not a single character in this book looks like my fair skinned, blonde haired kids. That's part of the reason why I like it so much. If you're looking for diverse Christmas picture books about Jesus, this is a must-have.
It's perfection.

Special Considerations: simple text, wise men at the manger
Jesus' Christmas Party is one of the funnier Christmas picture books about Jesus birth. It is told from the perspective of the inn keeper, who just wants to get some sleep! However, he keeps getting interrupted by all of these people who want to see the special new baby.
As I mentioned in the introduction to the list, this is the book with all fair skinned, blonde haired characters. Just an FYI that the illustrations don't exactly line up with what the inhabitants of Bethlehem probably looked like.
Also, Jesus has a halo. So, there's that. That's not my personal preference, since I don't believe that he literally had a halo and I don't want my kids to get confused, but for me it's not enough to negate the great story.
This is a great book if you do any sort of "Birthday Party for Jesus" type tradition. It's also a great story to remind us that this is a season to CELEBRATE! There's enough story to keep older kids interested, but it's simple and funny enough for the younger set, too. My kids LOVE funny, so this has book is one we re-read often during the holiday season.

Special Considerations: simple text
Did you read the Christopher Churchmouse series when you were little? They were a staple in our church's library. It has not been published recently, so I'm a little hesitant to include it on the list because it could be a little difficult to find. However, I looked recently, and there are copies available online, and I think it's worth including in the list of Christmas picture books about Jesus.
This lovely Christmas tale (or should I say "tail") is written in rhyme, a la "Twas the Night Before Christmas."
The poem tells the story of the gift a small mouse gives to baby Jesus. It ends with an encouragement to give Jesus our hearts. Kids will love the detailed color illustrations that go along with the sweet story!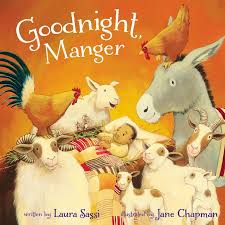 Special Considerations: simple text, wise men at the manger
As a mom, I feel for Mary as she tries to get baby Jesus to sleep in the manger in this darling story. This rhyming story will tickle little listeners who think about all of the farm animals around baby Jesus.
Heads up that, in all honesty, there isn't a ton of theology here. It's more about the practical issue of sleeping in a barn with a newborn!

Special Considerations: Santa
God Gave Us Christmas is a Christmas picture book about Jesus with the story line of Little Cub learning about the true meaning of Christmas. She is curious about who invented Christmas, so Mama Bear guides her through the woods on a quest to discover what Christmas is all about.
There is quite a bit of text on each page. Even with the colorful, interesting pictures, it is a little more advanced than most of the books on this list.
This book does talk about Santa, so be aware if you are a strict no-Kringle household! However, Mama Bear explains well that Santa is less important than Jesus.
I'm glad we can follow Little Cub's journey through the snowy woods to learn about the King who was born for each one of us! There are some rich theological truths on these pages!
That's it – the top Christmas picture books about Jesus!
Make sure to share and pin this list to come back to as you build your Christmas book library.
I hope these books help you teach your children about the true meaning of Christmas. I know that they've helped me!