Once upon a time, sixty years ago, a little girl lived in the Big Woods of Wisconsin, in a little gray house made of logs.
– opening line of Little House in the Big Woods by Laura Ingalls Wilder
I have my original Little House books that I got when I was 7 years old. They have been lugged in boxes through a bunch of moves. They have sat faithfully on my shelves in Ohio, Oklahoma, South Carolina, and Michigan.
These books have seen a lot. They are dogeared, especially Little Town on the Prairie. The Long Winter is warped from shower steam after being forgotten in the bathroom for a few days. The bindings are all broken in, except for The First Four Years, which I didn't read as many times.
Because I loved these books so much and have had them for so long, I was very excited when my son was old enough to listen to me read them aloud! He called it, "the Laura book," and I hope he enjoys all of the other "Laura books" as he gets older.
Check out the video review below to find out what I liked and didn't like about the book, what ages it would be good for, and anything questionable that you need to know about before picking this series up.
You can scroll past the video for just the bare book details. If you don't watch the video, make sure to scroll down to read the Special Considerations section so that you aren't blindsided by something in the book that might be a touchy subject for some people. (Honestly, though, the video review is much more comprehensive, and it's only a few minutes long.)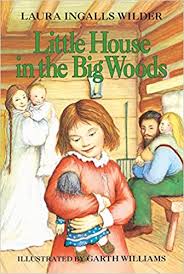 Title: Little House in the Big Woods
Author: Laura Ingalls Wilder
Illustrator: Garth Williams
Series: Little House, Book 1
Details: HarperCollins, March 8, 2016
Number of Pages: 256 pages
Number of Chapters: 13 chapters
Average Chapter Length: 20 pages
Picture Frequency: 5 pictures per chapter
Special Considerations: There's no denying that this book was set in a different time. (That time was the early 1870s, in case you were wondering.) Because of this, there are some things in the book that your kids might not be familiar with. For example, there is a long chapter about butchering the pig. There is also lots of references to hunting and processing the meat for food.
Also, this was a time when the appropriate punishment for kids' poor choices was a solid spanking.
My Thoughts: There is a reason this book has endured. It is a relatable story for little kids, even though it took place so long ago.
I suggest it as a read-aloud for girls and boys who are 4 years old and older. There are some long descriptions of farming procedures, so if you find your kids' attention wandering, skip those sections.
The chapters are also very long – we never read more than half a chapter at a time.
I loved reading my copy from when I was a little girl to my kids! I look forward to reading the rest of the series to them as they get older!
Do you have a book that you have saved from your childhood? Have you read it to your kids yet?