This post is by Christian graphic novel author Graeme Friesen. What I appreciate about Graeme is his passion for finding not just adequate or clean graphic novels, but GOOD clean graphic novels! Of course, as with all books you discover on my site, please do a preview before handing it to your child so that you know if it's right for your family. "Clean" means different things to every reviewer, so you should never just take our word that a book is ok for your kids. I personally haven't read all of the titles Graeme recommends, but I'm looking forward to reading them soon, and giving them to my kids!!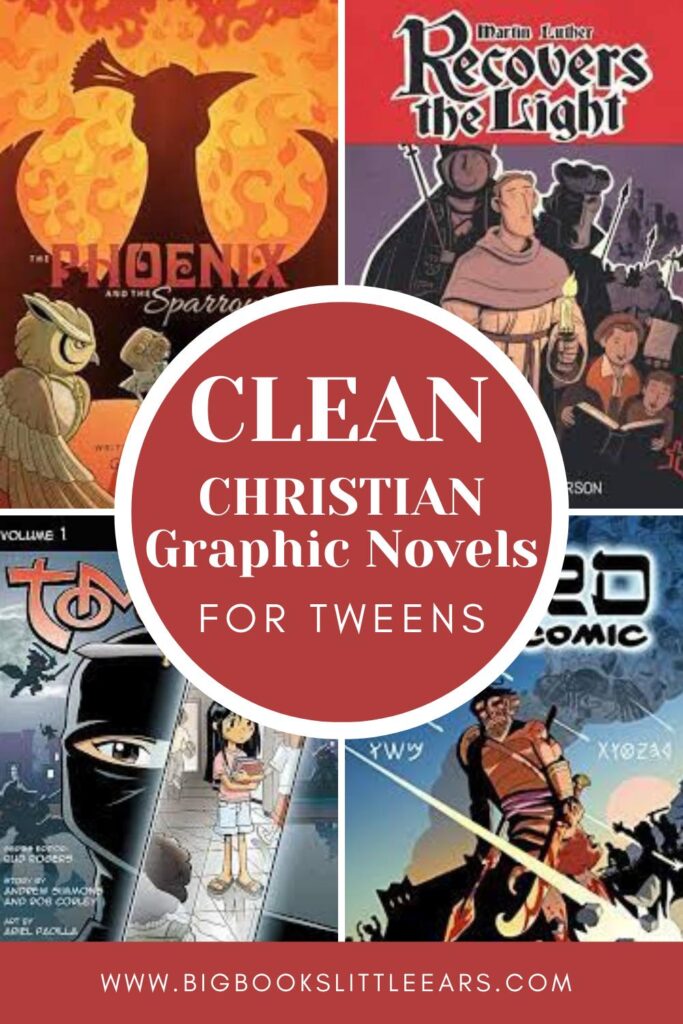 What are graphic novels, and are they safe for kids?
Graphic novels are just like regular novels, but they use illustrations (or photos), dialogue bubbles, and captions to tell the story. Graphic novels typically contain a complete, self-contained story, as opposed to comics, which are often part of a story series.
Graphic novel content can vary wildly from "all ages" to "mature audiences" and tell the same variety of stories you might find in traditional novel forms. One picky thing worth noting about graphic novels (and comics in general): you can't judge a book by its cover. Sometimes the cover is drawn by a different artist and in a different style than the rest of the book.
What is a "Christian" graphic novel or comic?
That question is tougher to answer. Christian graphic novels may range from using unaltered Scriptural text to stories that simply teach kids about Jesus through situations, character choices, or allegories. While there are many non-Christian, yet kid-friendly, graphic novels that have been written, for this article, our definition will only include stories that are marketed as "Christian" and which are created by Christian authors or illustrators.
I'm that nerdy dad who has read hundreds (maybe thousands of comics and graphic novels) and these are my favorite Christian picks. Check out my own clean graphic novel for tweens, The Phoenix and the Sparrow, under the "Christian allegories and parables" section!
This post contains referral links for these products. As an Amazon Associate I earn from qualifying purchases. It does not cost you extra to purchase through my links.
Types of Christian graphic novels explored in this article:
Comic Bible adaptations
Christian allegories and parables
Faith-based fiction
Historic testimony and informational
Conclusion
Good Comic Bible Adaptations for Children
By far the most popular type of Christian graphic novel, these thick books are abridged versions of the Bible in illustrated form. They range from paraphrases to word-for-word translations and can help a child visualize the stories they've already heard in church and at home. For me personally, I found that having access to the comic Bible from my church's library was very helpful in my faith journey as a tween. I can still picture characters, clothing, and settings in my mind thirty years after having read such stories. A picture is worth a thousand words, and it's impressive how many biblically accurate details an artist can convey through their illustrations!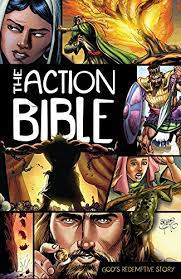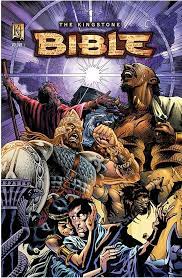 Both of these titles are abridged versions of the Bible that illustrate many familiar stories. The Keystone Bible is the more in-depth of the two and spans three large books, while The Action Bible is a single book and is more condensed. Both are beautifully illustrated with characters, cultures, and settings that are historically accurate, and both employ a similar artistic and storytelling style. Some critics have called the illustrations too "dark" or gritty, but, for those of us who are familiar with Marvel and DC's superhero comics, it's the same sort of style.
Note from Kristin: Just jumping in here to say that both of these titles don't shy away from showing the bloody stories. That doesn't mean you should avoid these titles, but FYI so you know what you're getting – our scripture is a gory one… I know Graeme said they're a tie, but if I personally was pushed to choose, I'd probably say Keystone was my winner. But both are good options, and not heretical, so really, what else can you ask for?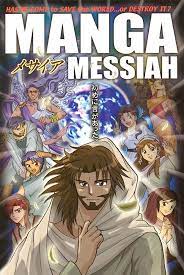 This series, including "Mutiny" (the creation/fall), "Messengers" (history of Israel), "Messiah (life of Christ), "Metamorphosis" (birth of the church), and "Majesty" (end times), is illustrated by Japanese artists in a trendy manga style. Manga uses a shared set of easy-to-understand expressions and embedded symbols to give emotional weight to a story. I've found that manga is often more effective at communicating a wider range of emotions at varying degrees of intensity than its western counterpart. Manga's artistic style is often more versatile than its western counterpart (at least mainstream western comics) and appeals to both boys and girls of all ages.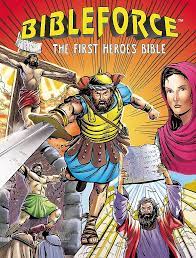 Not as suitable for tweens, but out of all the comic Bibles I've introduced to my own five-year-old little girl, this is the one she became most attached to. The illustrations are a bit awkward here and there, but there are brighter color choices, simpler layouts, and far fewer heavy shadows, making it appealing for younger children. My little girl and I have had many, many discussions about God due to this book, and it's one that she regularly asked me to read—especially stories about Jesus—for a season.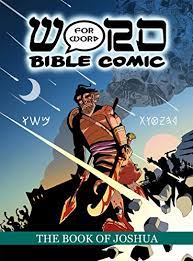 If I pick up a comic Bible at age forty-three, this is it, and I wish they would have had it when I was a teen. Published in multiple books that correspond with their biblical counterparts (Luke, Judges, etc.), these stories contain the word-for-word NIV text accompanied by well-drawn stylistic illustrations. I hesitate to recommend these for tween boys because some of the content (especially in Judges) may prove a stumbling block for their young minds. To be perfectly frank, as a teenage boy, I would have found a way to bookmark certain scenes with provocatively clad women. It's a powerful series, but proceed with caution… I might even add a couple years to the recommended ages, depending on the tween and the volume.
Note from Kristin – if you're looking for a similar graphic novel that is word-for-word the Gospel of Luke, I really like Light in the Darkness, which I review on this list of Christmas chapter books.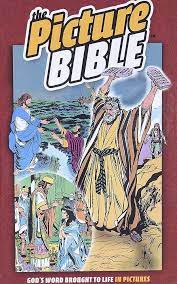 This is the comic Bible I borrowed from my church library as a kid, and I still have a copy on my shelf. It's a bit more text-heavy than other versions, but I remember spending hours poring over the stories, and the beautiful, vintage comic illustrations are vividly etched in my mind. This is truly a comic Bible for all ages, and the abundance of text will lightly challenge kids to increase their reading comprehension. I did find that the binding of the edition I received was not well done and it has worn out quickly, but the content is wonderful!
Christian Allegory or Parables Graphic Novels for Kids
These graphic novels include stories that represent the Gospel or other Christian truths using symbolic characters and imagery, such as C.S. Lewis' The Chronicles of Narnia or John Bunyan's Pilgrim's Progress. The best of these allegories are timeless and memorable; they are powerful stories that grow with children into adulthood, where they gain new significance.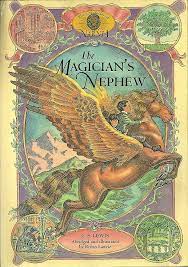 You'd have to be living under a rock to not be acquainted with C.S. Lewis' The Lion, the Witch, and the Wardrobe at some level. The book is a wonderful allegory for the Gospel of Christ, and the series is rife with symbolism. The lion, Aslan, is recognizably Jesus, and he's written by an author who clearly loved his Savior. The graphic novel illustrations are a perfect match for the story and remind me of the pen and ink illustrations found in the traditional novels. My only hesitation with this series is that the graphic novels are somewhat hard to come by and may carry a challenging price tag.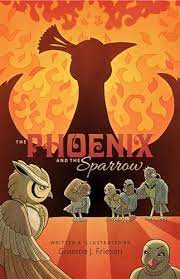 I'm excited to share with you my own Christian graphic novel for tweens. By now, you know some of my influences and that I have a heart that longs to see kids connect with God through Jesus. That has been my drive in creating this story, which uses simple birds and meticulous illustrations to delve into mature Christian themes in an age-appropriate fashion. I've already received reports of kids who are immersed in the book (they're loving the different styles used for different chapters) and parents who plan on using it to help their kids establish or grow their relationship with Christ. Like Narnia, it is a book meant to be shared and discussed by the whole family.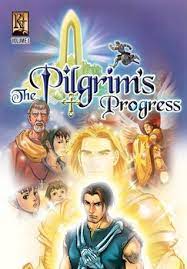 Faith-builder's Pick: Pilgrim's Progress in various formats
Like Bible stories, this classic Christian's allegory has been given the graphic novel treatment more than once. Out of the two that made my short list, I found that the one illustrated by Creator Art Studio/Kingstone media looks a bit more polished but is harder to read. Masako Sato's version looks a little rougher on the surface, but the textual adaptation draws a person in, and the pacing feels a bit more natural. Unfortunately, the latter only seems available on Kindle, but I found it easy enough to read on my phone and I'm sure it would adapt well to a tablet. "Pilgrim's Progress" is a classic for a reason, and I know there have been many people who have had their Christian walk profoundly impacted by this story.
Side note from Kristin – if you do decide to purchase the first version linked here from Graeme's recommendation, the one from Kingstone Media, I want you to know that I found some of the pictures to be quite scary. It is a scary story. Also a heads up that they do make Faith a sort of fairy character who's a little too sexy for my personal taste in angelic beings. And a few of the other female characters are definitely not wearing battle-ready attire. Personally, I recommend listening to Graeme's advice and checking out Masako Sato's version of Pilgrim's Progress instead.
Clean Faith-based Fiction Graphic Novels for Tweens
The broadest category, these graphic novels communicate a Christian message that encourages a child to explore and embrace their faith. Characters are often portrayed with Bibles, praying, or choosing Christ-like actions, and Scripture quotations may be sprinkled throughout the book. Good and evil are clearly defined, even as the protagonist wrestles with difficult choices.
Please be aware that there are stories in this category (not in this article) that use biblical names, places, or even Scripture quotations to promote unsound or even anti-Christian messages (more on that later). This list only includes books that have messages that glorify our Lord, Jesus Christ.
Side note from Kristin – That was Graeme's politically correct way of saying there's some crappy graphic novels out there that are sold under the "faith market" banner that don't line up with what we believe. Just be cautious, and be glad he's willing to recommend some good options!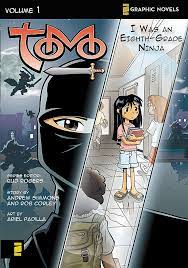 I absolutely loved everything about this one! The style, the characters, the story, and, of course, the message. If you are familiar with manga, even so-called kids' manga like Naruto or Boruto, you know that there is a lot of questionable stuff out there. Tomo is different. It reads well for boys and girls, and, while it is a fantastical story that doesn't mention the name "Jesus" outright, it waves its Christian values proudly through character actions, dialogue, and symbolism.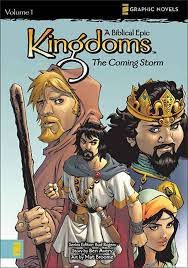 These tales wonder what fictional characters may have been feeling during landmark biblical events. They also attempt to fill in the gaps left by some lesser-known non-fictional characters. The illustrations are top-notch and the research is thorough, but I do wonder if the stories may be a bit text-heavy for some young readers. That said, like The Picture Bible, I probably would have eaten these up myself as a tween, regardless of how lengthy some of the captions are.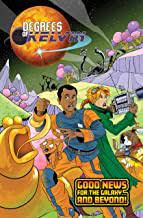 This series is beautifully illustrated and features a no-holds-barred missionary story. The Gospel is frequently mentioned and preached by the main character, who seeks to witness to his new alien friends. If you are familiar with the book of Acts, there are many situations that mirror the apostle Paul's missionary journeys and trials. The story's pacing does feel fast at times, and the main character comes across as a bit one-dimensional, but it's the kind of story that will challenge the reader to embrace their faith and share the Gospel of Jesus Christ boldly in any situation.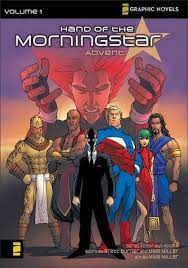 I put off reading this one because it uses superheroes to deal with end-time events. I actually adore the book of Revelation, but the proliferation of terrible end-times-related fiction has made me a bit cynical when I see a title like this. Even (maybe especially) when it's beautifully illustrated and well-written. I was pleasantly surprised to be proven wrong. The story is believable, and the characters feel authentic. You can understand how even "heroes" trying to do the right thing could be deceived. Through it all, there is a humility and recognition that Jesus is the Lord of Lords—that Christ is the only solution to the world's troubles. Years old, it's still a timely message.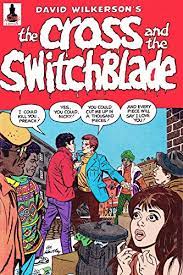 If you or your family are fans of vintage Archie comics, this is a Christian classic worth looking at. The graphic novel is an adaptation and runs a bit short at 173 pages, but, on the plus side, it is illustrated by Archie comics veteran Al Hartley. The book recounts the true story of David Wilkerson's ministry to youth involved in the gangs of New York. It is an authentic vintage story, so the characters and writing may feel a bit dated and cheesy at times, but isn't that trendy anyway? If you like this one, check out Archie's One Way, which has licensed usage of the actual Archie characters to tell Christian stories, also by Al Hartley.
Historic testimony and Informational Christian Graphic Novels
This category deals with stories that recount historical, extra-biblical characters and events. These stories are non-fiction but may fill in the gaps here and there. I've also included an informational graphic novel series that deals with unusual questions that Christians will face (or think about) as they grow older. I should mention that there are quite a number of Roman Catholic graphic novels dealing with the lives of various saints in this category as well.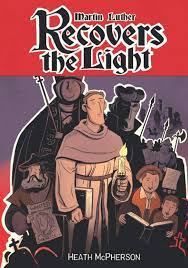 A very short, but complete, story that outlines Martin Luther's life and the start of the protestant reformation. It's well-illustrated in an energetic, modern digital art style, and the concise text is easy to read. Bear in mind that over 30% of the book is dedicated to conceptual sketches and other "non-story" pages, but it's a fun and informative read for young, inquisitive minds.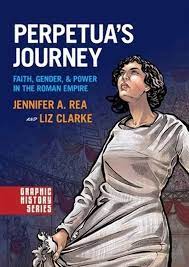 If you're interested in introducing your kids to stories about early saints and martyrs, Perpetua's Journey is a fairly solid choice. This true story is based on a young woman, Vibia Perpetua, who lived in Africa during the early third century AD. Captured as a Christian, she kept a diary during her imprisonment, which records her trials, vision, and perseverance. The graphic novel version of Perpetua's story is moving and powerful, with a focus on something that we don't think about as much these days: many saints have suffered and died for the sake of Christ. They are strong, inspiring pillars of our faith who refused to deny Jesus Christ as Lord. I know my own faith was strengthened, as a youth, after reading Foxe's Book of Martyrs, and this story is in a similar vein.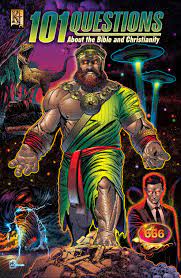 This well-written, well-illustrated series tackles tough questions, such as "How do we know that God exists?", "What does the Bible say about angels?", and "Where did Cain get his wife?"
Although much of the content is speculative, and I, personally, wouldn't die on a lot of these hills, it is in line with typical evangelical thought on such matters. I think it's important to get questions like these out in the open so that a young person can solidify their faith and not be caught unawares as they enter high school and university. Just be forewarned that you may be doing a lot of research of your own to facilitate discussion about the topics. It's the sort of book that arouses curiosity (in a good way) and has the potential to draw families together in understanding as they seek the Lord.
A Final Word about Clean Graphic Novels for Kids
Graphic novels are a powerful medium that, for better or worse, will etch images in the minds of children for years to come. I know that, as parents, we have such a burden for our children, and at times the weight of being their "protector" can feel almost overwhelming. We can't be everywhere all the time.
While each of us has a certain level of comfort or discomfort with stories that take real history and add fictional details, such as The Chosen graphic novel or Son of Samson (which focuses on an entirely fictional character), for the sake of our own consciences, I think it's important to seek God's guidance on the matter (Romans 14) and, if we choose to promote them to our kids, to discuss the stories with them as well (Deut. 11:19).
The more saturated in Scripture our own minds are, and the more actively we are seeking God, the better equipped we are to see the adversary's subversive tactics through media that target our children. Thankfully, our heavenly Father is the first line of defense, and I think that if we are praying for our kids consistently and being unashamed of living and preaching the Gospel, He will help them find their way to Christ. He cares for each one of them even more than we do, after all!
…Let the children alone, and do not hinder them from coming to Me; for the kingdom of heaven belongs to such as these. – Jesus (Matt.19:14)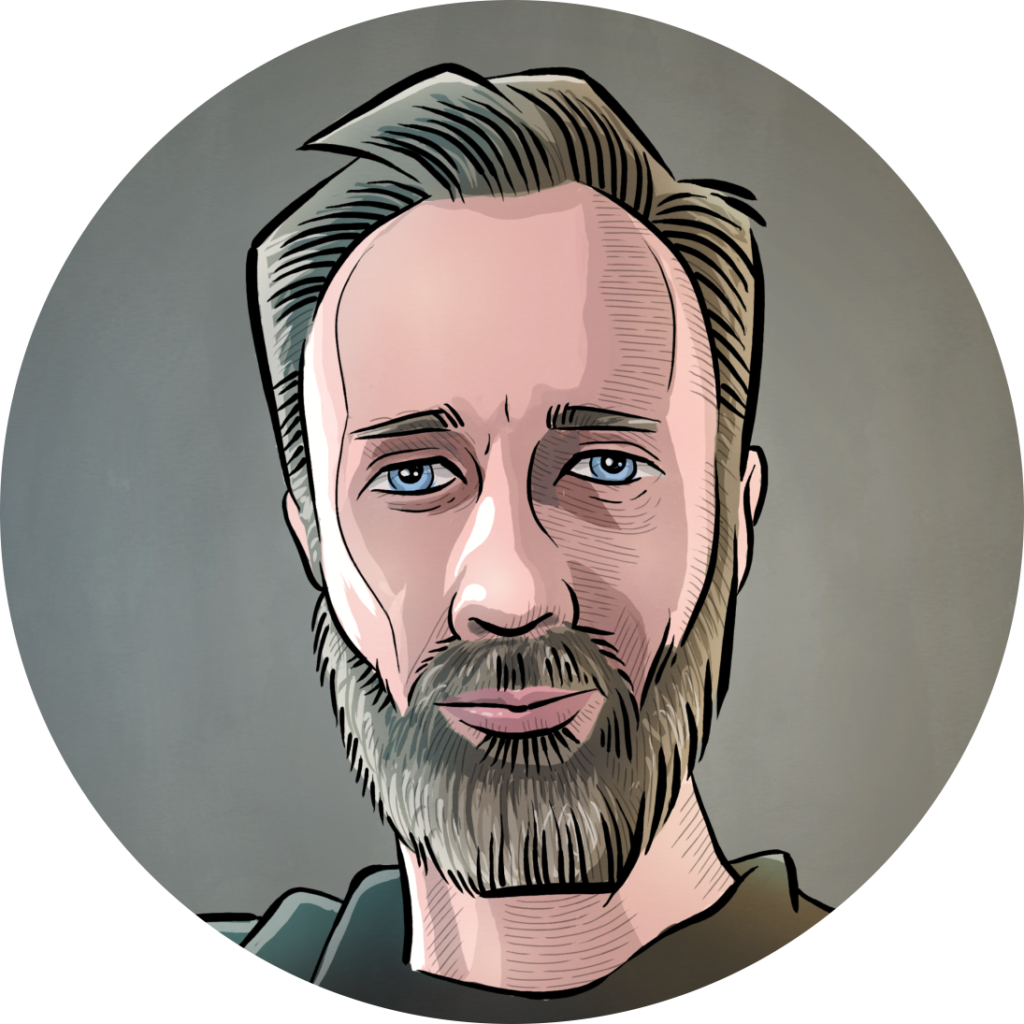 About the author: Graeme J. Friesen is a veteran graphic artist with a penchant for meaningful story-telling, allegory, and memorable character design. His 140-page graphic novel The Phoenix and the Sparrow was completed over the course of several years while he fulfilled his duties at a full-time job and, more importantly, as a full-time husband and father. His favorite works include: "Pride of Baghdad" (Vaughan and Henrichon), "Bone" (Jeff Smith), and Asterix and Obelix (Goscinny and Uderzo), among many others. You can connect with him on Facebook.
Related: Engaging faith market books for tween boys that AREN'T Bible studies.