CHRISTMAS IS COMING!!! It's time to pull out the tree! It's time to hear the same seven songs on the radio all day every day and LOVE IT! It's also time to pick out a chapter book for your family Advent reading plan!
Christmas Chapter Books to Read Aloud for Any Timeline
Traditionally, Advent starts on the fourth Sunday before Christmas. As you might have noticed, most modern Advent calendars are 25 days long, starting on December 1. So, most Advent reading plans are 25 days long.
However, the holiday season is crazy busy. I don't know if you've picked up on that…
Personally, I love the idea of reading a chapter of a book to my kids every day for the whole Advent season, all 25 days of it, but that isn't always possible. (Y'all, I'm obsessed with reading aloud, and I've NEVER been able to do an Advent reading every day for all 25 days. And believe me, I've tried.)
Don't worry if you can't read for 25 days. Here are AMAZING Christ-centered Christmas chapter books that you can read aloud for Advent, even if you don't have 25 days until Christmas!
The longest family Advent reading plan I have here starts at Thanksgiving, and the shortest starts on Christmas Eve. You could also pick one of the books for the shorter plans, but begin reading it sooner if you know you will need to skip days in the middle. There will certainly be a plan that fits your family!
This post may contain affiliate links. If you buy from these links, I may make a small commission to use to fill our book basket. If you click on the book title it will take you to the Amazon page to purchase the book. As an Amazon Associate I earn from qualifying purchases.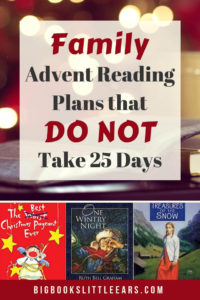 Starting At Thanksgiving

Treasures of the Snow is a classic story of forgiveness. It takes place over several years and does not completely focus on Christmas. However, much of the action occurs in the winter and around Christmas festivities. Also, it has Snow in the title, so I'm counting it as a Christmas book.
There are 26 chapters and no pictures. If you have younger kids, this could definitely take you from Thanksgiving to Christmas to get through. (I have not read this aloud to my toddler and preschooler yet, mainly because of the length.)
Warning: Treasures of the Snow has some dark parts. There's a mother's death in the first chapter, and a crippling accident a few chapters later. Apparently living in a remote Swiss village in the early 1900s was not for the faint of heart, if you can believe that.
If you are looking for a book with a subtle approach to the gospel, this is not the one for you. There's a lot of preaching. However, if you want a Christmas story that will explicitly tell your kids how to come-to-Jesus, this book clearly tells the plan of salvation.
Christmas Chapter Books Starting December 1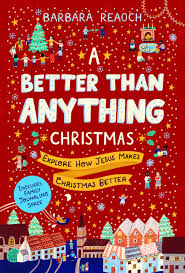 A Better Than Anything Christmas is an ideal chapter book for Advent.
Heads up that it isn't a straight-forward chapter book. It is broken up into 25 chapters. There is a little lesson for every day, focused on the Bible reading, with a few guided questions. Then there is a prayer to close out your family time together.
Cons: One mention of Santa (but it was in comparison to Jesus, so…). A whole page every day for "family journaling space." One section about new life with Jesus asks every child to write a prayer asking Jesus into their hearts, which might not gel with how you think salvation should be presented.
Pros: Super Bible focused. Good for a wide age range of children. Only a few Bible verses to read every day. IT IS ALL HERE IF YOU FEEL UNCOMFORTABLE OR ILL EQUIPPED TO LEAD YOUR FAMILY IN DEVOTIONS – the verses, the questions, the prayer, optional art activities, it's all included. You can stop scouring Pinterest for "preschool Advent activities."
Overall, highly recommend. I like it especially for it's ease of use and accessibility for all of my kids, even though they have a wide age spread.

The Jesse Tree has 25 short chapters, and is a great chapter book for a family Advent reading plan. It is based on the tradition of carving a Jesse tree to tell the genealogy of Jesus.
What I like about this book is that it ties together so many different stories from the Bible into the story of Jesus birth. Also, if you have a Jesse tree that you put up every year, this book should correlate with the ornaments.
What I don't love about this book is that the older gentleman telling the Bible stories is pretty cranky about having to share about Jesus. He's pretty snippy about God's story. I think that's a little weird, but if you liked the idea and overall story of the book, it would be fairly easy to switch out the adjectives he uses when talking to the kids and make the gentleman more kindly.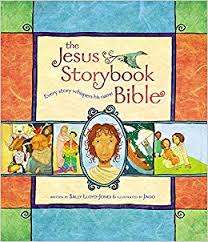 I love The Jesus Storybook Bible! I think it should be in every home. (It's a gorgeous Christmas gift, or baby shower gift! It's included in this list of The Best Christian Picture Books for Baby Gifts.) So, if you start at the beginning of the book on December 1, there's just enough chapters to get you through the birth of Christ for Advent. It is a fabulous way to walk through the Old Testament, all with a focus on Jesus and how Christmas changes EVERYTHING!
Chapter Book Starting Two Weeks Before Christmas

The Best Christmas Pageant Ever tells the story of an unchurched family joining the Christmas pageant. The narrator is a 9 year old girl. Content wise, this Christmas chapter book is appropriate for all ages. However, because the narrator is in school, I think the sweet spot is school age kids.
It is HILARIOUS. However, layered in all of that laughter, there are beautiful truths about what the first Christmas was really like, and who Jesus came to save.
There are only seven chapters in this short book. However, there are no pictures. For younger kids, half of a chapter is probably all they will enjoy in one sitting. If you have older kids, you could certainly get through this book faster than two weeks.
Chapter Book Starting a Week Before Christmas

One Wintry Night tells the story of a boy lost in a storm who hears the Christmas story from a friendly neighbor. This is my favorite family Advent reading plan. We read it as a family in preparation for Christmas, and I love it.
I love the sweetness of the story. I love the illustrations. I REALLY love the fact that it is only seven short chapters long.
However, those seven chapters tell the whole story of Jesus' birth, from Adam and Eve in the garden to Jesus' offer of salvation. If you are looking for a book that will encompass the fullness of the Nativity, but doesn't take as much of a time commitment as most Advent reading plans, this is the book for you! It is good for any age of child.
Starting on Christmas Eve


You may have heard of Sally Lloyd-Jones other wonderful book, The Jesus Storybook Bible. That one is worth a read, too, but at 43 chapters you probably won't get through it all on Christmas Eve. Instead, I highly recommend Song of the Stars. It is the the perfect Christmas picture book to get your family focused on the reason for the season – it's definitely appropriate for all ages. The melodic prose describes the whole earth getting ready for the new baby king.
I love this book because it points to why Jesus' coming was so amazing: redemption has come! Amen! The animals' message rings true today: "The One who made us has come come to live with us!"
Related: Christmas Picture Books About Jesus
Use Books to Ring in the Season
It's never too late to use a book to usher your family into the stable! Use a chapter book for your family Advent reading plan to celebrate Christmas with your family, no matter how many days you have to countdown!