Finally, brothers, whatever is true, whatever is noble, whatever is right, whatever is pure, whatever is lovely, whatever is admirable–if anything is excellent or praiseworthy–think about such things.
Philippians 4:8
I mean, that basically sums up what I think about when I'm picking out books for my little minions.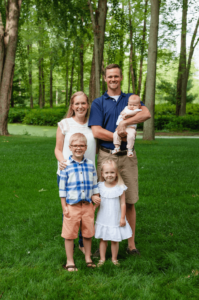 Why You Need to Preview a Read Aloud Chapter Book
I review lots of books so you can feel confident that you are picking up a good book. However, there is no way that we agree 100% with what makes a book ok. It just is not possible.
I know from first hand experience that you need to preview! One time I got a book from the library that came highly recommended on a children's book podcast that I enjoy. I have followed this podcast and the author's website for a long time: I know their values and book suggestions are normally excellent and line up with what I want to read to my kids. If anything, I'm more lenient than they are.
I picked up this illustrated chapter book to read aloud to my kids based on this podcast recommendation. THANK GOODNESS I previewed it before I started reading aloud, because BAM – first chapter – description of beating a child.
So I kept reading, and there's a dad dragged off to jail on false charges, child neglect, hunger, and in the end it's a malevolent mythical creature who's causing all this bad stuff to happen. Suggested to start reading aloud at age 4…
Now, there's absolutely NOTHING wrong if you read this book aloud to your family. It just isn't right for US. (I'm not even going to tell you what the podcast or book is, in case your kids are reading and enjoying it. If you're dying to know you can message me.)
Anyway, the point is, it was a trusted source that I got the recommendation from, and it STILL had stuff that wasn't right for our family. This is why you should preview. I'll always tell you what I think of books, but PLEASE don't just take my word for it! What I'm ok with might be totally wrong for your family!
(Previewing isn't fool proof, however. Make sure to check out My Read Aloud Fails List.)
How to Preview a Read Aloud Chapter Book
1. Read the first paragraph of a few chapters. Look at overall tone (are the characters snarky?) and content (any hint of romance or crushes?).
(I am only talking about questionable or age appropriate content in this article. If you want information about how to choose a book to read aloud based on writing style or vocabulary level, check out this article: Keys to Read Aloud to Your Toddler. Also, if you want more information, check out Why I Ignore Reading Level Designations, and What to Look at Instead.)
2. Read the entire last chapter. It doesn't take much time, but gives a sense of the book's overall tone. Now you know how the book is going to end, so if while you are reading aloud and come to some iffy parts with content that is not right for your family, you can tweak the story in a way that will still fit with the ending.
What I Look At When I Write Reviews
Now that you know how to preview books (even books that I recommend) let me share a little bit more about what I look at when I review books.
I do not read aloud anything to my children with childhood crushes/boyfriends/girlfriends/twitterpated feelings/etc. That is a personal choice, and how I try to fight against the early sexualization of children in our society. That also means that we have not read all of the Little House books, or the Penderwick Family series, even though they are excellent books.
I am comfortable reading books to my children that do not have a solidly "young earth creationist" viewpoint. However, I do mention when there are things in a book that a young earth creationist would not agree with. (I'm looking at you Narwhal and Jelly series!)
My kids do fine with cartoon type violence. They do not do well with anything that is sibling rivalry or fighting between siblings. So I note anything that would fall in those categories in my reviews. I wrote an article with more information, How to Handle Violence in Read Aloud Books.
Finally, it is important to me that we are reading books that line up with our core faith values: seek justice, love mercy, walk humbly with God. This does not mean that they are mainly Christian books. In fact, most of them are secular. However, it does mean that we read books where good triumphs over evil, love is displayed, truth is told, and the family is honored. (Now seems like a good time to encourage you to read aloud The Lighthouse Family series if you haven't yet.)
If a book is against any of these core faith values, I'll let you know in the review. I also encourage you to bring Jesus into EVERY read aloud book! We do that with The Three Questions, but however you do it, the most important thing is that you do it!
So, happy reading…after you preview!