This is Busytown. My, what a nice town!
– opening line of Richard Scarry's What Do People Do All Day? by Richard Scarry
Has this ever happened to you? You're sitting in the car and you think to yourself, "You know what would be cool? If there was something that didn't have a screen that would keep my kids' busy for the whole trip to Grandma's house."
Or, maybe you've wondered, "What is it like to shower without someone shoving their little fingers under the door and calling, 'MAMA!!! Mama, I see you!' even before I've gotten my hair wet?"
Maybe you have caught yourself daydreaming about being free to eat a mug full of peanut butter M&Ms before the kids fall asleep.
If you have ever thought these things, you are not alone. I think things like this all of the time.
If you are looking for a good, screen free quiet activity that will keep your kids attention, have I got a book for you! In our home we love the book, Richard Scarry's What Do People Do All Day?
(Yes, that's the full title. It's a mouthful – we just call it "the worker book.")
It's a giant picture book, split up into chapters. The best thing about Richard Scarry's What Do People Do All Day? is that the pictures are so full and colorful that kids will happily look at them for long stretches of time without having the text read to them. For older kids, it can be especially fun to look for specific characters on each page. For example, my son likes to look for Lowly the worm on each page.
This is my secret weapon busy book. It keeps my kids occupied for hours. Well, maybe not hours, but when you are eating a mug full of peanut butter M&Ms in peace, minutes feels like hours.
It is like an awesome busy book that I didn't spend hours cutting out of felt from templates on Pinterest. Seriously, this thing keeps them entertained in the car forever, and I didn't have to cut out or hot glue gun a single piece of fabric.
In fact, if you really want to up the busy book feel of this chapter book, I've created a printable list of a few of the things we do with the pages of this book.
Check out the video review below to find out what I liked and didn't like about the book, what ages it would be good for, and anything questionable that you need to know about before picking this series up.
You can scroll past the video for just the bare book details. If you don't watch the video, make sure to scroll down to read the Special Considerations section so that you aren't blindsided by something in the book that might be a touchy subject for some people. (Honestly, though, the video review is much more comprehensive, and it's only 4 minutes long.)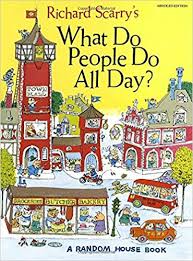 Title: Richard Scarry's What Do People Do All Day?
Author and Illustrator: Richard Scarry
Details: Random House Children's Books, 2015
Number of Pages: 96 pages
Number of Chapters: 18 chapters
Average Chapter Length: 5 pages
Picture Frequency: the majority of every page is a large picture
Special Considerations: This book is definitely dated. There are some things that are just done differently now in our society. For example, Daddy Pig gives Mommy Pig some money for the day. Yep. I mean, that's ok, I guess, as long as Mommy Pig is ok with it, but our family doesn't work that way.
Also, the gender roles in the job distributions are very traditional. For example, all of the doctors are male and the nurses are female. The book was first published in 1968, and a lot has changed since then.
My Thoughts: This is a great book for any age child. You just need to be ok with adapting it to their comprehension and interest level. For my younger child, I normally just end up reading the story part of each page. For my older child, I supplement the book with videos on YouTube about how things are made and done now.
If you read every word on the pages, it will take you FOREVER to get through the book. This is a good thing if you are looking to kill some time. This is a bad thing if your child chooses it as their bedtime book! I treat it like a chapter book and just read one chapter when they choose it to be read aloud.
I give Richard Scarry's What Do People Do All Day? 5 out of 5 ears. It is a book that should be in your book basket!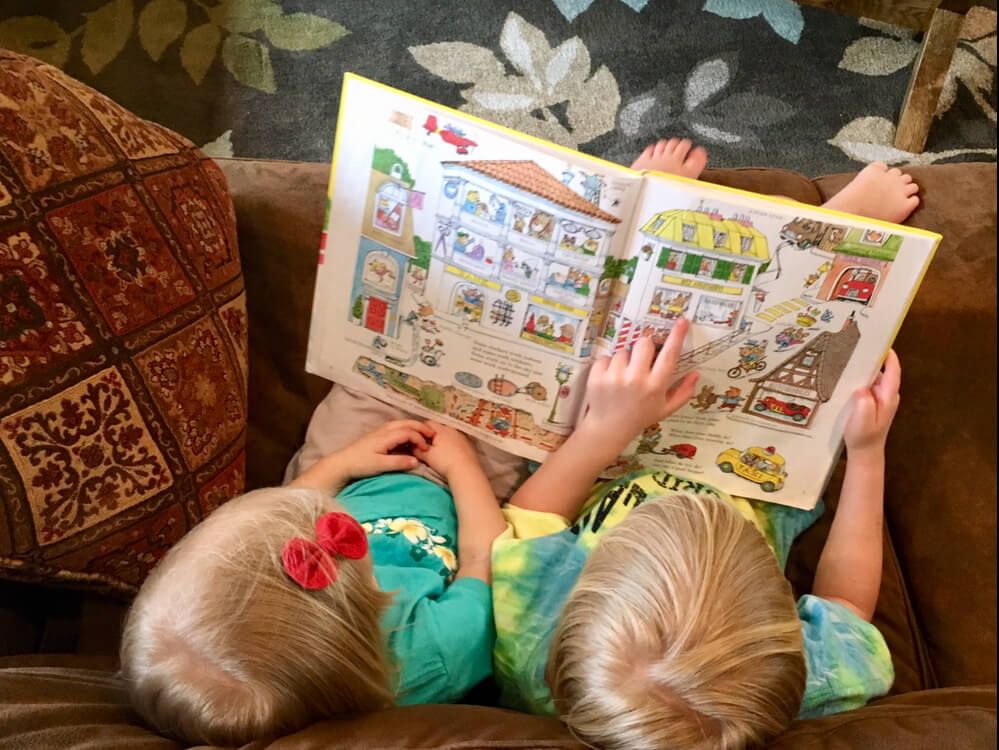 I love this book because it is a great way to introduce how the world works to my kids, and they love to look at it even when I'm not available to read it to them! It's the easiest busy book!
What books do your kids look at by themselves? How do you encourage independent book time even before your kids can read?