The author's note that concludes The Creator in You says, "We are called to help our children see that work isn't a meaningless means to an end. It is a means of reflecting the character of the Creator God to the world and loving others in the process."
Wow, that's a tall order for a picture book! I know that I struggle sometimes feeling like my work is important to God – there's a lot of wiping counters and cutting the crusts off of sandwiches in my line of work. I love the idea of reminding our kids how God views work, as long as the theology is sound. So, let's examine the theology in the newly published non-fiction Christian picture book The Creator in You by Jordan Raynor.
This post contains referral links for these products. As an Amazon Associate I earn from qualifying purchases. It does not cost you extra to purchase through my links.
I was provided with a copy of The Creator in You to review. However, this review is not paid for, and all thoughts are my own. And I'm an Enneagram 8/9 wing and y'all are going to know what I think before the end.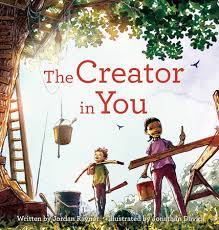 My overall thoughts on this faith-filled picture book
The Creator in You is a rhyming, non-fiction Christian picture book, new in April 2022.
It's Jordan Raynor's first foray into children's books, as he usually writes for grown ups. I asked Raynor what his favorite read-aloud books were growing up and he said The Boxcar Children and The Chronicles of Narnia. The classics! It makes sense that he chose books where the protagonists are known for their strong work ethics; it fits right in with his picture book's message.
What is that message, exactly? Let's talk about it!!
Theology of Work
The overall message of the book is that work is good! God was a creator, so his people can be, too.
There are no scripture references or verses quoted in the text of the book. However, it is clearly stated that work is good because of God, not solely because it's good for society, or it makes us feel good. It's all about the inherent goodness of working for God's glory. Kids are encouraged to approach work and creating as a joyful privilege, not a chore.
It is a wonderful message for all kids. I would feel very comfortable using the book with both saved and unsaved families, because there is nothing in the text about "Jesus in our hearts" making work good, or anything like that. Creating is good for all people to do! (Shoot, I'm feeling awfully convicted to go joyfully empty the dishwasher after I finish this review!)
Age Range
The publisher recommends The Creator in You for ages 3 through 7. I'd agree with that, although I think you could definitely push it up older because of the more heady concept. Not many 3 year olds need to be convinced that what they're doing is worthwhile, but the middle grades…multiplication and division can make anyone question whether their work is worth doing! (Speaking as a mom of a middle grade child.)
It could be a really nice gift even for a young adult who is graduating or starting a new job, maybe with a copy of a companion book about the goodness of work like The Word Before Work by the same author as this picture book, or the classic Every Good Endeavor by Tim Keller. There isn't an age limit on a good faith filled picture book!
Full disclosure, there are some clunky rhymes. (For example, "ending" does not rhyme with "beginning." This is my rhyming-picture-book hill to die on.) Although there are only a few, it is distracting when reading aloud to young kids. However, it's still worthy of a place in your book basket because of the strength of the message and the beauty of the illustrations.
Related: If you like the theology deep dives like this, be sure to check out my review of the theology in the picture book God Gave Us Prayer.
6 Literal Days?
With all of the talk about the Creator, of course the original creation will come up! The book holds to a literal week of creation, so shout out to all of my literal-day-creationists readers! Normally when I'm reviewing I have to put a caveat, "Be warned if you're a young earth creationist…" but not today!!
The three specific references that the author makes to the timeline of creation are, "God created the world in a matter of days," "on His sixth day of creating, God chose to make you," and, "while in six days God created a lot…"
If your family does not believe in 6 literal days, I think you could tweak it with a bit of card stock and packing tape. You could change "on His sixth day of creating," to something like, "after so much creating."
Illustrations
The illustrations are stunning. It feels like the illustrator understood the assignment and went all in. There's a really beautiful sky motif that connects all of the pictures, including some lovely front and end pages with constellations. Gorgeous!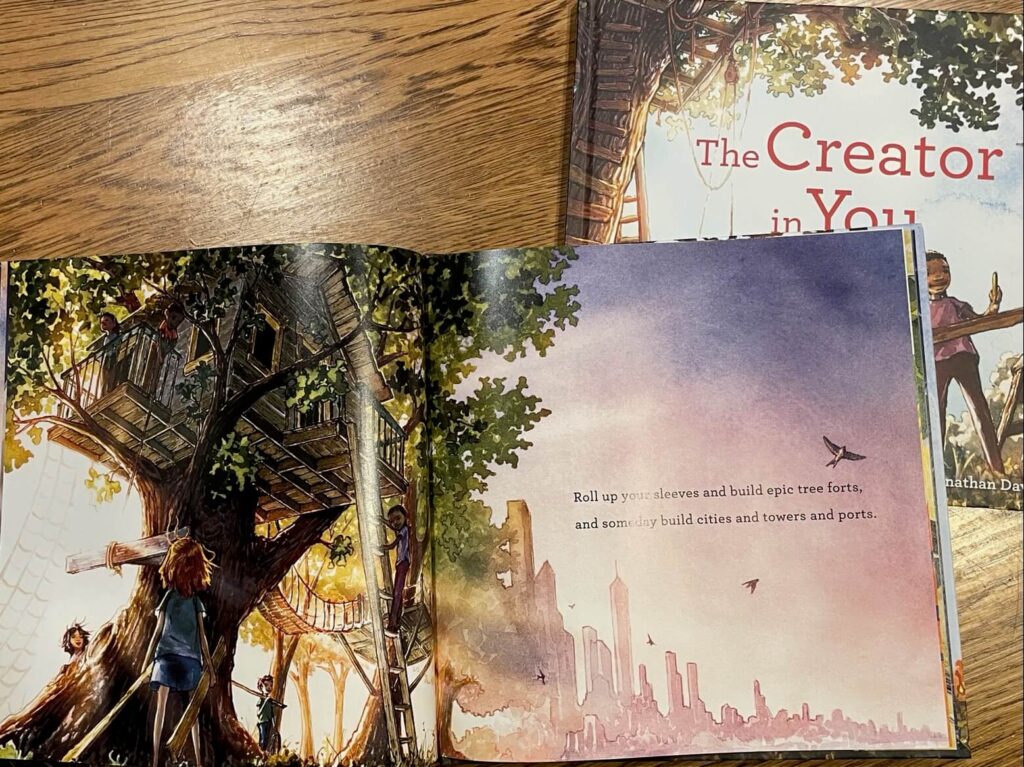 Heads up that God is depicted as having human hands. Some people shy away from any personified-image of God, so FYI that's in the illustrations a few times. I was fine with it, it was clearly just a way to visually represent GOD. But heads up if that's a sticking point for you.
As a mom of both girls and boys, I appreciated that both were represented in the illustrations.
Overall Thoughts
I loved The Creator in You. It's such a lovely message, but presented in a very accessible way. Our Vacation Bible School theme at church this year is sort of invention/tinker themed. I'm in charge of finding a book for a prize, and I've found it in The Creator in You. I can't wait to share it with lots of kids!
Related: Another recent theology picture book is The Apostle's Creed: For all God's Children. Check it out!