It's a sobering moment when your child raises their head from praying for dinner to ask, "If God knows everything, why do I have to pray?"
Have you been asked a question like that yet? Or, how about, "Will God for sure heal Grandma if we pray for her?"
That's a doozy.
These questions and more are all important, and so welcomed! But explaining the theology of prayer to young kids can be daunting. Thankfully, there's a Christian picture book about prayer that can help – God Gave Us Prayer.
If you click on the book title it will take you to the Amazon page to purchase the book. As an Amazon Associate I earn from qualifying purchases.
Theology in Picture Books About Prayer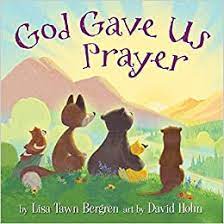 The thing I appreciate most from this new Christian picture book is the correct theology. In God Gave Us Prayer, the author utilized nuanced phrases for talking about prayer with children in a theologically sound way. For example, Mama does not say that praying for healing will bring healing. She just says, "God does want us to pray for healing."
In the example prayer to go along with that section, the prayer says that God heals his children either on earth or in heaven. Thank you, God, for sound theology in what we read to our children!
Some of the finer theology points like that one may go over your little listener's head, so be prepared to have conversations to explain more.
Another thing that will probably go over your child's head is that the first half of the book introduces the ACTS method of praying. However, it never comes out and says, "adoration, confession, thanksgiving, supplication," or uses the acronym ACTS. So, even though the sales pitch for this book on Amazon mentions ACTS, if you want your child to learn it from this book, you'll have to actually explain it to them.
LONG for a Christian Picture Book
Heads up that God Gave Us Prayer is quite long for a picture book, especially a picture book marketed to 3 to 7 year olds. For reference, it has almost twice as many pages as God Gave Us Easter, and God Gave Us Christmas, and more text per page than God Gave Us Easter.
Some thoughts on the length:
First, I think you could EASILY push the age up past 7 years old. I don't know a whole lot of 8 to 10 year olds that consistently practice the ACTS method of praying… The older kids can definitely sit for the longer story.
Second, there is a very natural break point halfway through the book. It's when Little Pup goes to sleep. The very next page takes place a few days later, and involves friends asking Mama different questions. You could easily read it to preschoolers in two separate sittings, without losing any of the flow of the story.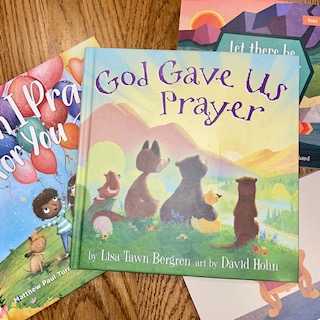 Salvation and Picture Books about Praying
The most important thing you need to think about when looking at Christian picture books about prayer is whether or not the book lines up with what your family believes about salvation. This is especially crucial with picture books with "sample" prayers!
For example, you might belong to a faith tradition that believes in a moment of "accepting Jesus into your heart," by praying a special prayer of salvation. (Shout out to the Baptists! Glad you're here!) In that case, you want to see if the sample prayers are written for children who have already accepted Jesus as their Savior, or if they are more broadly applicable to all children.
For example, a sample prayer that says something along the lines of, "God, Thank you for forgiving all of my sins," may not be appropriate for an older child who has not asked God for forgiveness of their sins.
In the same way, if your child has professed belief in Jesus before, or if you belong to a denomination that does not view salvation as a thing that happens in a moment, there's no need to pray the "sinner's prayer of salvation" every time you sit down to read picture books before bed.
With that in mind, I carefully read God Gave Us Prayer, and believe it is perfectly acceptable for children at any place in their relationship with Christ, and in any denomination. The prayers are applicable for both the very young who have no concept of "salvation," and the older kids who understand more, whether or not they have chosen to ask Jesus into their hearts. There is no prayer about salvation specifically. All of the sample prayers are completely true and appropriate whether or not a child has decided to follow Jesus personally.
The only thing in God Gave Us Prayer that would be even borderline questionable on this distinction of books for saved versus unsaved is one sample prayer begins with the phrase, "God, I am your child." However, in that instance the prayer follows an explanation that we are created in God's image, and the prayer is referring to that concept, not salvation.
Tips for Foster Families Using this Christian Picture Book
When this book arrived in our mailbox, it came on a day when I had been working on compiling some books to share during Foster Care Awareness Month. With foster care on the brain, I noticed some very wonderful tie-ins for those of you who love kids from hard places.
First, there's a beautiful prayer thanking God for, "surrounding me with those who love me. Help me see how their love is a little like yours." What an excellent reminder for those kids we love from hard places that they are SURROUNDED by people who want to help them! The fill-in prayer is a time to thank God for different people who help our kids, and would be a good opportunity to thank God for a social worker, therapist, or parapro.
Second, all of the animal characters in the book have parents of the same species. The exceptions to this are that Little Owl's and Little Bear's parents are never shown. There is also a picture of Little Bear hugging Little Goose. If your kids tend to look for families that don't look alike in the books you read, you can easily say that Little Bear and Little Goose are siblings in the same family. (There are tons of picture books about adoption with animals instead of people if you are looking for more varied representation of families for your book basket.)
Third, it could also be a good book to gift a child when they leave your home, along with these Christian picture books that I have talked about in the past that are excellent for foster families.
Final Review of God Gave Us Prayer
For all families, I highly recommend God Gave Us Prayer for your book basket. It is great for building a strong theology of prayer from early on. Use this excellent resource to get ahead of some of the tough prayer questions from your kids, and to be prepared with an answer when the tough questions come!