It's always a good idea to remind our kids that we aren't alone in believing what we do. We have a rich heritage of Christians who did big things for God that we can point them to. Thankfully this heritage has been illustrated (literally!) in Christian biographies for kids.
There are many wonderful compilation books that compile many Christian biographies into one volume. I'm going to review 3 of the most popular Christian biographies for boys. The books are marketed to ages 7 through 12, but see my reviews to see if that's the best age for them.
I'm going to be comparing and contrasting only "boy" books, because otherwise this review list would get crazy long. However, unless otherwise noted, you can assume I feel the same way about the "girl" versions of these titles. I read both "boy" and "girl" books to all of my children of both genders, so do not take this list as a recommendation to read these books to only boys, it's just a distinction of how the publishers market them.
This post contains referral links for these products. As an Amazon Associate I earn from qualifying purchases. It does not cost you extra to purchase through my links.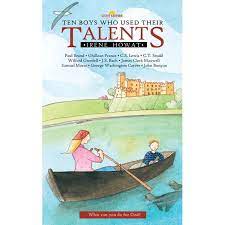 These are the Ten Boys Who… books. The title of every book in the series starts with "Ten Boys Who." They've been around for a long time, but they're still being published and will be front and center in any Christian bookstore.
Pros of Lightkeepers Boys:
The short biographies are written in a story format. This makes them exciting, and more accessible to kids who don't necessarily love non-fiction. Each chapter can be read in about 10 minutes, so they are not super long, but longer than just a page.
The stories frequently focus on what the person was like as a child. This is a unique spin on biographies for kids.
There are many books in the series. I read the "boy" series and the "girl" series to all of my kids, and think that both are important for both genders to hear.
There are discussion questions at the end of each chapter. You could use these or not. The discussion questions are not helpful for an independent reader, because they are fairly complex and not super accessible.
Cons of Lightkeepers Boys:
No pictures!! There are no pictures at all. Because of that, it can be easy to miss the diversity of people talked about in the chapters. There is a fairly diverse lineup, but you wouldn't know that just from reading unless you were familiar with all of the people. In order to get around that, I pull up a picture online of each person to show my kids before we read the chapter.
Related: Christian picture books about racial diversity
I recommend Lightkeepers Boys for…:
As a read aloud with parental guidance, I recommend it for ages 7 and up.
To be read independently, I would be comfortable with handing it to children 10 years old and up. The reading level and word choice is younger than 10 years old, but I think that the content is heavy enough that you should proceed with caution with any child under 10.
For example, there are references to someone protesting abortion. Additionally, many of these people had hard lives, including being tortured for their faith. There's just some dark stuff.
Overall, I HIGHLY recommend the series for all children. (With the understanding that the author is definitely a conservative Christian, so if that's not your particular flavor of faith, use it as a read aloud if you're concerned about content that's not right for your family.)
In our family we use it as a read aloud only. That way we can chat about what we read, I can show them a picture of the person before we read, and if there are any terms that need parental guidance, I'm there.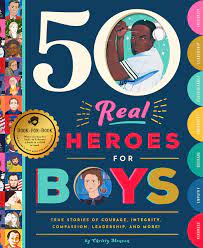 50 Real Heroes for Boys is tricky because it is a secular book. However, I'm including it because it has some serious "Pros," including acknowledging people who were heroic because of their faith in God. (That's an important distinction: the book doesn't just acknowledge that someone believed in God, it tells about how their beliefs led to actions.) The message of the book is that being a heroic man means being yourself, and working hard to be your BEST self.
Pros of 50 Real Heroes for Boys:
Although the book is marketed for boys, and features heroic characteristics aimed at boys, there are both men and women represented in the list of heroes. That's cool!
The book features 20 character traits that mark heroic men. They are all things that I would aspire my little man to be.
Not all of the people featured in it share our faith. However, it acknowledges Christians who acted heroically because of their faith. For example, William Wilberforce.
There are full color illustrations on every page.
There are no people listed that I would be like, "Well, they fundamentally fought against what we believe."
Cons of 50 Real Heroes for Boys:
It is a secular book, and God used people who don't share our faith to make the world better, so they're in here. For example, Steven Hawking is in there, and he argued that there was no possibility of there being a God. However, the book doesn't share that, and it's undeniable that he had some heroic qualities, so I'm comfortable with it.
I recommend 50 Real Heroes for Boys for…
The nice thing is it's a secular book, but feels like it was written by someone who, if they don't follow our faith, at least respects it. That can be hard to find in secular round-up bibliographies. Therefore, I recommend it highly for everyone, ages 7 and up. (It is an excellent option for those looking for secular books for school that still line up with your values.)
The content is written at an age appropriate level and, although there are some hard things that these people went through, there was nothing overly upsetting. There was nothing that I felt like I needed to guide my son through, he could definitely read it independently. It would work well as both a read aloud book, or to be read independently.
(This is exactly the type of book that if we were reading in our home, after reading every person's biography I would ask, "How did you see Jesus in this story?" Then I would also answer the question myself. I talk about the ease of using this simple question instead of discussion guides HERE.)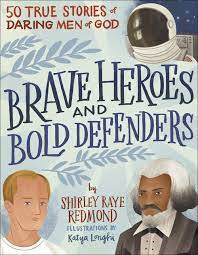 Pros of Brave Heroes and Bold Defenders:
The illustrations are in full color and truly wonderful.
There is a good mix of ancient and new people featured, and a diverse lineup.
You can also check out Courageous World Changers: 50 True Stories of Daring Women of God.
Cons of Brave Heroes and Bold Defenders:
The author throws around the term "hero" pretty loosely. Like, Jeremy Camp has a Grammy, but is he a hero?
Also, a friendly reminder that being a man of God does not necessarily mean you will agree with all of the theology or life choices of a person. There were a few men included that had me like, "We will probably see them in heaven…but their theology does not line up at all with our particular flavor of Evangelicalism."
My understanding is that the original edition of this book had a page about Ravi Zacharius. Clearly that aged like milk… I purchased our copy in December 2021, and it is not in there, so if you buy new you should be good, but if you buy a used copy, maybe peruse the table of contents to make sure you don't need to glue a couple pages together.
I recommend Brave Heroes and Bold Defenders: 50 True Stories of Daring Men of God for…:
Pick up this illustrated Christian biography book for 8 through 12 year olds who you KNOW like reading biographies. The text is non-fiction biography, and not told at all in a story format.
It could also be a good read aloud for all ages, especially as part of your normal routine. Perhaps you could read about one person every day.
You should also know about this less popular option, if you're looking for Christian biographies for boys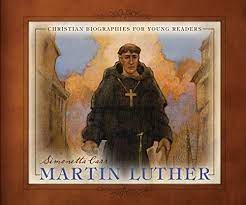 I also recommend the series Christian Biographies for Young Readers for ages 8 through 12. (Although, honestly, I've learned a ton from them that I didn't know about church history, so you could definitely bump that age up.)
I don't hear a lot about this series, and it isn't quite as flashy as the others. That's why I wanted to share it here. Admittedly, the design style gives off pretty heavy "home school text" vibes, but I encourage you to not discount it just because it doesn't match the current graphic design style.
Heads up that the series focuses mainly on the ancient fathers (and a few mothers) of the faith, with less modern believers in the mix. Think Augustine of Hippo and John Bunyan…no sports stars or scientists. There are some diverse options in the series, but not a ton.
Each book is written about only one person. The stories are told solely in past tense, so it is a different vibe from the others on this list. However, there are color illustrations, and the theology is sound, so they could be a great option for introducing your child to Christian biographies. I highly recommend it for those with boys who devour interesting non-fiction books!!
I personally think the covers are somewhat lacking in the wow-factor, so cover it with Christian memes or comic strips to get your 10 year old to pick it up. (That's a joke. But also, I have a 10 year old, so, don't knock until you try it. Speaking from personal experience.)
I also have a curated list of not-cheesy Christian books for tween boys that AREN'T devotionals, so check that out, too. There are a few more non-fiction options that might fit what you're looking for.
Related: How to have a read aloud life when you DON'T home school.