Time to beef up that mom reading list for summer! If you don't think you need a mom reading list, think again!
Full disclosure, during the winter, I think to myself, "Why do we live here, in this cold, forsaken, midwestern state? Why did people ever even settle here? Why did I fall in love with a man who lives here?"
Then, JUNE!! Oh, June in the midwest is glorious! Our woods are green, the sun shines every day and late into the evening, and the lake water is as warm as a bath.
This is the month when I think, "OOHH, this is why people settled here."
June is a good month for finally reading outside, on a blanket in the sun.
Are you looking for a book to add to your mom reading list? Here are my reviews of the books I read in June.
Make sure to pay extra attention to "Special Considerations," where I share any questionable material. You can find straight talk about whether or not a book is worth reading in the "Bottom Line" section.
---
Why Not Me?
In seventh grade I started at a new school. On the first day I was so anxious to make friends, I brought a family-size bag of Skittles to homeroom so I could pass them out and entice my new classmates to talk to me.
– opening line of Why Not Me? by Mindy Kaling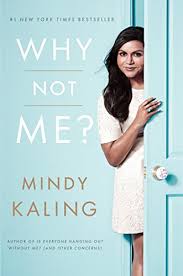 Author: Mindy Kaling
Details: Crown Archetype, 2015
Length: 228 pages
What it is: nonfiction, autobiography
Summary: I freely admit to reading trashy celebrity gossip news whenever I can. Mostly, I get to read those celebrity magazines in line at the grocery story, or on my phone in bed. So, of course I read the books written by celebrities whenever I get a chance. This is a collection of essays (and a speech and a short story) about fame and food and love by the hysterical Mindy Kaling, of The Office and The Mindy Project fame.
Special Considerations: There's some references to sex. Also, there's a lot of stories which involve the consumption of a large amount of alcohol. (I mean, she talks about booze a lot. A LOT.) Nothing that should make you clutch your pearls, but you should be aware. Don't listen to the audio book in the car with your family on the way to church.
The Good: The book is bitingly sarcastic and witty. I love some good snark. She also has a very self-depreciating sense of humor that made me laugh several times. I am my own worst critic, too, so I cracked up sometimes when she fully explained her own awkwardness. Also, Mindy is a lot of things I would like to be – smart and funny, and just amazing at what she does.
The Bad: The "bad" isn't something that is bad about the book. It is just something that kept me from really enjoying it as much as I was expecting to. Mindy and I are at very different places in our lives. I do not relate to the vast majority of her stories. Essays about one night stands with Obama's security detail and email exchanges between hot prep-school teachers did not speak to my current life situation…or my past life situations…or any life situations that I ever anticipate for my future.
Bottom Line: If you are a fan of Kaling and enjoyed her first book, I think you should of course put this on your mom reading list. However, if you aren't a huge fan, and you aren't into the pop-culture-memoir thing, this probably isn't a must-read. I think you could get by with just reading the commencement speech she gave at Harvard which is hysterical and a highlight of the book and call it good. Of course, I say that, but I'll probably read all her other books…but, I love a pop-culture-memoir, even one I don't relate to at all.
---
The Golden Age of Murder
On a summer evening in 1937, a group of men and women gathered in darkness to perform a macabre ritual.
– opening line of The Golden Age of Murder by Martin Edwards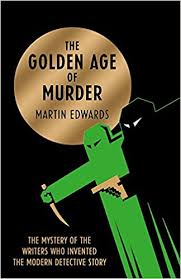 Author: Martin Edwards
Details: Harper Collins, 2015
Length: 481 pages
What it is: nonfiction
Summary: This nonfiction book is a history of the Detection Club, a group of British mystery writers, between the two world wars. The main focus is how their personal lives and world events influenced their writing.
Special Considerations: The title of the book is The Golden Age of Murder, so you have to expect there will be some murders. You'd be right – there are a lot of murders discussed. However, there is nothing explicitly described or gory.
Also, when you look at anyone's life under a microscope, you will inevitably see their brokenness. All of these authors were broken people, who struggled with affairs, unwanted children, racism, ambition, greed, and alcoholism.
The Good: Sprinkled in with the stories of the authors are the true crimes that inspired their stories. It is a fascinating mix of real life and fiction. Also, Edwards does an excellent job weaving together the life stories of the many authors who made up the Detection Club during the twenties and thirties. Agatha Christie, G. K. Chesterton, and Arthur Conan Doyle are all favorite authors of mine, so the chapters featuring them were my favorites.
The Bad: The book is so well researched! You wouldn't think that would go under "The Bad." However, the chapters sometimes got bogged down in the details. There is just so much detail! I also struggled to keep track of who-was-who since so many different authors were featured. The fact that many of the authors used pen names also made it more difficult to keep track of everyone.
Bottom Line: This is one of those rare books that I loved, but would be very hesitant to recommend it to someone. I feel that way because I think that the group of people who would find this book fascinating is a very specific group: people who love classic mysteries and history. At almost 500 pages, it is a commitment to get through it. If you don't love the subject, you should probably bail before you finish the Introduction. But if you enjoy history and mysteries, you'll love it!
---
Raising World Changers in a Changing World
Our world has changed every time I turn on the TV. It seems to get a little scarier and a lot more uncertain with every passing day.
– opening lines of Raising World Changers in a Changing World by Kristen Welch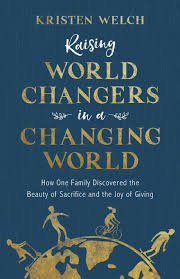 Author: Kristen Welch
Details: Baker Books, May 1, 2018
Length: 208 pages
What it is: nonfiction, religion
Summary: The full title is Raising World Changers in a Changing World: How One Family Discovered the Beauty of Sacrifice and the Joy of Giving. That pretty much sums it up! This book is part memoir, part sermon, and part parenting blueprint.
Special Considerations: The book can get a little heavy, since the Welch's ministry is to impoverished teen moms in Africa. Just be aware before you hand it to your 11 year old to read.
The Good: Welch's story is just so powerful. It makes me want to run out and save the world, and give everything away, and just love Jesus by loving others. She is so real in her writing, it doesn't feel like being preached at. It just feels like someone who is trying to be a good mom and wants to help you be a good mom, too.
The stories in this book are so real, they'll make you cry. At least, they made me cry. But they also encouraged me to keep up the good work, and improve where I need to. Most importantly, the book equipped me to better ingrain in my children how God sees the world.
The Bad: I LOVED Kristen's last book, Raising Grateful Kids in an Entitled World. Seriously, I loved it. Because of that, I think I was expecting too much from Raising World Changers in a Changing World. There are more ways to engage your family in Raising Grateful Kids in an Entitled World, and I missed that quantity of ways to engage with your kids in this book. Also, in this most recent book, Welch quotes other people and books a lot. In fact, she has so many whole paragraphs from other people's books that it is a little distracting.
Bottom Line: This must go on your mom reading list! I laughed, I cried, I highly recommend it. However, if you haven't read Raising Grateful Kids in an Entitled World, read that first. It's even better than Raising World Changers in a Changing World.
---
June was a good month for reading nonfiction!
I didn't realize until I sat down to collect what I read that all I read this month was nonfiction. I do love a good nonfiction book. July is coming, though – time to bust out some fiction beach reads!
What have you read recently that needs to go on my mom reading list? Any fiction to suggest for me to read on the beach? I think I'm in a nonfiction rut!