These graphic novels are like the fabulous Dog Man series: funny, irreverent, and a memorable animal main character. If your elementary reader has gone through all of Dav Pilkey's books, cackling up a storm, then it's time to check out these other hysterical graphic novels! (Some of them also make great family read aloud books!)
A Heads Up About Content that is in these Graphic Novels for Kids who Love Dog Man
It's all about the comedy. If you know anything about the genius of Dog Man by Dav Pilkey, then you should know it's about captivating the reader's attention through humor. These are not highbrow books, and that is not just ok, it's AWESOME. The world needs funny books.
A lot of them have potty humor. Farting…lots of farting… Poop jokes are the norm. That sort of content is ok in our home, but if it's not in yours, that's totally fine, just make sure to do a thorough preview before you hand the title to your child.
These are all secular titles, and do have some middle school language. Most have "heck," "stupid," and "shut up" at least once. A few have, "dang." If you are reading aloud these graphic novels like Dog Man, it's easy to switch up. If you're handing it to your kid who likes Dog Man, make sure they know how your family feels about those words in your home.
All of these titles on this list can be read an enjoyed by either gender. I do not believe in making books of "books for boys," because that can be so alienating for those of us who didn't read "girl books" growing up. However, admittedly most of the titles on this list do have male protagonists. That seems to be the nature of graphic novels that are full of slap-stick comedy and written at this reading level. There are lots of wonderful graphic novels with female protagonists, they just aren't featured here. But don't hesitate to hand these books to girls, too, especially if they're reluctant readers!
Dog Man Reading Level
Dog Man is recommended for second grade and up, with the sweet spot of kids who love the series being second through fifth grade. Dog Man books are technically a reading level P or Q, depending on which book in the series you look at.
For those who are looking for a more technical reading level measure, Dog Man (the first book in the series) has a Lexile measure of GN390L. (The GN just stands for graphic novel.) The other books in the series are around there, though most are lower. For example, Dog Man: A Tale of Two Kitties has a Lexile measure of GN260L.
The graphic novels like Dog Man that I talk about on this list will all be at a slightly different reading level. I'll attempt to clarify what level each book is at. Some are easier than Dog Man; for example, the Narwhal and Jelly series. Some are more difficult, like Calvin and Hobbes.
However, do not let reading level deter you from handing any of these books to your child! I have in the past argued that we need to ignore reading level completely, and look at appropriate and engaging content instead. In this list I simply share the grade level for if you're looking for a specific age range. All of the books on this list will be right around the age group that likes to read Dog Man. (So…elementary boys? Did I get the target audience right?)
If you click on the book title it will take you to the Amazon page to purchase the book. As an Amazon Associate I earn from qualifying purchases.
Graphic Novels Like Dog Man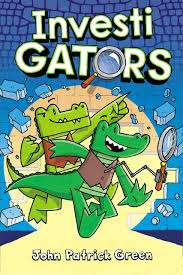 I'm putting this one first on the list because, as a mom, it's probably my favorite. No bad attitudes, only cartoon/slapstick violence, lots of puns, no romance or crushes, and alligator investigators who travel by toilet? Yes. Please.
It's a fabulous series of 3 graphic novels for 7 to 10 year olds to read independently. We also read it as a family as a read-aloud book, and my 4 year old also enjoyed it. (Although it is harder than one would think to explain puns to a preschooler.) Highly recommend for all ages!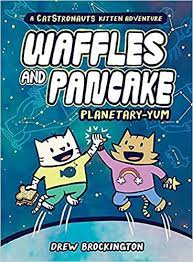 Waffles and Pancake is a spin off series from the popular CatStronauts series. It is about two sweet kittens who love outer space, and have fairly normal adventures on earth. (And there are puns…so many puns.)
The series is marketed to 6 through 9 year olds. I agree with this – it definitely trends younger than most books on this list. Part of that has to do with the length – it is on the shorter side. This series is MUCH shorter than the CatStronauts books, FYI if you're expecting something similar. This could make it the PERFECT book for your older reluctant reader, because they can easily finish a whole book!
Heads up to my young earth creationist readers, there is a mention of how old the stars are, and it's not a small number of years. BTW, Waffles and Pancake's mom and dad are divorced, but it's handled in a super natural way, and is not a focus of the story. I like that it normalizes real life families.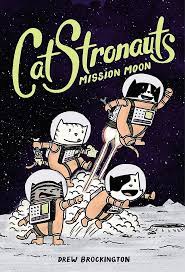 CatStronauts series by Drew Brockington
Cats who are astronauts. I mean, the title is pretty self explanatory. These are definitely more silly story driven than serious science driven, but I think that's a good thing. They're charming, and my third grade boy read the first one, then immediately requested the rest of them from the library. So far there are 6 books in the series, with hopefully more to come!
Heads up that this series is definitely at a higher reading level than the Dog Man books – CatStronauts books hover around a T reading level. (Compare that to Dog Man books, which are at a P or Q.) For that reason, it's a GREAT option for those kids who still like the silliness of a middle-grade graphic novel, but are reading at a higher level.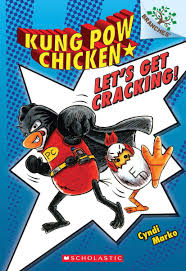 These short graphic novels are about a super hero chicken named Kung Pow Chicken. (They really are short – invest in the whole series if they sound right for your child lest they fly through the first in an hour and demand to go back to the library.) There is tons of humor (super hero leotard wedgies stand out) and some cartoonish villains.
The 5 book series is a hoot. (See what I did there?) These books trend easier than some on the list, with a guided reading level of M, N, or O, depending on the book in the series. They would be at a first or second grade reading level. (This is my long winded way of telling you they are easier to read than Dog Man.) However, the humor will probably go over a first grader's head, so I personally recommend the series for older kids, too. They would be excellent for an older reader who is not quite reading on grade level yet. (If that's your kid, here's a great article about what to do, written by a reading professional.) Really, though, any age will enjoy them, and we put too much stock in reading levels. It's nice to read a book below level sometimes!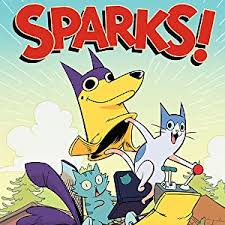 Sparks series by Ian Boothby and Nina Matsumoto
Sparks is about two cats in a robotic dog suit. They use the suite to do heroic things, because everyone loves dogs and cats are sort of ehh. You have to admit that's a hysterical premise.
There are two books in the series. Heads up that there are some dark elements – the villain tortures people, there is some catnapping leading to cruel experimentation, and just generally the bad guys are BAD. This may come as a surprise since the books are written for second through fifth graders. It is all played off as comedy, so your child may be fine with it, but be aware if you have a sensitive soul or a child from hard places that may respond negatively to these story elements.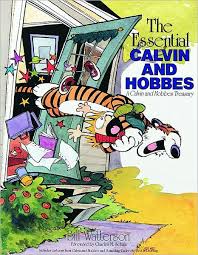 Technically, Calvin and Hobbes is not a graphic novel. However, my 8 year old son devours these comic strip books, so I need you to know they're a great option for girls and boys who like Dog Man. (These would also be a good option for kids who enjoy Captain Underpants.)
Of course, Calvin is naughty, but that's what makes them so funny. He does hate school, FYI if that's a no-no in your home. You do not have to read the books in order, they're all enjoyable when they stand alone.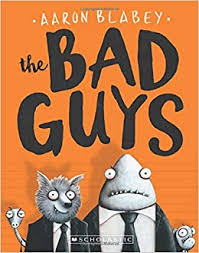 So. Many. Butt. Jokes. And fart jokes. My child adores this series of graphic novels about bad guys trying to be good – he SHRIEKS with laughter at all of the ridiculous elementary humor. It's a good series, heads up that there is some mild romance/crushes in later books in the series. I like that the good guys face problems, but they figure them out together. Good messages, slapstick humor, basically the perfect elementary boy series AND the perfect elementary girl series. (See what I did there? Girls like fart jokes, too!)
The still-being-written 14 book series is meant for second through fifth graders, and is at a reading level P.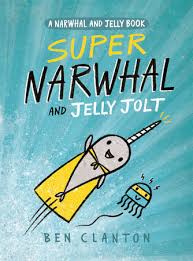 Narwhal and Jelly are best friends. They have adventures together, broken up by the occasional page of illustrated ocean facts. (Heads up for my young earth creationist friends that there are sections that talk about how narwhals evolved.) The overall feel of the series is super happy, there aren't even "bad guys." It's darling.
The 5 book series is a super quick read. It's probably most enjoyed by first through fourth graders, and is at reading level M. In our home we also treat this series like super long picture books, and the preschoolers have also really enjoyed the books during read aloud time.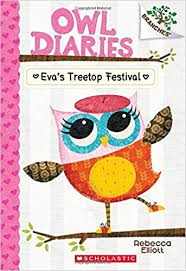 Owl Diaries series by Rebecca Elliott
This 14 book graphic novel series is all about Eva Owl and her many misadventures. There are lots of happy lessons, a few mysteries, and sweet friends. The reading level trends younger, kindergarten through second grade, level M. (So, slightly easier than Dog Man.)
So, clearly from the cover art this graphic novel series is marketed to elementary girls. HOWEVER, my children of both genders have enjoyed the series, so don't count it out if your boys like the writing style. (Also, there's some question about whether it is really a graphic novel. It's written in diary format. However, since it's not written like a chapter book, and there are tons of pictures and charts, I'm counting it here. There really are very few words per page, compared to a chapter book of similar length.)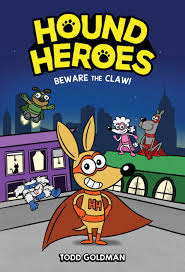 After a spaceship crash lands and gives five dogs super powers, shenanigans ensue. The dogs are of both genders, so this is an excellent pick for elementary girls or boys who like Dog Man, second through fifth grade.
The dogs fight against evil neighborhood cat, The Claw. Of course, the good guys prevail. (They also aren't super nice to one of their members, a lovable but irritating sheep dog. I don't love that, heads up that it's in there.)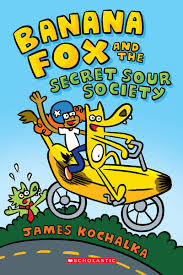 Banana Fox series by James Kochalka
New in 2021! Banana Fox is a great detective, and also bright yellow, because OF COURSE HE IS. These mysteries are brightly illustrated, and uber silly. So far only one book in the series has come out, but book 2 is coming out in October 2021.
Heads up that these are short – only 80 pages. In graphic novels, that's pretty easy to fly through, an 8 year old could probably read it in one sitting. So, if you pick these up for your elementary reader, grab a few others on the list, too. They're meant for second through fifth grade readers, but there isn't a ton of text per page, and the story is easy to follow, so you could easily bump it down for a younger reader.
There are other chapter books that are like Dog Man
All of these books on this list are graphic novels similar to Dog Man. However, there are lots of illustrated chapter books that have similar characteristics as Dog Man books, but they just aren't graphic novels. However, they have LOTS of illustrations – so many illustrations that some books, like Stick Dog, can be found in the graphic novel section on Amazon. However, since they aren't TECHNICALLY graphic novels they get their own list. Check out this list of 50+ illustrated chapter books for kids who love Dog Man!