I've been on a few podcasts, and spoken to a MOPS group or five, and a question I get asked regularly is, "What are the BEST books to read aloud?"
I tend to give the cop-out answer of, "Oh, there's so many good ones, how could I ever choose," but that is a lie. I totally know what I think are the best. So, this year I broke down and decided to tell everyone what the standouts are, by giving them the Golden Paw Print award.
The criteria I used for whether or not a book would win a Golden Paw Print was, "Is this book not heretical? Was it published in 2022? Is it my favorite?"
That narrowed it down pretty quickly. I give extensive notes after each winner, so you should hopefully find some things that are right for your family's book basket.
If you are looking for more award winning books, I have reviewed every winner and finalist in the kids' categories of both Christianity Today Book Awards and The Gospel Coalition Book Awards. Also, every year I review other big winners as they're announced – Newbery Honor, Caldecott Medal, etc. – for my email list. So, if you aren't on my email list, join other intentional readers getting children's book reviews right to their inbox.
This post contains referral links for these products. As an Amazon Associate I earn from qualifying purchases. It does not cost you extra to purchase through my links.
The Best Secular Read Aloud Book of 2022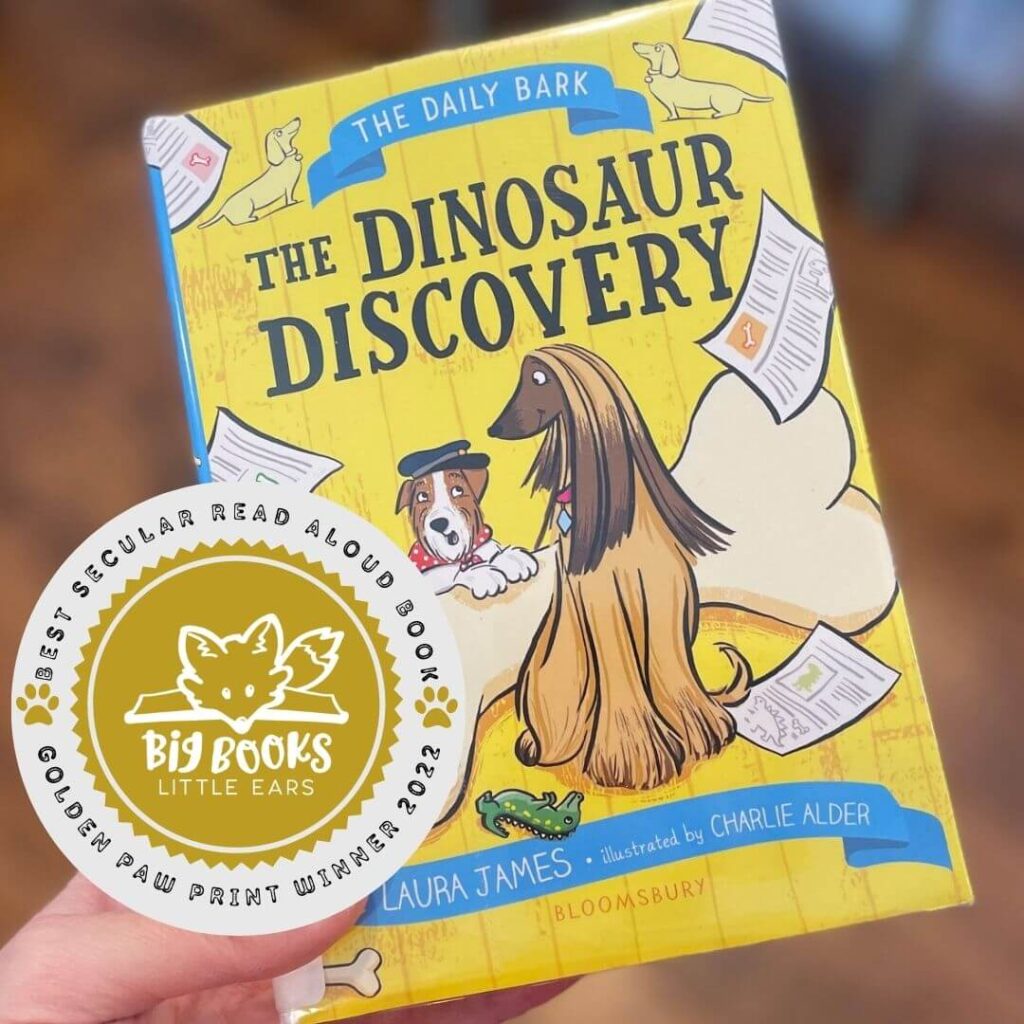 In a year filled with deep, probing chapter books for children, taking hard looks at serious issues like immigration, trauma, and family dynamics, I thought the stand out book was about dogs who write their own newspaper.
My family loves The Daily Bark series. Seriously, every single book in the series, they're obsessed. My 10 year old will even sit in the room while I'm reading, but not really WITH us, because it's illustrated and he's too old for that, but still every page he'll go, "Hey, can I see?"
And I'll have to turn the book around to where he's sitting, being all mature, so he can see the picture, too.
In The Dinosaur Discovery, the dogs find a dinosaur skeleton and save a friend from a frightful owner. It's not scary at all, just mild excitement. The dogs are all uplifting and kind, and there's that nice tie in to literacy because they write a newspaper. It's just fabulous. Plus, the illustrations are DARLING. I would like to decorate my house with prints of the dogs wearing hats. There's this greyhound in a hoodie who is my spirit animal.
Do you have to suspend reality because they also walk themselves around town and apparently have opposable thumbs to print their own newspaper? Yes. Yes, you do. Do we mind? No. No, we do not. You know why? The dogs help each other out, have good manners and no snark, and even occasionally pray. It. Is. Everything.
It's fairly short, you can read it in two or three sittings. I do recommend reading the series in order, so this wouldn't be the first book, but it's not a MUST if they aren't all readily available at the library.
(And for my young earth creationist friends – this particular book in the series is about dinosaurs, but there's nothing about when the bones ended up there or how old they are. I know y'all read my reviews because you send me the nicest emails anytime I give you a heads up about what's in a book. So, FYI, I hear you, and this one's good to go! You'll love it!)
Best Christian Holiday Book of 2022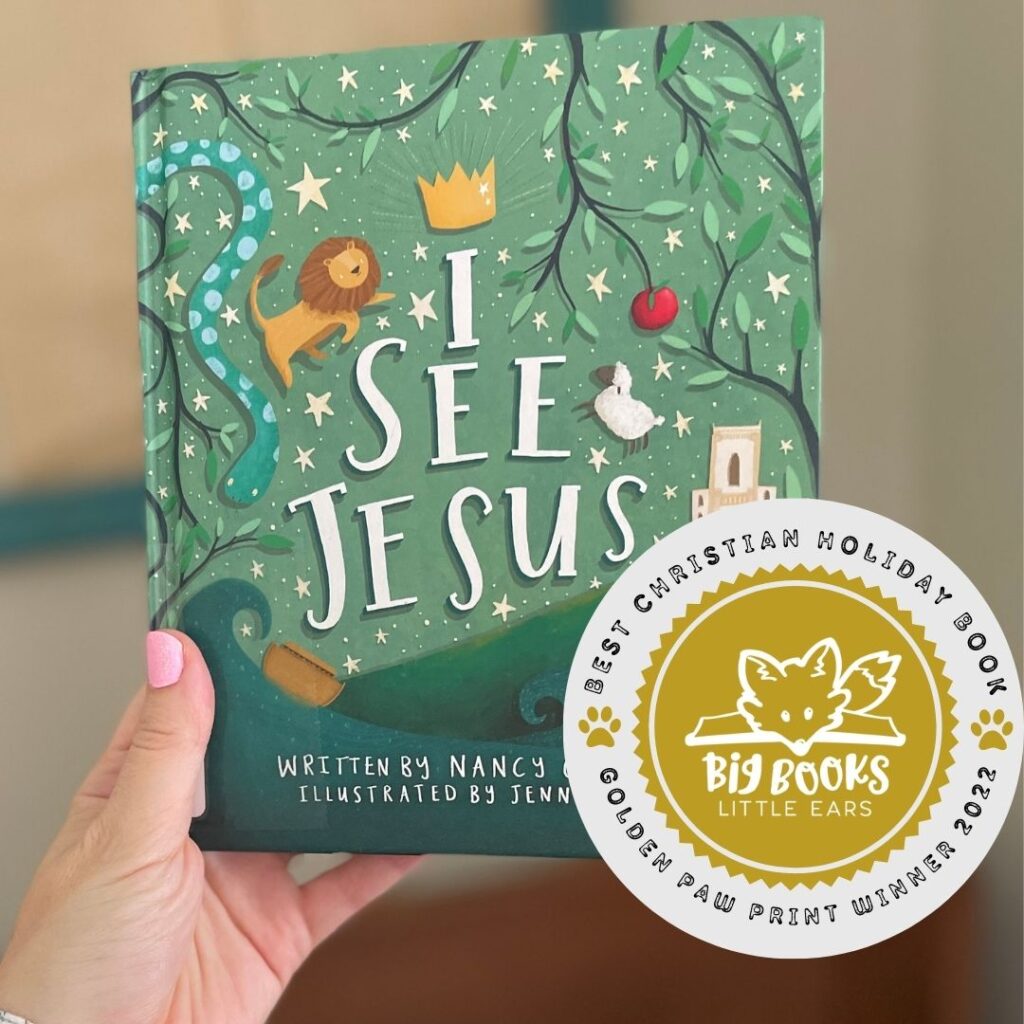 I See Jesus by Nancy Guthrie, Illustrated by Jenny Brake
I See Jesus was published in August, just in time for the major Christian holiday of…oh, wait…hmmm…Labor Day, maybe???
I guess they didn't mean this to be a holiday book. However, as soon as I read it, I knew it was the perfect picture book for Lent or Advent. The premise is that within the Old Testament stories are glimpses of the Messiah. The illustrations furthers that message by portraying certain objects' or people's shadows in the shape of Jesus.
It's filled with the most lovely prose, pointing our kids to the hope of who Jesus is. I personally put it with our Easter books, but I do think it would do equally well in your Christmas book stack. Or maybe both! Both is good.
The Best Christian Youth Audio Book of 2022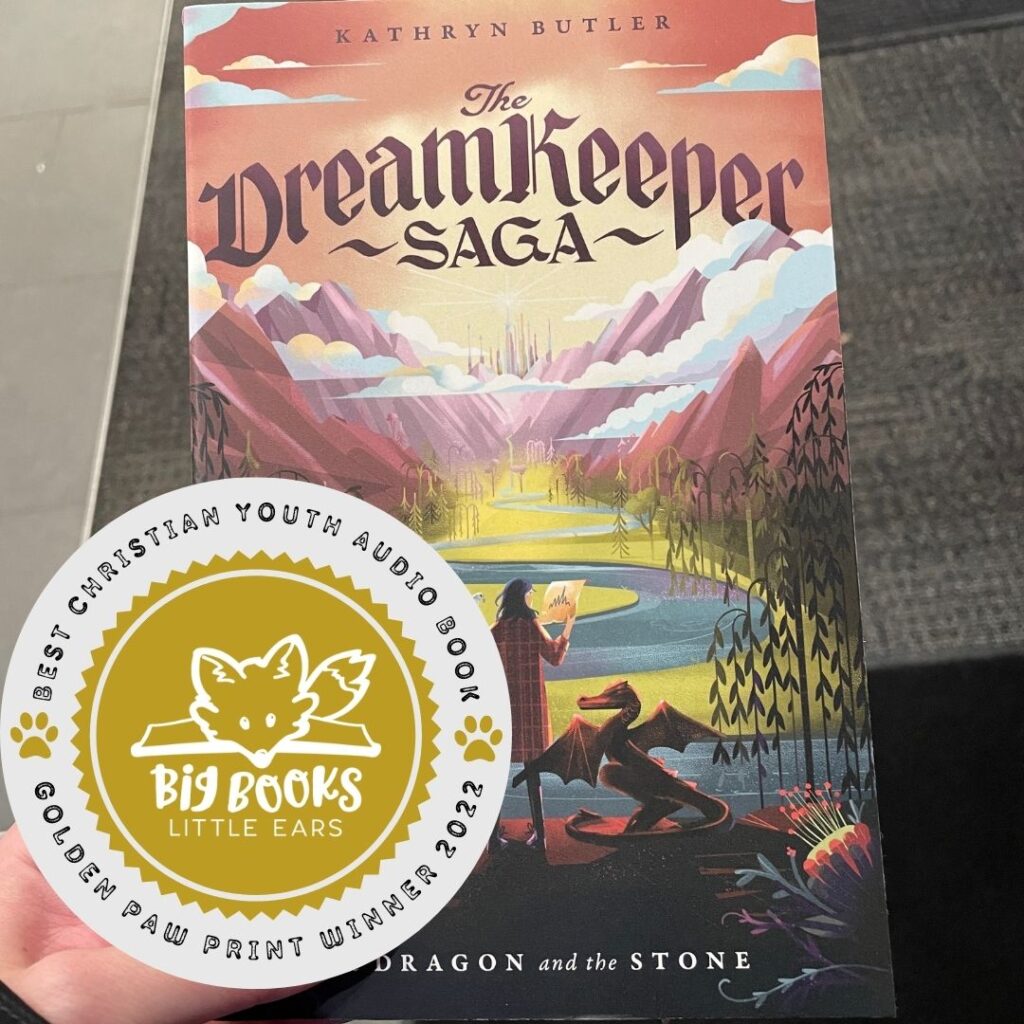 So, we're all looking for audio books for our families that have good messages, nice family and friend dynamic, and are squeaky clean, and all the things. That's all great, but let's face it: we'd also like to find audio books that don't make us want to use head phones and listen to our podcasts to drown out the kids' audio book.
Rejoice! The Dragon and the Stone is a wonderful story that is appropriate for the whole family, and the grownups will enjoy, too. The pacing is fast, the premise is engaging, the fantasy is imaginative but not hard to follow, and there's even a beautiful allegory of the redemption story. Love it, five out of five stars, ten out of ten high-fives, it deserves every award it gets.
The audio book reader is fantastic, and I personally think that it's best when the reader's voice matches the gender of the main character or narrator, and in this case it does. Heads up that there are suspenseful parts of the story, death, mention of divorce. It all makes sense in relation to the overarching theme and is redeemed. (I have a few more content concerns that I talk about in my original review.)
Try not to listen ahead while the kids are at school.
Best Christian Picture Book of 2022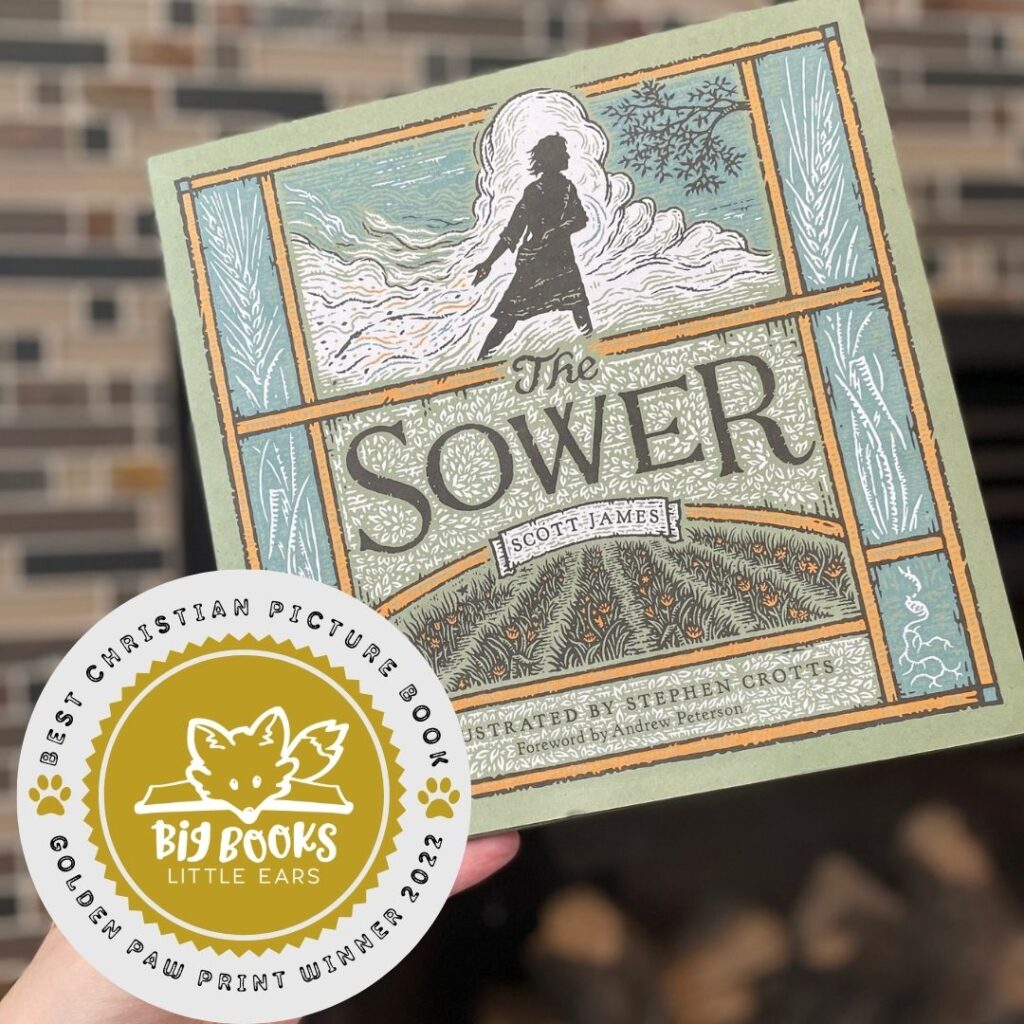 The Sower by Scott James, illustrated by Stephen Crotts
The best picture books are those that take the big gospel truths, the ones we want to sink into our kids' souls forever, and wrap them in beauty. The Sower does that by imaging Jesus as a sower, tending truth that he sows in his people's hearts.
The lyrical (but not rhyming) text tells the world's story from creation through restoration. The imagery is clear enough that my oldest child got it right away, and I had him explain each page to the younger kids. I don't know if they all got it (we have a lot of younger kids…) but I know that this book will be in our book basket for a long time, so they'll hear it again and again.
The wood-cut style illustrations, with an earthy-heart-growth motif throughout, are beautiful. This book would not be nearly as successful without an illustrator who clearly "GOT IT" and went all in.
Best Christian Read Aloud Book of 2022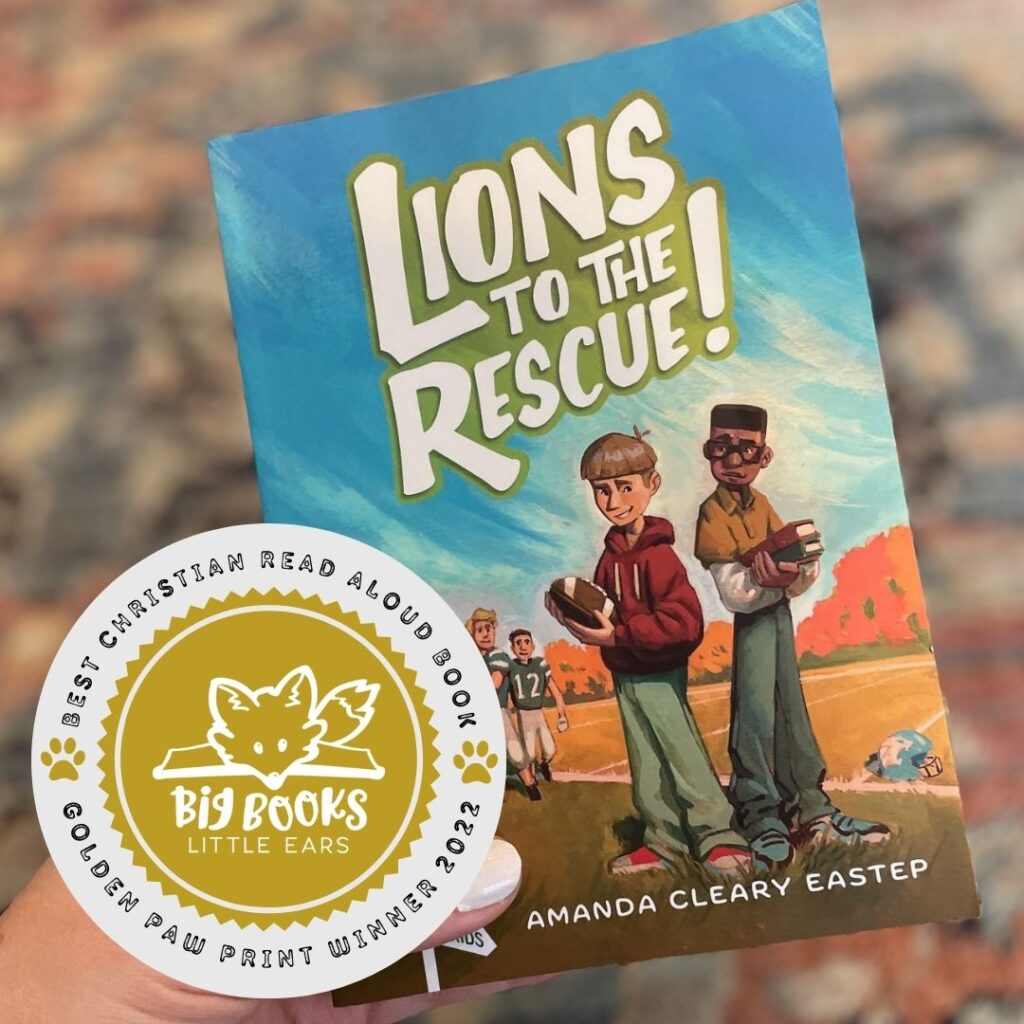 I was trying to figure out why I like reading this series aloud to my kids so much. Was it the nice family dynamics? Is it the Christian faith sprinkled, not hammered, throughout? Maybe the fact that it's a great book for either gender, making it a perfect family read aloud?
I finally realized that what I love so much about this series is that it's set before kids had cell phones. I'm not even kidding.
I mean, that other stuff is nice, too. Lions to the Rescue! is a great family read aloud chapter book. It's reading level is for 8 to 12 year olds, but I prefer it as a family read aloud so we can discuss the many important things that come up. It's squeaky clean and not too intense, so even my little listeners were ok hearing it.
Also, even though the main character is a fifth grade boy, full disclosure, my fourth grade boy would NEVER pick this up and read the series. He's more into comic books/humor/ninjas/farts. So, again, I highly recommend this as a read aloud book, but go with God if you think your child will read it independently. Mine never would.
Heads up that a main plot line in the book deals with racism. I felt like it was handled in an age appropriate way in the story, but you should always do a little preview first before you gather the kids around to listen.
Related: Christian books for tween boys, including faith based comic books
Best Christian Book Illustrations of 2022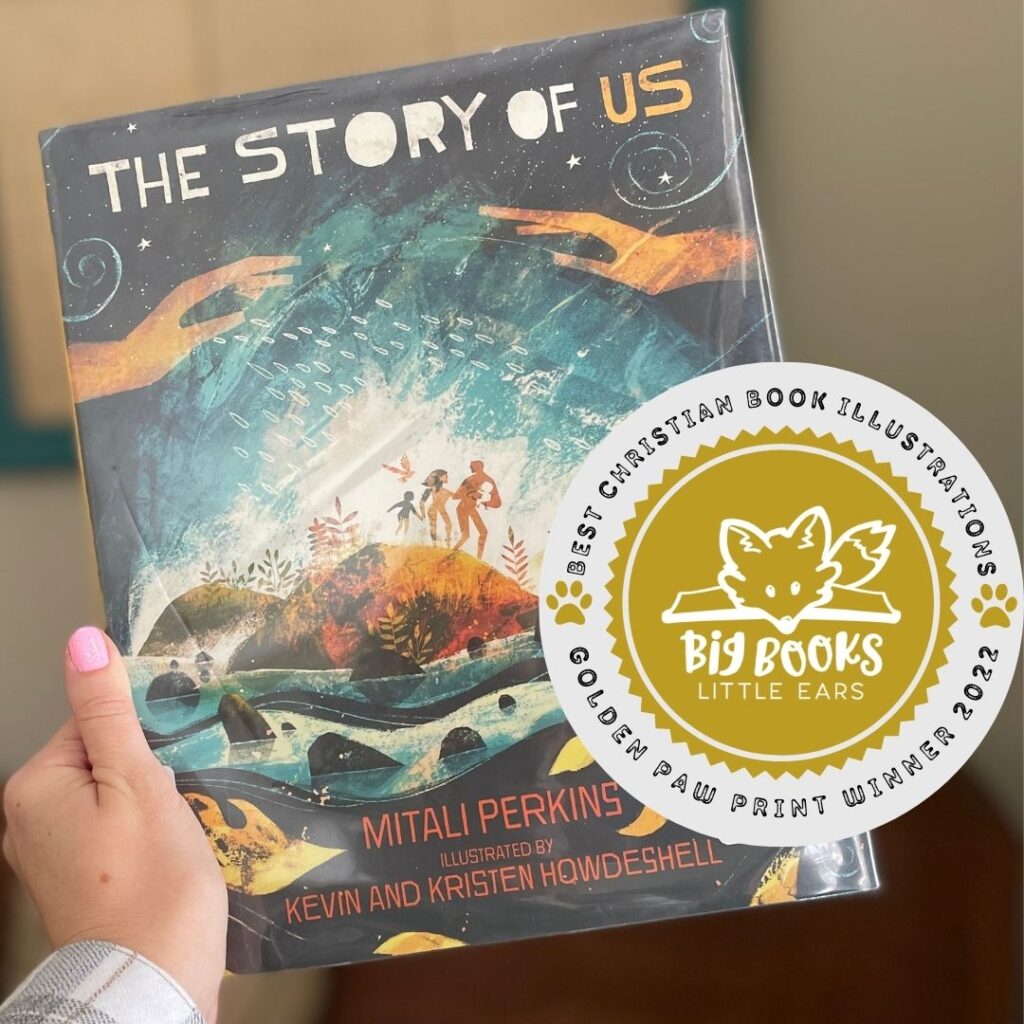 The Story of Us illustrated by Kevin and Kristen Howdeshell, text by Mitali Perkins
The Story of Us tells the story of the elements that make up creation, like earth, wind, and fire. (Hmm, sounds like a little song in there, somewhere…) In the picture book, the lyrical (but not rhyming) text is sparse, and the pictures carry the story.
The beautiful illustrations show creation, Jesus' ministry, and finally, the new earth. Clearly it was an excellent partnership between author and illustrators, to have so much conveyed solely in illustrations. The bold, yet intricate pictures are absolutely stunning. I want a print of Jesus putting mud in the blind man's eyes to hang in my home. It's a truly gorgeous book!
Heads up that I think it really requires some theology/Bible knowledge to follow the story, because there really is very little text. It doesn't mean it's a bad thing, just an FYI before you gift it to someone who might not get it.
Best Bible Story Book of 2022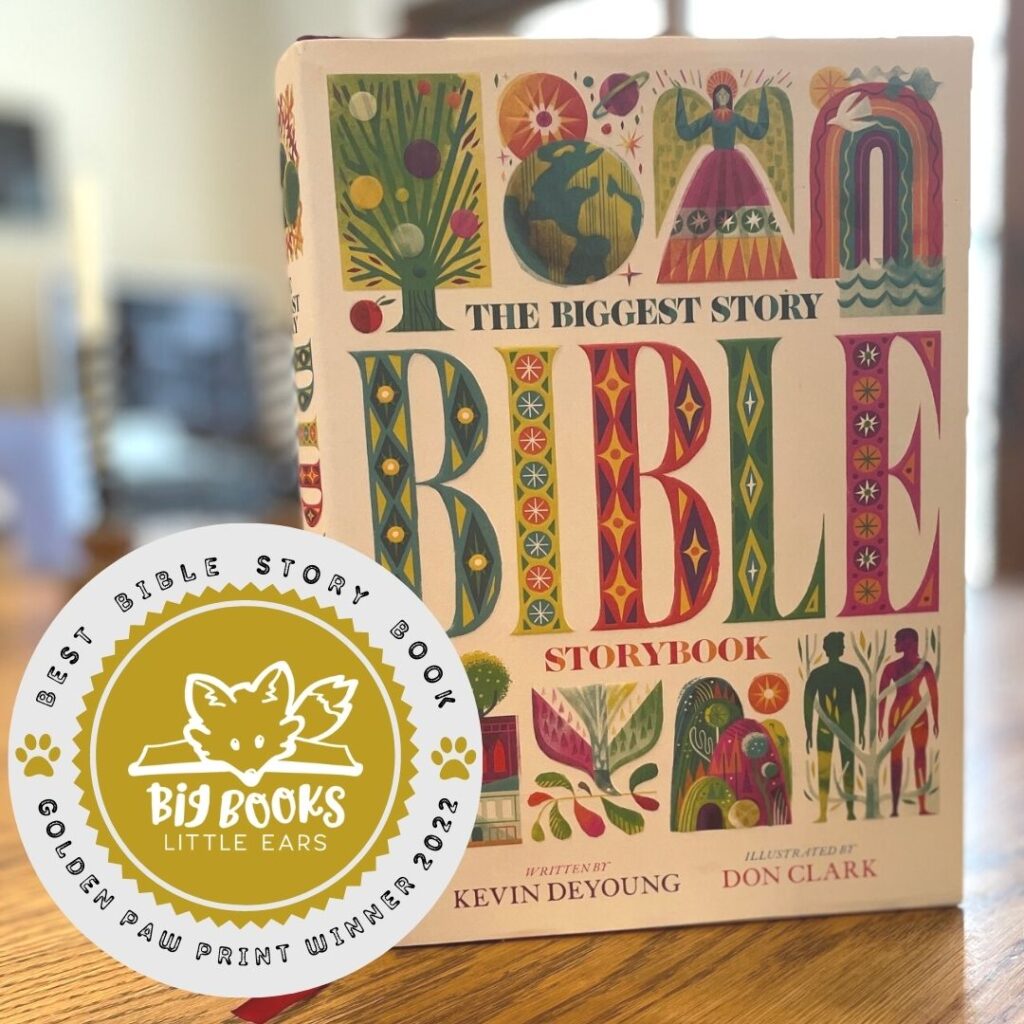 With our gaggle of children, we felt like the big kids were aging out of Bible storybooks, but the littles still needed them. Then we read The Biggest Story Bible Storybook and decided none of us, not even me and my husband, would age out of this incredible retelling of the Bible. It's 104 stories, written in kid-friendly language, with an eye on the overarching theme of God's redemption.
The illustrations are stunning. The style is modern and abstract, but not indecipherable. There are lots of pictures that are clearly people, even if Jesus is green. (My brain is trying to formulate a joke about Jesus being "green," but I don't want to get canceled, so NOT TODAY BRAIN!)
It's well deserving of all the kudos that have come its way: it's won some other, less prestigious awards than the Golden Paw Print. (That was sarcasm. It's won some big stuff.)
Legacy Christian Chapter Book Golden Paw Print Winner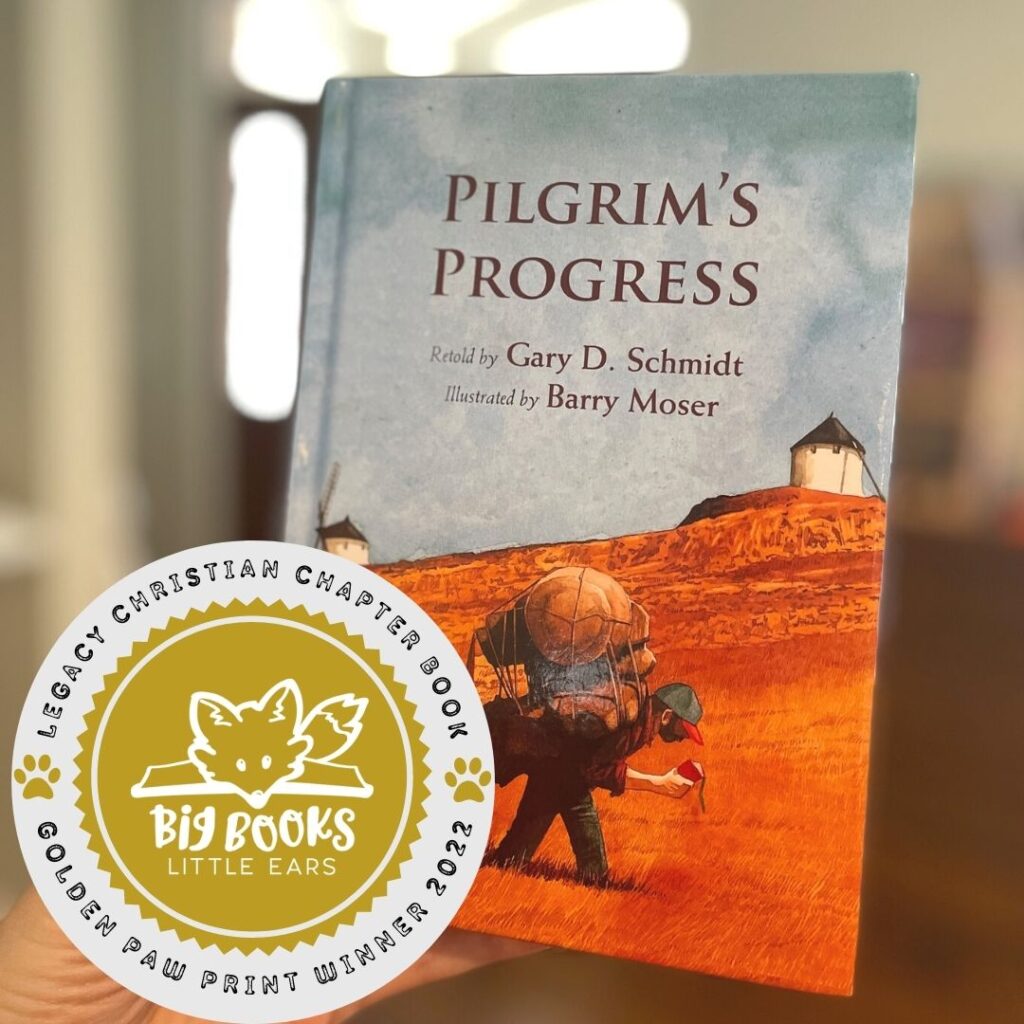 Pilgrim's Progress retold by Gary D. Schmidt, illustrated by Barry Moser
Originally published in 1994 (and reprinted a few times since then, but due for another printing, in my opinion), Pilgrim's Progress, retold by Gary D. Schmidt, is the classic story written for a young adult audience.
By that, I don't mean that it's simplified language, or just put into modern English, or the story was changed to be G-rated. Rather, it was retold in a way that the language makes sense to young people, while maintaining the many characters and even horrors in the story.
Schmidt was certainly up to the task, the dude later wrote a Newbery Honor book. (Are we allowed to call super decorated writing professors "dudes"? This is why I'll never win a Newbery.)
Also, the illustrations by Barry Moser are gorgeous character studies of the many people Christian meets along his way. Some of them are creepy, to fit the subject matter, but many are beautiful, like a watercolor imagining Evangelist as an African American preacher.
Heads up that the story-with-in-a-story structure persists, and the deaths and overall creepiness were all kept in this retelling. Therefore, I don't recommend it as a read aloud for all families, but for tweens and up, I think it's awesome. I like it as a grownup, too.
Related: Little Pilgrim's Progress vs. Little Pilgrim's Big Journey