Every Wednesday on the Big Books, Little Ears Facebook page I share what chapter book we are currently reading aloud. I gave this feature the incredibly imaginative title of What We're Reading Wednesday!
Here is a compilation of What We're Reading Wednesday from 2019. I didn't start it until June (hello, baby number 3!), so there won't be 52 books featured, but hopefully some you'll decide to check out from your library!
If you don't follow Big Books, Little Ears on Facebook, you should! I post funny things my kids do and weekly book suggestions for mom and for reading aloud. Check it out here!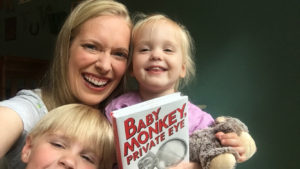 Related: 40 Quick Easy Readers That are Fun to Read Aloud in One or Two Sittings
What We're Reading Aloud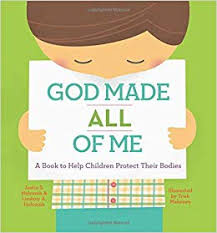 God Made All of Me by Justin S. Holcomb and Lindsey A. Holcomb
I just got God Made All of Me: A Book to Help Children Protect Their Bodies. You may have noticed I'm on a "prevent abuse" kick after reading Safe Kids, Smart Parents – I featured Good Pictures, Bad Pictures Jr. about porn a few weeks ago.
God Made All of Me is a Christian picture book about private parts.
Special things to know: They use all of the anatomically correct words for things. ALL of them.
There is A LOT covered in a very short picture book – secrets, doctors and "safe touch," saying no, private parts, being in charge of who touches you, etc.
It also has a very Christian perspective. I like that aspect of the book, but it might not be right for every family. (It does NOT talk about sex or what your private parts are for or "purity" or anything like that.)
Honestly, I have not read this all the way through with my kids. There is a lot of text on every page, even though it is written at a very low level – it's recommended for children 2-8.
Also, there's so much information, and it feels like each topic needs it's own time to talk. So, I've been using the book more as a jumping off point of, "let's have this conversation" and then using the book as a guide for me for how to have those conversations. The parents in the book just say exactly the right thing, so I've been using them like a starter script. I do plan to read the whole thing to my kids eventually, but individually, and after we have at least had some of the conversations about topics covered.
Because of the faith based aspect, and the focus of the book on being in charge of your own body, I highly recommend. However, as with anything like this, PREVIEW FIRST!
Related: Get information about how I suggest previewing a longer chapter book here!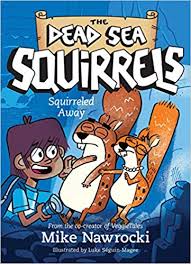 Squirreled Away by Mike Nawrocki
Yesterday we started book 1 in the Dead Sea Squirrels series. It is an openly faith-based illustrated chapter book about a boy and his squirrels – checks a lot of the boxes for what I'm looking for to read aloud!
However, I have to admit I was a little thrown off by the book. It is fully illustrated – pictures on every page – so, thinking this is for younger kids. But, the characters are in 5th grade. Hmm…
The chapters are super short, about 5 pages and illustrated, so my littles can easily sit for a whole chapter. But the sentence structure is very complex and at a higher level.
What is this weird book and what age are they trying to market to?!?!?
I think I decided it's meant as a fast/fluffy read for reluctant readers in 4th/5th/6th grade.
However, I have found it to be an enjoyable read aloud! I would suggest ages 5 and up, and only if they get into it. Because the characters are in 5th grade, they do talk about school a lot. My 3 year old, who's never been to school, has not gotten into the book nearly as much as my 6 year old has. He's REALLY liked it.
It's fairly silly, and a little slapsticky (one character had a rock get pushed so far up his nose HE SWALLOWED IT), and that's totally what my little guy enjoys.
Personally, I love that even though it's seriously silly, there's still elements of faith in there. Come for the comedy, stay for the Jesus!

The 104 Story Treehouse by Andy Griffiths
Gahhhh, I can't believe I'm about to tell you about this book. It is the opposite of a quiet classic to spur good family discussion…however, it is "what we're reading" this week, so I suppose I have to. (Also, I sort of hate that I love it. Maybe my inner 8 year old loves it…)
We are currently listening to The 104 Story Treehouse. It is a silly 6-10 year olds' dream book. There's really not much plot. But, there are a ton of puns, jokes, ridiculous premises that are never explained (a character has a sleigh pulled by cats?!!?), funny names, and slapstick humor.
So. Much. Slapstick.
I wasn't familiar with this illustrated series out of Australia, so this is actually book 8 of the series. No worries, there's no plot so it hasn't mattered we started with the last book first. (I mean, at one place it was 2 pages of them climbing a staircase to the top of Mt Everest. It just said, "up and up and up are we there yet? up and up" for MINUTES.)
Warning: there has been one "darn" and two "idiots" so far!
Now if you are wondering why I keep reading it aloud if it is just so stupid…my kids HOWL with laughter. I mean, just cackle so hard we have to pause and collect ourselves. The 3 year old doesn't get into it as much, but the 6 year old loves it.
So, even though I am not going to say you need this on your bookshelf, if I were an aunt to a slapstick loving 6-10 year old, you better believe I would buy the whole set (sharpie out the "darns") and be the hero of Christmas. Because if an 8 year old wrote an illustrated chapter book, this is what it would be.

Good Pictures, Bad Pictures Jr. by Kristen Jenson
This week is a little different because I want to tell y'all about a picture book. Recently I read Safe Kids, Smart Parents which is about how to keep your kids safe. One of the things that book motivated me to do was talk to my kids about porn. Because, statistically speaking, they will be exposed to it at some point. But how to do that??
I found a picture book called Good Pictures, Bad Pictures Jr. on the Protect Young Eyes website and was very impressed. It's certainly appropriate for any age, including action steps like, "Practice telling your mom about something you saw that you didn't understand." However, it also doesn't include TOO MUCH information. I mean, let's face it, part of the reason we don't talk to our kids about this type of thing is because we don't want them to go to church and say something embarrassing. This picture book doesn't use any words that you wouldn't want your kids to know. (It does use the word "porn" though! I was ok with it, preview to make sure you are, too!)

Highly recommend for any age. I mean, I don't think it's going to become a regular bed time story, but it is an important conversation.
There is a version for older kids, but I haven't previewed that one and can't speak to its content level. The "Jr." version is our speed.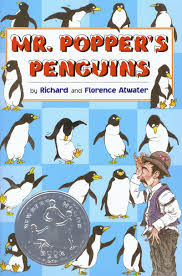 Mr. Popper's Penguins by Richard and Florence Atwater
We're almost done with Mr. Popper's Penguins by Richard and Florence Atwater.
It's been great!! Quick read, VERY funny, squeaky clean, and interesting story for both adults and kids.
I would have said that I recommend it for ages 5 and up because of the handful of characters, and the fact that there are long stretches of time between the action. (Like, the book says, "A week later," and things like that that can be a little abstract for very young listeners.)
However, my 3 year old has been listening when I read it to her big brother and laughs at the appropriate times, and seems to follow the story. So, even though I think 5 and up for sure, try with your younger ones, too. (My library website says recommended for ages 9-12, but I imagine that's just for reading level. As a read aloud, it's great for any age.)
Highly recommend! Also, if you're looking for a great classic to give as a Christmas gift, this would be an excellent choice
Related: How to choose a CHAPTER book to read aloud to your toddler

The Great Louweezie by Erica S. Perl
I just started reading The Great Louweezie by Erica S. Perl to the kids. It's the first book in the Arnold and Louise series.
Actually, I started it AND finished it. The books are technically early readers – that means there are short chapters, only a few characters, pictures on every page, and you can get through all 5 chapters in one (very long) sitting.
However, unlike some early readers, this series has a fairly interesting vocabulary. Read aloud win!
I highly recommend them as a simple illustrated chapter book. It would be great for any age. (Only 2 characters who are memorable animals, pictures on every page, etc.)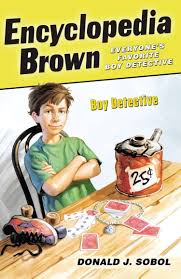 Encyclopedia Brown
I just started reading Encyclopedia Brown to the kids. I LOVED reading these books as a kid, so I was excited to introduce them to it.
6 year old loves them, 3 year old listens because it's right before bed and it's either listen or go to sleep. 6 year old has gotten close to solving some of the mysteries, 3 year old just yells "Maybe it was a unicorn!!"
I would say these are for the older kids. There are a lot of characters who are "just" people, so not super memorable. That makes it tough for the littles (4 and under) to keep everyone straight.
However, highly recommend when your kids are old enough! Super short chapters, tons of books in the series, wholesome, no crushes, but good boy/girl friendships. (Which is surprisingly hard to find.)
Highly recommend, probably 6 years old and up. (Or a good listening 5 year old. I've heard they exist.) Easily through elementary school age, so could be good options if you are reading aloud to variety of age kids.
Related: Your kids like mysteries but too young for Encyclopedia Brow? Check out my full reviews of Baby Monkey, Private Eye and The Chicken Squad.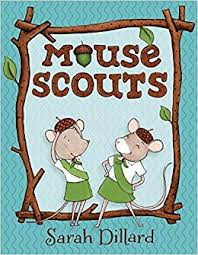 Mouse Scouts by Sarah Dillard
Today I started Mouse Scouts with my 3 year old. She and I like it!
The bad: All female characters. That's not "bad" I suppose, but might not capture the whole family's attention. Also, it's illustrated, but all of the mice look the same…like, exactly the same…
The good: I mean, it's a mouse scout troop who wear acorn caps as hats, and weave grass baskets, and use tiny milk cartons as wheelbarrows. It's just darling. It also has some decent lessons about friendship. (I've only read book 2 of the series, so can't speak to the content of the other books.)
Recommend for old 3 year old or up, especially if they like cute things or scouting. HOWEVER, don't expect to read more than a chapter at a time. It's fairly wordy. If your 3 or 4 year old aren't used to reading longer books over multiple days, I probably wouldn't start with this one. (I'd start with Digby O'Day. Here's my full review of the Digby O'Day series and a fun activity.)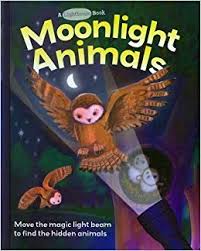 Moonlight Animals
We're traveling right now, so no new chapter book to feature. However, traveling means busting out this FABULOUS picture book! It's Moonlight Animals, and it's a Lighteam Book. (Not to be confused with the slightly more popular Shine A Light Books.)
Each page in this book is dark, but there's a movable "flashlight" that clears up the image. It's super cool.
And each page has little pictures of things to find in the bigger picture. I like seek and find picture books that have images of what the kids need to find instead of a list of things to find so that my toddlers and pre-readers can enjoy the activity when we travel without me trying to read the list while driving. (I'm looking at you I Spy series!! You are not welcome in my mini van!)
Highly recommend both books in the series for ages 3 and up, and younger with a little supervision so they don't rip out the paper "flashlight."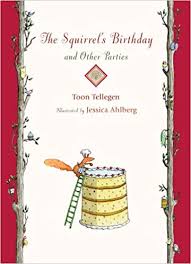 The Squirrel's Birthday and Other Stories by Toon Tellegen
We're slowly making our way through The Squirrel's Birthday and Other Parties by Toon Tellegen.
Remember this summer when I recommended Letters to Anyone and Everyone as a poetry-esque book? This is by the same author. It's less poetry and lyrical and more short stories.
I like it because it's a quiet book. Also, the stories all stand alone, so you can pick it up and read a chapter when you feel like it but don't have to finish it.
My 6 year old likes it more than my 3 year old. But the older one is an old, gentle soul, so the sweet stories really speak to him. My younger spitfire gets a little bored by the quiet stories.
Highly recommend! Content wise and vocabulary level is acceptable for all ages, but if your littles need more action they might not love it.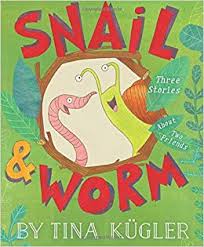 Snail & Worm by Tina Kugler
This week we were reading the second book in the Snail & Worm series called Snail & Worm Again.
The books in this series aren't chapter books, they're picture books that each have 3 different stories.
I'm completely obsessed. First, they're all dialogue, but only 2 characters, so it's easy to do 2 voices. Second, they're hysterical. So silly and just fun. Third, the pictures are darling!!
Highly recommend for ANY age. 6 year old, 3 year old, and 3 month old all LOVE them. (I'm just kidding about the 3 month old. The only thing she loves is to drool.)
The third book in the series comes out in a few weeks, I will be putting it on my Christmas list! Yes, that's right, I think they're worth owning, not just renewing from the library for 6 months straight.
Related: Book list and an activity about BUGS
Ramona the Brave by Beverly Cleary
This week I started reading aloud Ramona the Brave. It's the classic by Beverly Cleary. It's the second book in the "Ramona" series, but it can certainly stand alone.
I started reading it to my first grader because in the book Ramona is in first grade. Unfortunately if you have little-littles, I would say 6 years old is probably the youngest age that will truly ENJOY this book. There aren't a lot of pictures, and the story focuses a lot on school, that the toddler age just won't get. My three year old would rather eat green beans than sit for a chapter of this book.
However, if you have a first grader or older, this is a fabulous book! I like all of the Ramona books because there are so many opportunities to talk about big feelings and school stuff while reading, but the books themselves don't introduce any mature themes. No crushes or anything like that. Highly recommend for girls AND boys!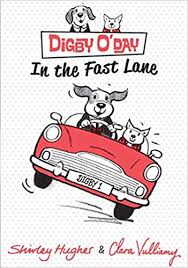 Digby O'Day: In the Fast Lane by Shirley Hughes and Clara Vulliamy
We just started book 3 of the Digby O'Day series, called Up, Up, and Away.
We've been reading the series again – I highly recommend it for all ages! We can easily get through 2 or 3 chapters in a sitting.
Dogs + Cars + Interesting story lines = We are all happy.
If you're looking for a fabulous illustrated read aloud series for the preschool set, this is for you. (It's even better than Mercy Watson, y'all. And that's saying something.)

Dragon Gets By by Dav Pilkey
What we're reading Wednesday! This week the Dragon books have been on repeat. We literally read all 4 chapters of Dragon Gets By TWICE yesterday.
6 yo and 3 yo love them, I highly recommend.
They're by the same author as Captain Underpants series.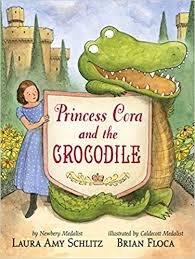 Princess Cora and the Crocodile by Laura Amy Schlitz
This book does not get near the attention it should. It's FABULOUS!! And I don't even like princess stories. It is all about Princess Cora and how her new friend, the crocodile, helps her find a better life for her and her family. Darling, and cutely illustrated.
Also, it's fairly short, and you can get through the few chapters in one sitting if you have littles.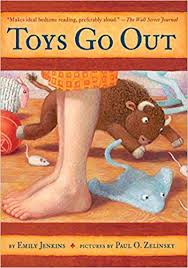 Toys Go Out by Emily Jenkins
So excited to share an audiobook my kids ASKED TO LISTEN TO AGAIN!!
It's called Toys Go Out by Emily Jenkins.
This is a huge deal, because my little people are NOT into the audiobook thing, but this was a BIG WINNER.
It's perfect for any age because there are only 3 main named characters, and it's fun to read. However, there aren't very many pictures.
My 3 year old doesn't fully understand what's going on all of the time, but my 6 year old LOVES it. We've listened to the audiobook, and he liked it so much that now we're reading it aloud together.
HIGHLY RECOMMEND!!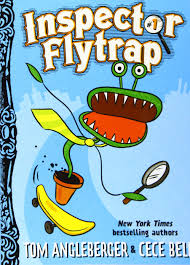 Inspector Flytrap by Tom Angleberger
This week we are reading aloud Inspector Flytrap. We finished book 1 yesterday and started book 3 today. (Yes, I know book 2 should have been in there somewhere. The library didn't have it.)
It's about a Venus Flytrap who solves mysteries with his assistant, Nina the goat. It's thin on moral life lessons, but super funny.
It's been a huge hit with the 6 year old, we got through all 19 chapters in 3 days because he wanted to hear more.
3 year old really only liked Nina because she eats everything, but she still sat through the book.
FYI, there is one "heck" in book 1, and there is a tiny bit of cartoony romance because **spoiler alert** Nina falls in love with a goat named William. I skipped the part where they kiss and made up a side story about them being good friends.
There is interesting sentence structure and vocabulary while maintaining an easy to follow story with only a few characters = read aloud winner. Definitely recommend!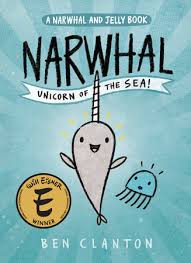 Narwhal and Jelly by Ben Clanton
Currently listening to my mom read Narwhal and Jelly to my 3 year old 😍😍😍
3 is the minimum age I recommend this series for, mainly because it's a graphic novel. It's only VERY recently that my 3 year old "got" the book and that it's all dialogue.
If you are looking for something silly for the preschool and early elementary set, highly recommend! Check out my full review from last year for all the details.
BTW, the series is now 4 books long. And we own all 4 😉

Baby Monkey Private Eye by Brian Selznick and David Serlin
I was texting with a friend this morning and she said she'd already read Baby Monkey, Private Eye to her son this morning…twice!
When I say Baby Monkey, Private Eye is a "beginner chapter book," I mean it – you can EASILY get through the 5 illustrated chapters in one sitting. If you're looking for an easy read aloud for ANY age, this is where I suggest you start!!
Here's a full review of the book.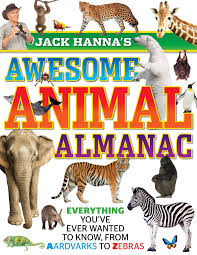 Jack Hanna's Awesome Animal Adventure
My 6 year old LOVES this book, and I do too!! It's not a chapter book, more kid friendly reference book. We've been reading one page a day and chatting about all that we learned, so I think it will take us all summer to get through, but that is ok with me!
HIGHLY RECOMMEND!!
(FYI, the 3 year old is not into it – the vocab level is way too high to keep her interest.)
Just a heads up that if you happen to be a young earth creationist, there is one page about the history of life that you might not agree with. But I only found that one, and I was looking!