"Baby Monkey! Someone has stolen my jewels!"
– opening line of Baby Monkey, Private Eye by Brian Selznick and David Serlin
I love finding a beginner chapter book where I wasn't expecting it!
We were playing at the library when a striking black, white, and red cover of a thick chapter book caught my eye. Let's face it, the naked monkey holding a giant magnifying glass was pretty eye-catching, too.
I threw the book in my bag without even opening it and checked out. That afternoon I pulled the book out to look through it to see if it was something I would want to read to my kids.
Imagine my surprise when I found that it is a graphic novel!
I should clarify, it's sort of a graphic novel. It is more like a super long picture book since there's only one cell of the story on each page, as opposed to the traditional graphic novel that has several cells per page. Make no mistake, though, about the many pictures: at 192 pages broken into 5 chapters, this is not a traditional "picture book."
I was pleasantly surprised that I had grabbed a graphic novel, then I was pleasantly surprised that it was so funny!
We liked it so much that I created a FREE Activity Guide to go with the 5 illustrated chapters! Check it out HERE!
Check out the video review below to find out what I liked and didn't like about the book, what ages it would be good for, and anything questionable that you need to know about before picking this series up. (Also, this review has a hilarious "problem" I had once I read this book to my kids, so make sure to watch to the end. It's only 4 minutes long, you can hold off the minions for that long!)
You can scroll past the video for just the bare book details. If you don't watch the video, make sure to scroll down to read the Special Considerations section so that you aren't blindsided by something in the book that might be a touchy subject for some people. (Honestly, though, the video review is much more comprehensive, and it's only a few minutes long.)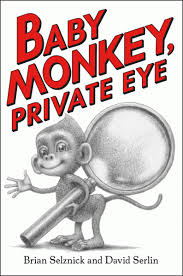 Title: Baby Monkey, Private Eye
Author: Brian Selznick and David Serlin
Illustrator: Brian Selznick
Details: Scholastic Inc., Feb 27, 2018
Number of Pages: 192 pages
Number of Chapters: 5 chapters
Average Chapter Length: 36 pages
Picture Frequency: graphic novel (the internet calls it a picture book/chapter book hybrid…so, a graphic novel)
Special Considerations: There is nothing concerning in this book at all! Baby Monkey is a very upright Private Investigator, and he doesn't even need violence to bring down the bad guys.
My Thoughts: We all loved this book! It is perfect for ANY age! Seriously, don't be intimidated by the fact that it is 192 pages. This is the perfect beginner chapter book because each chapter is basically an individual picture book. The pictures are amazing, and so interestingly detailed. They will interest both you and your children.
Also, Baby Monkey, Private Eye is very funny. My kids cracked up at the struggle to put on pants. Let's face it, I giggled at it, too.
I highly suggest this as a read aloud for all ages! It gets a definite 5 out of 5 Ears!
When I picked up this thick chapter book, I had no idea we were about to read a wonderful graphic novel! It was definitely a pleasant surprise, and I'm so glad we discovered it!
Have you ever picked up a book to read aloud and it wasn't what you expected? What were your pleasantly surprising beginner chapter books that you recommend?