"Welcome to the yard!"
– opening line of The Chicken Squad: The First Misadventure
Do you ever hear a name and say, "They sound familiar…now where do I know them?"
I rarely do this in real life, because I am notoriously bad at remembering people's names. I'm working on it, I really am!
I did have that moment at the library a few months ago, however, when I saw the book series, The Chicken Squad.
"Doreen Cronin," I thought. "I know that name…where have I heard that before?"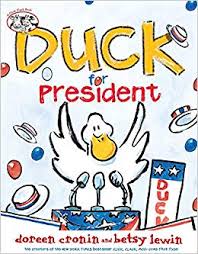 It turns out that Doreen Cronin has written some of my favorite picture books, like Duck for President! Her picture books are funny, and more than a little irreverent. I was expecting a similar vibe in the chapter books, and I was not disappointed!
Check out the video review below to find out what I liked and didn't like about the book, what ages it would be good for, and anything questionable that you need to know about before picking this series up.
You can scroll past the video for just the bare book details. If you don't watch the video, make sure to scroll down to read the Special Considerations section so that you aren't blindsided by something in the book that might be a touchy subject for some people. (Honestly, though, the video review is much more comprehensive, and it's only a few minutes long.)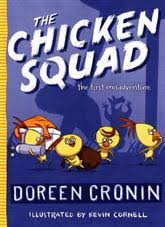 Title: The Chicken Squad: The First Misadventure
Series: The Chicken Squad
Author: Doreen Cronin
Illustrator: Kevin Cornell (the other books in the series are illustrated by Stephen Gilpin)
Details:  Simon and Schuster, Apr 8, 2014
Number of Pages: 112 pages
Number of Chapters:
Average Chapter Length:
Picture Frequency: black and white illustration on every page or two
Special Considerations: In the first book in the series, the chickens are all very sarcastic and cutting. However, in the following books, only one of the chickens fills the roll of "sarcastic, sassy chicken." It's noticeable enough that if I had to do it again, knowing what I do, I'd just skip the first book all together. You certainly won't miss it if you jump into the other books.
My Thoughts: This series is cotton candy read aloud material. However, that's ok! It makes my son crack up, so hard. It's worth reading just to hear your young kids howl with laughter.
I love to have deep and meaningful conversations about our read aloud books with my kids. But I also love a series that just makes us hoot with laughter! This series is in the hoot with laughter category, and I think your kids will love it, too.
Are you going to add The Chicken Squad to your list to read aloud? It's so funny! What other funny books do you like?