"Then Sunny found the brightest sunbeam in the living room and practiced her favorite yoga stretches, from downward-facing pug to pawstand."
– line from Pug Pals by Flora Ahn
It feels like the big trends in children's literature right now are unicorns, narwhals, llamas, and pugs. Let me just say…I'm here for it! Who doesn't love a good llama or narwhal story?
Pug Pals is a sweet, new series by Flora Ahn. I haven't heard much about it, but when I saw it at the library, with darling pugs on the cover, I knew it was just the kind of book we needed to check out!
Check out the review below to find out what I liked and didn't like about the book, what ages it would be good for, and anything questionable that you need to know about before picking this series up.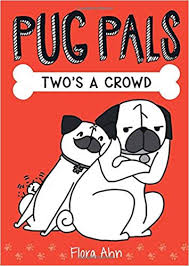 Title: Pug Pals: Two's a Crowd
Series: Pug Pals
Author and Illustrator: Flora Ahn
Details: Scholastic, Incorporated, Jan 30, 2018
Number of Pages: 128 pages
Number of Chapters: 11 chapters
Average Chapter Length: 12 pages
Picture Frequency: black and white illustrations every page or two
Special Considerations: There is some sibling rivalry. Also, the "sisters" do leave the house without telling their "mom."
My Thoughts: Pug Pals: Two's a Crowd is the story of a pug named Sunny who is an "only child." Then, her "mom" brings her home a "sister," a pug puppy named Rosy! They don't get along very well at first. However, they eventually have some adventures and end up making quite the sibling team!
We all really enjoyed this story. It was silly, but charming. Also, I challenge anyone to find something cuter than a pug doing yoga.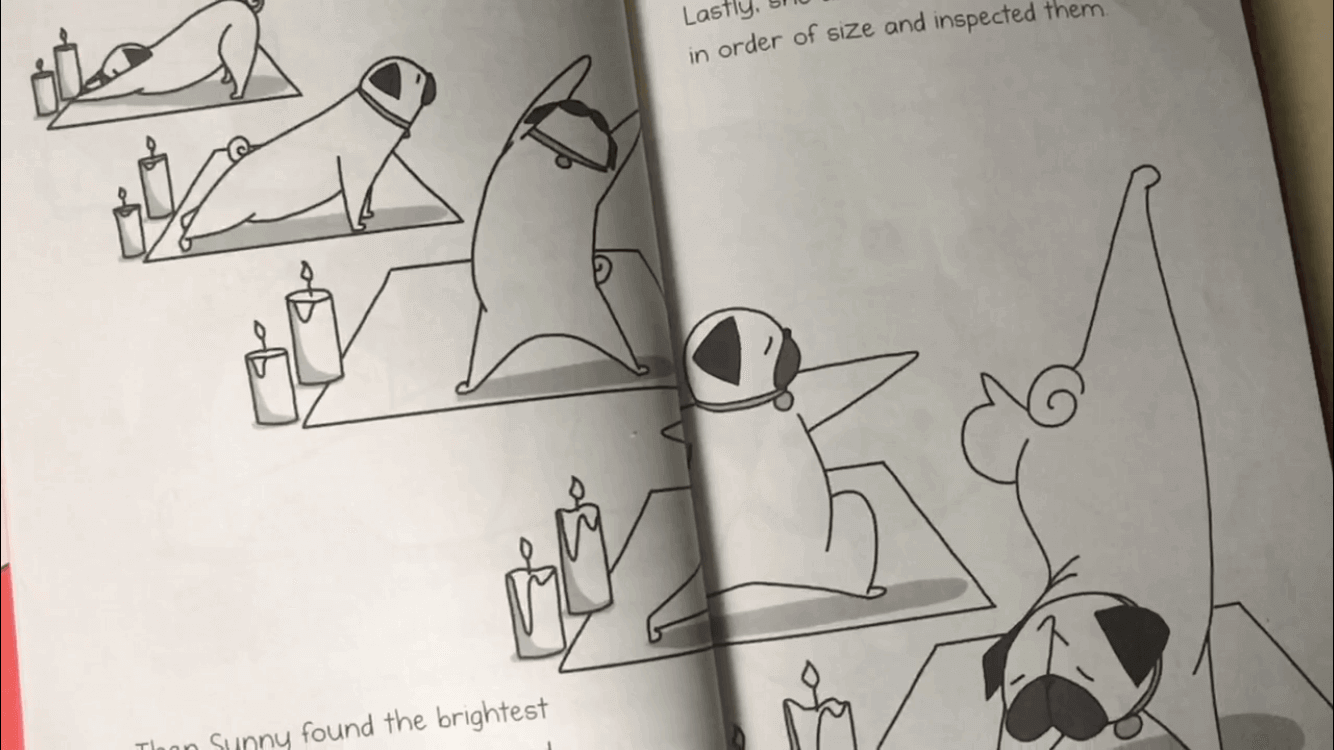 It's funny and sweet, with just enough excitement to keep everyone interested. It's not a book that my kids have asked to read aloud again, but it was enjoyable and had some good sibling life lessons! When the second book in the series comes out next year, I know we'll be checking it out!
I would highly recommend it, especially if you have an animal lover!