I don't know about where you are, but up here we had a very snowy, cold April. It was great month for reading. (I say that bitterly as I sit hunched over my computer on another unseasonably cold day….)
Are you looking for a book to read next? Here are my reviews of the books I read in April.
Make sure to pay special attention to "Special Considerations," where I share any questionable material. You can find straight talk about whether or not a book is worth reading in the "Bottom Line" section.
---
Yes Please
I like hard work and I don't like pretending things are perfect.
– opening line of Yes Please by Amy Pohler
Author: Amy Pohler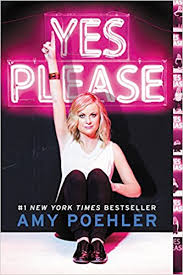 Details: Harper Collins, October 28, 2014
Length: 352 pages
What it is: nonfiction, autobiography
Summary: You know who Amy Pohler is? If you've seen a sitcom about a parks department or watched a viral SNL clip in the last decade or so, then you probably know who I'm talking about. This is her life story, in her own words. If you listen to the audiobook, it's also in her own voice.
Special Considerations: Amy swears a lot. She also talks about drug use and sex occasionally. This makes it sound like a horrible book, but it isn't. Most of the references made sense and made a point, they weren't just gratuitous descriptions.
Just be aware, and don't listen to this audio book in the car with your family on the way to Grandma's house.
The Good: Amy Pohler is so funny. So. Funny. I also related to a lot of what she talked about. I mean, not the parts where she's a famous movie star, or her start as a fledgling comic, but the other parts about being a wife and mom. She was very transparent about the hard parts of her life, and how hard she worked to get where she is, and I appreciated that.
Also, did I mention that she's hysterical? I listened to the audiobook, which she reads herself, and it was fantastic. I laughed out loud, in an empty room, so many times.
The Bad: Let's be honest, I don't agree with many of her life choices, even though they did lead to some interesting stories for this book. Basically her worldview and my worldview are totally different. It didn't detract from the story she was telling, but it was something that kept me from fully buying in to everything she was saying.
Also, sometimes I struggled to keep all of the people in her stories about Chicago straight. The Chicago section was a little on the meandering side. But overall there wasn't much about the book that I didn't like.
Bottom Line: I mean, I used my very limited free time to snuggle in bed with the dog and listen to this book with my headphones in. So, yeah, if you're okay with the swearing, Yes Please is definitely worth a listen.
---
Elephants Can Remember
Mrs. Oliver looked at herself in the glass. She gave a brief, sideways look towards the clock on the mantel piece, which she had some idea was twenty minutes slow.
– opening line of Elephants Can Remember by Agatha Christie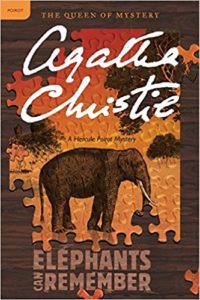 Author: Agatha Christie
Details: Harper Collins, October 3, 2006
Length: 240 pages (this edition)
What it is: fiction, mystery
Summary: It's the classic tale. Boy meets girl. Boy falls in love with girl. Girl refuses to marry boy until she knows the order that her parents died in a tragic murder/suicide.
Special Considerations: This is a murder mystery. There is no graphic description of the violence, but you definitely know that people have died, and how they die.
Also, I know the book was from another time period, but the way they talk about adoption and adopted children is not how we talk about it today. The way they used to handle adoption is pretty much exactly opposite of what we now think of as the right way to do it. Just be aware that those references are in there.
The Good: I love Agatha Christie's books, so I went into this book expecting it to be fabulous. Christie is the queen of the surprise twist at the end. This book also has Hercule Poirot, a beloved recurring detective in Christie's books, as a main character. I like him as a character. He is so serious that it becomes comical.
I also like it when a crime has been committed a long time ago and is just now being solved. I know it's a common mystery trope, and not everyone's cup of tea, but I enjoy it. There's something about an unreliable witness that I think makes a story more interesting.
The Bad: There are times when the story contradicts itself, and all of the details do not quite lineup. I also figured out who the killer was before the end of the book, and I've never done that with a Christie book before.
I was so bothered by all of this that I did some Googling after I finished it. Elephants Can Remember was written at the end of her career, and some people believe she was in the early stages of dementia when she wrote it.
This made me sad. In a strange way, however, it made me feel better, because I love her writing. I felt better knowing there was a reason this book did not live up to what I've come to expect from a Christie mystery.
Bottom Line: It pains me to say this, but skip it. Read one of Christie's amazing other books, like Murder at the Vicarage, The Big Four, or Death on the Nile.
---
Of Mess and Moxie
It has recently come to my attention that not everyone jammed to country music in the nineties. My lifespan that decade was from age sixteen to twenty-six, so those musicians literally sang me through high school, college, early marriage, and young motherhood.
– opening lines of Of Mess and Moxie by Jen Hatmaker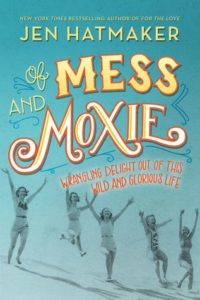 Author: Jen Hatmaker
Details: Thomas Nelson, August 8, 2017
Length: 224 pages
What it is: nonfiction, religion
Summary: A summary is hard for this book because it's a collection of essays. Each chapter stands completely alone. Some chapters are just a list of things, stream-of-consience style. I suppose I would summarize it by saying, it's like your BFF had a blog about Jesus, favorite recipes, and raising kids.
Special Considerations: As with any book where the author interprets the Bible, you should read with discernment. I feel like Hatmaker and I would be great friends if we lived next door to each other, even though I don't agree with all of her theology.
There is some brief talk about youthful poor choices, and sex with her husband. Nothing inappropriate, but enough that I personally wouldn't listen to the audio book with very little people around.
The Good: Hatmaker has her trademark relatable humor on full display in this book. I laughed so hard. Jen's writing style is like a long email from a good friend, and I like that. She makes the messy parts of life feel more normal.
She also has a witty, sarcastic style that I enjoy. I think I also like the fact that she gets the church-thing. She loves her church, but she knows it isn't perfect. That's a delicate balance I haven't found in many others who write about their church.
The Bad: Some of her essays this time around seem to have just a twinge of anger toward the church in America. I'm not saying she doesn't have anything to be angry about. If there's a group going after corporate sin in the church, sign me up, I am here for it. However, in this particular book her scorn does at times seem to be misplaced from institutional problems and the people who perpetuate them and instead directed toward people who are simply more conservative than she is. That's a shame, and I've never gotten that sense from any of her other books.
Also, there wasn't an essay in the book that I find myself continuing to think about and talk about. It was lots of good stuff, but not a ton of great stuff. Of Mess and Moxie just didn't stick with me as much as her previous books.
Bottom Line: If you are going to spend your kid's naptime reading something, I'd go with one of Hatmaker's other books, especially For the Love, instead of this book. I still talk about For the Love, and I read it several years ago. But if you've read some of her other works and know that you like her writing style, Of Mess and Moxie is worth reading. I didn't think it was as strong as some of her other books, but if you are a fan of hers you should read it.
---
April was a good month for reading books that made me laugh!
I think because I was a little blue because of all of the snow, so that's why I picked two humor books. And if you're going to spend your kids' naptime reading, a book that makes you laugh is a great way to go!