We love living in our home in the woods during Christmas time. Surrounded by snowy trees, it's like living in a snow globe.
However, Christmas doesn't look like that in most of the world! Thankfully, there are wonderful picture books about Christmas around the world that have allowed my kids to learn about how other cultures celebrate Jesus' birthday!
If you click on the book title it will take you to the Amazon page to purchase the book. As an Amazon Associate I earn from qualifying purchases. It does not cost you extra to purchase through my links.
The BEST Picture Books About Christmas Around the World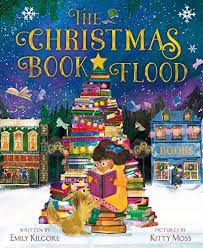 NEW IN 2022! This lovely book tells about the Icelandic tradition of reading books on Christmas Eve. It's very cozy. It's certainly not faith based, the theme of it is more love of literature (wonder why I liked it?) and being with people you love around the holidays. It's poetic, and lyrical, and makes a great read aloud. It is rhyming, but I think because of the topic (a tradition started in WWII because everything but paper was rationed in Iceland) you could read it to a wide age range of children. Don't be fooled by the fact that the text is fairly sparse!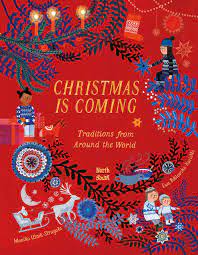 NEW IN FALL 2021!! This is definitely a children's Christmas picture book about Christmas in other countries, however it is quite long. I can't imagine anyone sitting down and reading it to kids all in one sitting.
There are 39 sections, each a few pages long, with full color illustrations. It is not faith based at all, but it does explain the significance of some religious traditions in different countries. One thing that makes this book unique is that instead of being broken up by country, many of the sections are more topical. For example, there is a section about who delivers presents in the different countries. (So, heads up, it's pretty clear from this book that Santa Clause is not real. FYI if you aren't ready to spill the beans yet.)
This is a really lovely Christmas book for kids of all ages, but I think the sweet spot is probably first through third grade.

Rachel Isadora has created beautiful, stylized illustrations to go with each of the gifts from the classic Christmas song, The Twelve Days of Christmas. The pictures are all of people and animals in Africa. The images are lovely!
This is a well loved book in our home! My kids love singing the song as we turn the pages. I love the fact that the pictures show a part of the world we haven't been able to visit!
Related: Check out other secular books on this list of Christmas picture books NOT about Jesus.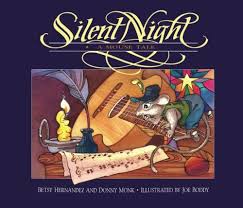 This beautifully illustrated Christmas picture book tells the true story of the classic Christmas carol Silent Night, with a little fiction thrown in. In the story, Christmas has come to the Austrian alps. A small mouse ends up "helping" Franz Gruber when he needs a new song for the Christmas Eve service.
The book talks about Jesus' birthday, but it also brings up deeper truths about God and his great love for us.
Silent Night was released in a paperback version in 2017, so even though it is an older story it is very easy to find in both paperback and the original hardback.
I can't recommend it enough – I think it should be front and center on your Christmas bookshelf!

The story isn't technically from around the world, but the family is from The Gambia and recently came to America, so I'm counting it.
Grace at Christmas is about Grace and her family as they welcome strangers into their home for Christmas. They talk about who they can't say "no room" at Christmas. The story of Jesus birth is acted out several times in the story.
Be aware that Grace's parents are divorced, and that comes up in the story. One of the best things about the story is that it is true to how children act and feel. The colorful illustrations are also wonderful!
This is a standout book from this list. It's a must-have Christmas book, especially for those who are trying to diversify their picture book collection!

When the ice closes around King Island in the Bering Sea, the Eskimos who live there are cut off from the rest of the world. They don't normally mind, but this year they are anxiously waiting for the new priest to come! Will he make it to the island before the water freezes?
At our church we don't have a priest who we call Father, so I changed the terminology so that my children understood this was a new pastor. It's beautiful the way the people all work together to welcome a new spiritual leader to their island in time for Christmas! It's also incredible to think of the men and women who went to places like King Island to teach the people about Jesus. Not many things are more Christmas-y than that!

What a Morning! tells the Christmas story through African-American spirituals. There are also Bible verses telling the Christmas story that correspond to each of the songs.
Since I'm not familiar with most of the songs, I pull them up online to listen to as we look at the pictures. I happen to like The Golden Gate Quartet, but most of the songs have several wonderful artists who cover them. Just so you know, because of how historical these spirituals are, and how they have been passed down, frequently the arrangements you will find won't quite match the sheet music provided in the book. It's never bothered my kids, however!
For most of the songs there are three pages of full color pictures to look at. This book is a unique look at the Christmas story, and it's a lovely way to celebrate the season. There's not a single person in the book who looks like my kids, but since baby Jesus didn't have almost exclusively Dutch and German ancestry like my kids do, that's probably a good thing!

An Island Christmas is about Christmas in Trinidad. The story is told by Rosie as her family prepares for the holidays. Because Rosie is the narrator, the prose has her accent and speech pattern. That confused me a bit when I first read it aloud to the kids, but I got the hang of it eventually.
The family goes to church and it is clear that Christmas is about baby Jesus. However, the story is not overtly faith based. It is more about family, island traditions, and giving. It is an enjoyable story about a part of the world that looks very different from our snowy woods at Christmas time!

The Gift of the Christmas Cookie is set in America during a time of steam trains. However, it tells about the ancient Scandanavian tradition of creating Christmas cookies to tell about Jesus' birthday. So, it counts as a book about Christmas around the world.
In the book, there are gorgeous full color illustrations, and a simple story of a family struggling at Christmas time. However, they are able to keep in mind the reason for the season through the tradition of Christmas cookies.
It is slightly heavy handed with the moral of the story, so if you are looking for a subtle way to share the gospel, this is not it. However, if you're looking for a clear presentation of why Jesus coming to earth was a big deal, this is a great choice!
Related: These are the BEST Christmas picture books about Jesus

December's Gift by Ashley Smith-Santor and Stasie Bitton
I was looking for a book that would simply explain Hanukkah to the kids so that they knew about it in the broader context of Christmas. I do not know that this sweet picture book does all of that…but it comes pretty close!
In this book, Clara celebrates Hanukkah with one grandma, and Christmas with the other grandma. The simple explanation of each holiday is easy for kids to understand. I learned some things about Hanukkah that I didn't know, too!
Do be aware that the book does treat both celebrations as equally special traditions. The book talks about baby Jesus, but does not dive deeply into the spiritual aspect of Christmas.

You might not have noticed, but there aren't very many books about Christmas in Asia! That makes Tree of Cranes stand out. It is the story of a Japanese boy who learns about Christmas from his mother.
Be aware, there is no mention of Jesus or why we celebrate Christmas. The story focuses on peace, giving, and family, but no Savior. The illustrations are lovely. It is a quiet, peaceful story, excellent for reading aloud on a cold day.

This Mexican legend tells how the beautiful poinsettia became a Christmas flower. Lucinda wants to take a gift to the new baby in the manger. Her unselfishness is the theme of this lovely story.
Be aware that this is certainly a legend, and not based on scripture. However, it is a lovely story explaining some of the rich symbolism that's so important in many Christmas celebrations around the world.
BONUS: Book About Christmas Traditions Around the World for Adults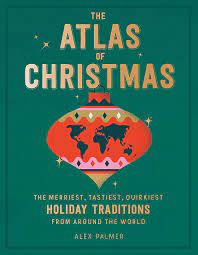 The subtitle kind of says it all: "The Merriest, Tastiest, Quirkiest Holiday Traditions from Around the World."
This chapter book is a lighthearted look at Christmas traditions all around the world. It certainly focuses on the more bizarre traditions. There are not many illustrations, only a handful, so this is not for kids, but you could use it to accompany any other picture books, or a holidays around the world home school unit. The sections are short, so it could potentially be read aloud to kids as a sort of Advent reading.
Also, there are some typos…I hate that. But I'm still recommending it because it's accessible, not academic. Would be a fun book to have sitting out during December to peruse when you feel like learning a little, or when another country is referenced in a Christmas book or movie.