These are the very best Christmas picture books NOT about Jesus or any religious tradition – now UPDATED FOR 2022! I put the new books first, so if you have used this list in the past, the first few books are new. But they're all great secular Christmas picture books!
Just in case there's any question, we have four Nativity sets in our home. We celebrate a very religious Christmas. However, there are also some really fabulous secular Christmas picture books that I don't want to neglect!
If you're looking for great picture books to read aloud to your kids this holiday season, all of these are winners! One of them even made my child laugh so hard he fell off of the couch!
Next to each book I give a little synopsis and additional information. Now, since not every family does the Santa thing, books that have Santa as a character have that noted under Special Considerations. Similarly, I also note a book as "semi-spiritual" if it even HINTS that there is a baby in Bethlehem who is the reason for the season, or has any mention of prayer or even a "spirit."
(If you are looking for books that do have Jesus in them, check out The Best Christmas Picture Books About Jesus.)
This post may contain affiliate links. If you buy from these links, I may make a small commission to use to fill our book basket. If you click on the book title it will take you to the Amazon page to purchase the book. As an Amazon Associate I earn from qualifying purchases.
Check out these awesome non religious Christmas picture books and get reading!
The BEST Christmas picture books NOT about Jesus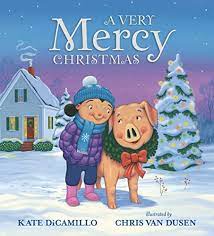 Author: Kate DiCamillo
Illustrator: Chris Van Dusen
Special Considerations: semi-spiritual? (they sing traditional carols about Jesus' birth, but only the titles are in the text, not the lyrics)
If you don't want to go Christmas caroling with a pig, a cat, and a horse, do you even have Christmas spirit? In this sweet story, Mercy goes Christmas caroling. She's also surprisingly…sweet. Like, there's no scrapes, just Christmas magic. (If you've read the other books in the series, you'll know that Mercy is not the most discerning pig.) The message of the book is that Christmas is a time for friends and hope.
Heads up that this is a short picture book, NOT a chapter book like most of the other Mercy Watson books. (I also liked it significantly better than the first Mercy Watson picture book, which had weird adoption themes and is not quite right for our family.) It's fabulous, highly recommend, especially if your family enjoyed the chapter books in the Mercy Watson series.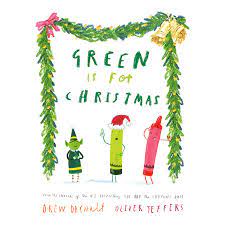 Author: Drew Daywalt
Illustrator: Oliver Jeffers
Special Considerations: Santa
The crayons are arguing over who is the color of Christmas: is it green, red, tan, or silver? Maybe white for snow and marshmallows? As always, Daywalt has created a silly story that will resonate with children. There isn't a ton of text, so this can be read to any age. The publisher recommends 4 – 8 year olds, but I think you could easily read to younger preschoolers.
Heads up that the newest edition of this book is a LITTLE book – like less than 6 inches tall. It is not full size, so if you're expecting a large book like the other books in The Day the Crayons Quit series, you'll be disappointed. However, it's a cute story, and with its small size, it would make a perfect stocking-stuffer.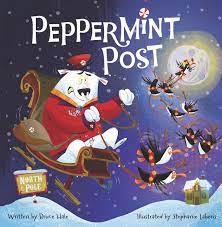 Author: Bruce Hale
Illustrator: Stephanie Laberis
Special Considerations: Santa, maybe semi-spiritual? (the polar bear prays that the "spirit of Christmas" will help him)
I cannot say enough how FUNNY this holiday picture book is!! It's all about the North Pole postal service forgetting a letter and having to track down Santa to get the little writer her present. Of course, it's not simple at all to find Santa on Christmas Eve, but it is just hysterical.
Although it has a lot of sounds that will appeal to younger listeners, there is quite a bit of text on each page. That's why I recommend it for ages 4 through 8, a little bit older range than a lot of other books on this list. (The illustrations are hysterical, too. Can you tell this one is a favorite in our home?)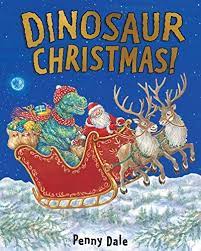 Author and Illustrator: Penny Dale
Special Considerations: Santa
Santa is in trouble! Don't worry, in Dinosaur Christmas! the dinosaurs will save Christmas. Of course, they use heavy machinery to save the day. This is a tractor lover/dinosaur fan preschooler's DREAM BOOK. I mean, dinosaurs drive heavy machinery. Highly recommend! It's also great for school read alouds because of the repeating sounds, and all of the "ZOOMS," "crash," and "clunks."
Heads up that even though it's a larger hardback book, it is somewhat repetitive, so does appeal to the younger crowd. I recommend this new Christmas picture book for ages 2 through 5.
(Also, don't confuse this book with Dinosaur Christmas by Jerry Pallotta. That book is significantly older. It's about who pulled Santa's sled before there were reindeer. That is a cute story also, but not the one I'm featuring here. However, if you have a dinosaur lover at home, I'd get both!)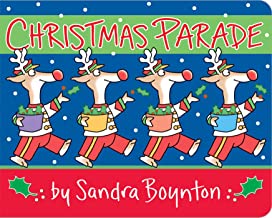 Author and Illustrator: Sandra Boynton
Special Considerations: Santa
This is Sandra Boynton's classic Christmas book, except now in board book form. Thank goodness for this new edition, because it was getting HARD to find this book new. It's a classic for a reason, and Boynton is picture book royalty. You should own this book.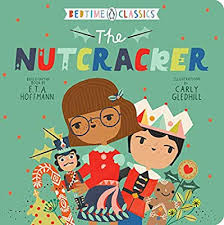 Author: based on the book by E. T. A. Hoffmann
Illustrator: Carly Gledhill
The Nutcracker is a stunning Christmas board book. It is a simple retelling of the classic story with beautiful pictures featuring diverse characters. Even though it's a board book, it will appeal to a wide age of little listeners, especially those who love dance or this story. I recommend especially for ages 2 through 4.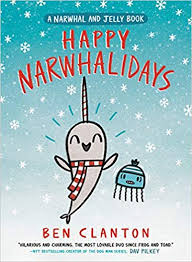 Author and Illustrator: Ben Clanton
This is THE Christmas picture book you want for ages four and up. And I mean, way up. Narwhal and Jelly are popular with all ages, even the big kids. They are a hoot. It is written in graphic novel style, so be prepared to use your finger to point out where you are reading if you read it aloud. My son is obsessed with the rest of the Narwhal and Jelly books, this new one will be wrapped under the tree this year.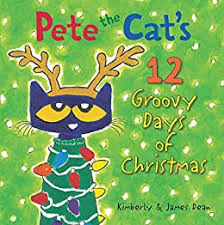 Author and Illustrator: Kimberly and James Dean
Speaking of books my children are obsessed with, we're a big Pete the Cat family. There are several Christmas themed Pete the Cat books available, like Pete the Cat Saves Christmas and Pete the Kitty's Cozy Christmas. We've read them all, this one is the best. It's funny, and just classic Pete the Cat.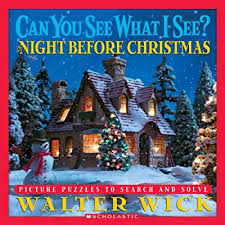 Photographer: Walter Wick
Special Considerations: Santa
This fun Christmas book is PERFECT for little eyes and little fingers! Every page is a photograph of a scene reminiscent of a line from the classic Christmas poem, The Night Before Christmas. Then, there is a list of things to find in the scene. Super fun! Be aware, the list is only in words, no pictures of what to look for, so if your kids are like mine and do not read then they will need help with this one. For that reason, I recommend it for ages 7 and up if you want them to be able to search-and-find independently.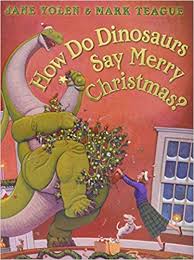 Author: Jane Yolen
Illustrator: Mark Teague
Special Considerations: Santa
Spoiler alert: dinosaurs say, "Merry Christmas!" by disrupting all of the normal family celebrations, and it's darling. Highly recommend, especially if you have a dinosaur lover in your home!
Related: There is another dinosaur Christmas book on this list of FUNNY Christmas picture books for all ages!

Author: Connie Schofield-Morrison
Illustrator: Frank Morrison
How do you see the Christmas spirit? How do you hear the Christmas spirit? For one little girl in the city, the Christmas spirit is all around, you just have to see it.
There's nothing about the religious meaning behind the season. I Got the Christmas Spirit is more of a feel-good, rhythmic celebration of of the feelings of Christmas. Younger kids especially will love acting out the sounds, like the swish-swish of ice skating.

Author and Illustrator: Nancy Tillman
Special Considerations: Santa, semi-spiritual
If you enjoy a gentle poem with rich illustrations, this is the Christmas picture book for you!
This book alludes to "a child" being the meaning of Christmas, but it also talks about Santa Clause even more. The Spirit of Christmas is a poetic ode to where we may search for the Christmas spirit…and come up empty. The book's message is that family and love are what make Christmas feel like Christmas.

Author: Susan Wojciechowski
Illustrator: P. J. Lynch
Special Considerations: semi-spiritual
The first time I heard about this book, I was reading a review about it that said it would make you cry. I thought, "Bah! I'm not a crier. Challenge accepted!"
Spoiler alert: I cried. This gorgeously illustrated picture book is about a sad woodcarver and his new friends who help him enjoy Christmas again. It's sort of religious, because the woodcarver is making a nativity scene. However, it isn't really discussed, nor does it seem to provide him any comfort, so I'm including it on this list of books not about Jesus.
The woodcarver does have his heart softened by love from his neighbors. It's just lovely.

Author and Illustrator: Aaron Blabey
Special Considerations: Santa
Pig is a very selfish pug. His poor choices get him into trouble in every book in the Pig the Pug series, and this book is no exception! Pig is definitely on the naughty list this year!
This book does have an appearance from Santa. Also, Pig says, "heck" and "gee." FYI, in case those aren't words you're ok with in your home. I edited our copy of the book with a sharpie and cardstock so that we didn't have to worry about the words we didn't like. The fact that I still allow this book in our home even with those words must tell you how very funny I think it is…
Pig the Elf is so silly! It's by far the funniest book on my list of favorites. My kids shriek with laughter when Pig bites Santa's butt. It's not going to teach them any lessons about the Christmas spirit, but it is nice to laugh together!

Author: Lezlie Evans
Illustrator: Yee Von Chan
Special Considerations: semi-spiritual
While preparing for their Christmas celebration, Hare, Mouse, and Squirrel are interrupted by a swallow who needs their help. The story line is not at all complex, but it is charming in its simplicity.
While caring for dear Swallow, the animals give away what is rightfully theirs without even thinking about it. That's about the most Christmas-y thing I've ever heard!

Authors: Vivian Walsh and J. Otto Seibold
Illustrator: J. Otto Seibold
Special Considerations: Santa
I first heard this picture book read aloud to me when I was in college. That's right, college. It's a long story, but let's just say I have some lovely memories of this very silly Christmas story!
Olive is a dog, but she misunderstands the classic Christmas song about Rudolph. She ends up at the North Pole with Santa, convinced she is the "other reindeer." The story only gets more zany from there, if you can believe that. You and your kids will love it!

Author and Illustrator: Richard Scarry
Special Considerations: Santa
I feel so selfish including this book on the list. The story is fine. It's a cute little tome about Santa getting confused about what day it is on the night before the night before Christmas. It's perfectly adequate.
The reason this book makes the list is because the pictures keep my kids' attention FOREVER. What is it about Richard Scarry books that kids are obsessed with?!? Neither of my kids can read, but there they are, pouring over What do People do All Day? for the millionth time. This is like the Christmas version of that.
Need a hot second to stuff a turkey? Plop this book in front of your kids and tell them to look at the pictures. Odds are they will…for awhile! The story IS pretty cute, too.

Author and Illustrator: Anna Dewdney
I love Llama Llama books. In my opinion, Anna Dewdney can do no wrong. So, of course, this Christmas book about Llama and his mama at Christmas time is fabulous.
Llama does bring some holiday drama when he melts down over all of the fuss around Christmas. But, in typical Mama Llama style, mama makes it all better.
This fun rhyming story has beautiful pictures that capture all that goes into Christmastime. Llama's right, it's a little overwhelming! But in the end, family makes the holidays just right.
Related: Picture Books About Christmas Around the World

Author: Caryl Hart
Illustrator: Sarah Warburton
Special Considerations: Santa
Listen, I am not into the princess thing. Let's just get that out there. I will never buy my daughter a tiara. My kids have never seen The Little Mermaid. I am notoriously picky about not allowing dolls that look like they're wearing makeup into our home. (Sorry, not sorry.) I don't judge people who get into the princess thing, honestly, I don't care. It's just not the right choice for our family.
I checked this book out expecting to hate it, because, you know, PRINCESS.
Yeah, I love it. The Princess and the Christmas Rescue is about a princess who is also an inventor. She uses her brain and a lot of hard work to save Christmas when Santa gets the flu. She's ridiculously kind, and no-one saves her. Did I mention she wears a hard hat and carries a power drill to save Christmas? It's fabulous.

Author: Sherri Duskey Rinker
Illustrator: Ag Ford
Have you read Goodnight, Goodnight, Construction Site? If you have a child who loves big machines, it's a must-read. This is the Christmas story from the construction site. To be honest, I like it even more than the original!
All of the construction vehicles are working hard to complete a building before Christmas. They are all blessed with gifts from their friends that help them get their work done. It is a cute, rhyming story with a sweet message about working hard and helping others. And if you have a big machine lover in your family, it should definitely earn a place under your tree this year!
Related: Still need a gift? These are the BEST board books that came out in 2021