Sweet and sappy Christmas picture books have their place, but sometimes you just need to laugh! These are the funniest, silliest, most laugh out loud hilarious Christmas picture books for kids.
This post contains referral links for these products. As an Amazon Associate I earn from qualifying purchases. It does not cost you extra to purchase through my links.
Funny Christmas Picture Books for Kids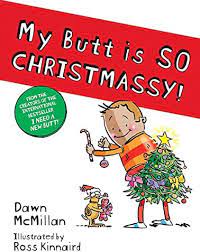 New in 2022! What makes a butt ready for Christmas? (Brand new sentence?) Is it bells and tinsel, or is it sitting next to those we love?
This ridiculously silly book is about a boy dressing his butt up for Christmas. It. Is. Ridiculous. Kids love it. It is fairly irreverent about the holiday, so maybe don't read it aloud at church's Christmas Eve service. Its rhyming text might trend a little younger, but because of the funny topic, I think you could read aloud to any age.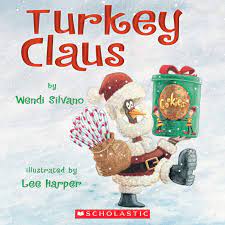 Turkey has a problem: he doesn't want to be the Christmas dinner! His solution involves dressing up as the guy in the big red suit.
This humorous Christmas picture book has been around for several years, but the funny holds up! I recommend for all ages, with the sweet spot being 3 to 7 years old, so preschool through early elementary.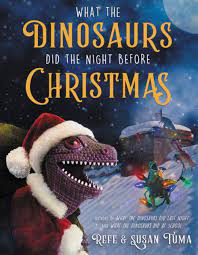 NEW IN FALL 2021! This twist on the classic poem 'Twas the Night Before Christmas shows what dinosaurs are doing on Christmas Eve. It's silly, and the photographs definitely add to the charm!
This is a fairly hefty children's holiday book, coming in at 40 pages, but there isn't a ton of text per page. I highly recommend for a dinosaur lover at any age, and any kid who likes funny books between 4 and 8 years old.
Related: The BEST Christmas picture books NOT About Jesus (Updated every year! And some of them are also very funny Christmas books for kids.)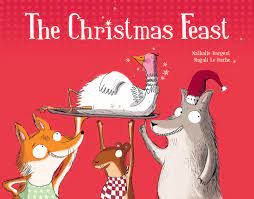 Fox, Weasel, and Wolf think they have found the perfect Christmas dinner – a turkey. But the turkey has other plans! She is too smart to be dinner, and she doesn't even need to pretend to be Santa to get out of it. The premise is funny, and the sort of bumbling bad guy trope is always a hit in kids' books.
Of all of the books on this list of funny Christmas picture books for kids, this one has the most heart. There's a sweet message of friendship in the end. Highly recommend for preschool through middle elementary. (Would also be a good option to read to "big kids" for a special event, or at school.)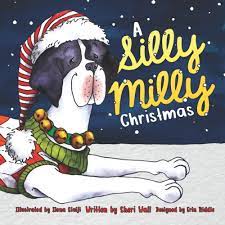 Milly is a very large dog who does very silly things. This sweet rhyming funny Christmas picture book has a silly story. And the reader can play up the rhyming to make it even sillier.
Heads up that there is A LOT of repetition, so even though the publisher recommends this book for through age 10, I don't really agree, and I recommend it for MUCH younger. I think the toddler through preschool set will appreciate it, not so much anyone older than that.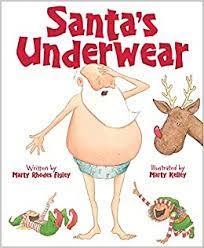 So, this silly Christmas story has absolutely no real message. It's literally about Santa's underwear. But underwear is hysterical, of course, especially to kindergartners through third graders. Eventually Santa does get the underwear he needs in order to deliver presents, but not before some problems…underwear problems!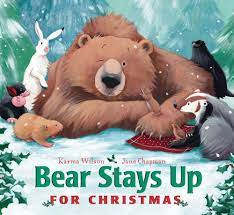 Bear wants to hibernate. But his friends want him to experience all the lovely things about Christmas! Most of the funny in this Christmas picture book comes from exaggerating Bear's sleepiness while you read the story aloud. Plus the animals are perfect for giving fun squeaky voices to!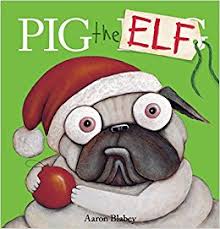 Pig the pug is naughty. But with his big eyes, and silly antics, he's also so funny. His butt also features prominently in the illustrations. Kids howl at this story, even though it will make grown ups clutch their pearls at how very naughty Pig is! I recommend it for ALL ages.
FYI, there is one "heck" in the book. Pig is just so very naughty… (I censored it in our book with a bit of cardstock and made it "hey.")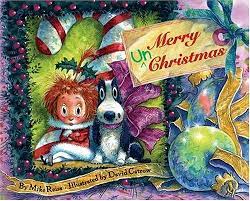 In Christmas City everyday is Christmas, except for one – UnChristmas Day. It's the only day with no presents, and no Christmas feast. Although the story is very silly, it has a sweet underlying message that more isn't always better.
This title is available in hardcover and paperback, and is a great option to wrap for under the tree this year.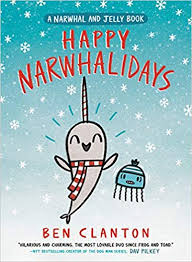 Don't be thrown off by the fact that this is a graphic novel – it's an excellent read aloud for younger kids, too. My three year old LOVES this series. And my 8 year old loves to read it independently, so it really is great for all the kids. Narwhal is a sweet and happy narwhal who has gentle adventures with his best friend, Jelly the jellyfish. Of course they celebrate Christmas together, with silly jokes and general frivolity.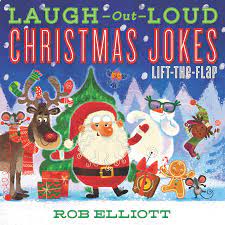 Even though it's a lift-the-flap book, this funny Christmas book for kids is great for independent readers. Because the punchline is under the flap, it's like they're telling themselves the jokes! This holiday series of joke books has been much loved in our family – especially because the jokes are never crude, mean, or questionable.
BTW, the author also has another Christmas themed joke book for older kids – Laugh-Out-Loud Christmas Jokes for Kids. There are more jokes, and no flaps. It's good and clean fun, but heads up that a lot of the humor is puns. My kids aren't quite old enough for puns, so if your family isn't very punny, I'd stick with the lift-the-flap version. (But if your independent reader loves puns, it would make a great stocking stuffer!)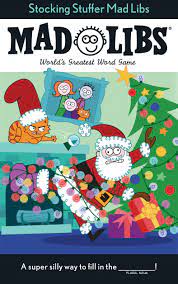 So, this isn't a funny Christmas book exactly, but it is funny and Christmas themed, and kids love them! Mad Libs are especially good for car trips, or when you're just trying to finish Christmas dinner and will all the kids just leave you alone, PLEASE!!!! (Not that I know that from personal experience…)
Heads up that your little reader has to know what an adjective, verb, etc. are. That means it's probably best for fourth grade and up. So, if they aren't there yet, check out the Christmas themed Mad Lib Jr. instead! It's great for any kid who can read, no need to know the parts of speech.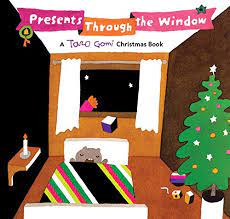 I hesitate to put this older classic Christmas picture book on this list because it is quite difficult to find new. However, it's darling, so I'm including it, and if you do find a new or used copy, SNATCH IT UP!!
In the brightly illustrated story, Santa has to deliver presents quickly through windows. There are cut out windows on each page. Hilarity ensues, as what Santa thinks he's seeing isn't really there. I highly recommend it for all ages, although the publisher recommends for ages 2 through 5. (I think you can push that up quite a bit, especially if you let early elementary kids predict what is actually through the window.)
Related: Christmas picture books about holiday traditions around the world!