"From the outside, the Clan of the Scorpion's secret base looked like one of a number of meerkat burrows in the Red Desert. But while some of the neighboring meerkats had welcomed wildlife documentary makers into their homes, the Clan had to be more careful about who they let in."
– opening lines of Ninja Meerkats: The Clan of the Scorpion by Gareth P. Jones
My son LOVES American Ninja Warrior, the TV show with obstacle courses. (That is probably the most low key way to describe the show, because those athletes are amazing, but you know what I'm talking about.) My husband even built him a few obstacles in our back yard.
So, at the library, Ninja Meerkats, a series with the word ninja in the title, definitely caught my eye. I'm so glad it did!
Ninja Meerkats is all fun! It's literally about meerkats…who are ninjas. They are constantly saving the world from the evil Ringmaster. It is like a fun Saturday morning cartoon from when I was a kid, but in book form.
It has been a fun read aloud for both my kids, and me: they like the high kicks and sword fights, I like the puns!
Check out the video review below to find out what I like and didn't like about the books, what ages the series would be good for, and anything questionable that you need to know about before picking this series up.
You can scroll past the video for just the bare book details. If you don't watch the video, make sure to scroll down to read the Special Considerations section so that you aren't blindsided by something in the book that might be a touchy subject for some people. (Honestly, though, the video review is much more comprehensive, and it's only a couple of minutes long.)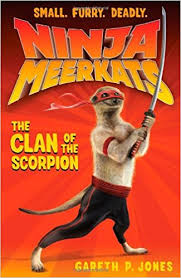 Title: Ninja Meerkats: The Clan of the Scorpion
Author: Gareth P. Jones
Illustrator: Luke Finlayson
Details: Macmillan, Jan 22, 2013
Number of Pages: 128 pages
Number of Chapters: 9 chapters
Average Chapter Length: it varies quite a bit, a few chapters are about 20 pages, some are much shorter
Picture Frequency: black and white pictures every page or two

Special Considerations: The main characters are ninjas, so there is a LOT of fighting. They always fight for the good guys, and so far no one has died in the books that we have read.
Also, when the ninjas go to other countries, the way the author writes about the other countries and their cultures is not at all accurate. Just a heads up that this is no Dodsworth book when it comes to showing the world to your kids.
My Thoughts: There is nothing educational about these books. There's not a whole lot of moral meat, either. However, they are very exciting and fun! My kids love these books, and I enjoy them, too. We've read quite a few, and I plan to finish the series.
They are fairly formulaic and thin, it's really like reading Saturday morning cartoons. I don't mind reading a little fluff to my kids, though. That's part of helping them fall in love with books!
I give this series 4 out of 5 Ears. It is worth requesting at the library, for sure. We have loved the meerkats' amazing skills and adventures, I think your kids will enjoy them, too!
Will you give this series a try? What other books are good "just for fun" read alouds?