We've all done it. You get in the car for a trip with all of the kids, tell them not to watch movies on their phone, then been faced with the horror of, "But what are we going to do?!?"
May I recommend the humble clean audiobook. These are audiobooks that PARENTS WILL ACTUALLY ENJOY, but that have gentle enough stories for little listeners. Including every book in the series, there are over 30 titles here!
I know that "clean with no agenda" means different things to different people, but for the purposes of this article it means no big swear words (I was ok with "heck," "stupid," "idiot," "gosh," and things at that level), no descriptions of sex, positive moral values are celebrated, and good conquers evil. In general, romantic relationships are kept to a minimum, or non-existant. I also aimed for only books with positive parent relationships, and noted anything mildly questionable in my description of the story. Basically, I went for an "old fashioned and wholesome vibe," but with well written prose, and a few fight scenes.
This post contains referral links for these products. As an Amazon Associate I earn from qualifying purchases. It does not cost you extra to purchase through my links.
Now, of course, you don't HAVE to get these from Audible. They're also available other places, and are just as wonderful if downloaded from the library, or purchased second hand on CDs. (If I were a dad I would make some cheesy dad joke like, "For you young people, CDs are shiny coasters…")
Just a heads up that Audible sometimes has unique versions, so you might find the book with a different reader. For example, there are a few excellent versions of The Phantom Tollbooth available. I enjoyed the (very famous) person who reads the book on Audible, but any version of this clean family audiobook would be equally laugh-out-loud funny!
Clean Audiobooks for Families from Audible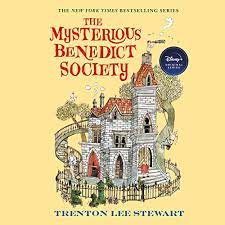 This is a hysterical series of audio books that is aimed at 9 through 12 year olds, but will have the parents giggling. The writing style and vocab make it PERFECT for hearing it aloud. There are some mildly intense scenes, but all does work out in the end. (Orphans also play heavily into the story, and the fact that they are orphans is important. FYI if you love kids from hard places. All end up in healthy family relationships.) Heads up that there is a bit of sarcasm, so if you have a snarky kid, maybe pause occasionally and remind them that sarcasm isn't ALWAYS funny…especially when directed towards parents or teachers. There are four books in the series, and all are available in audio book form.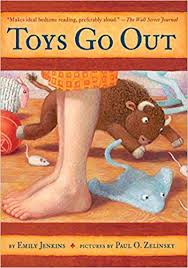 Toys Come Home by Emily Jenkins, Read by Sara Barnett
This sweet story is about toys, and their lives when their girl is at school. There's sweet messages about bravery, and friendship, and being plastic. This is by far the quietest, and least adventurous book on this list. Heads up that your adrenaline junkies would probably prefer a different family friendly audiobook. However, if you do have a gentle listener, they'll enjoy all 3 books in the series. And you'll never look at your kids' toys the same when you put them in the washing machine…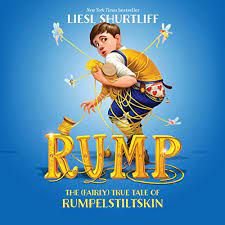 This clever retelling of the story of Rumpelstiltskin will keep everyone's attention. It's pretty funny, but there's a good deal of fighting off bad creatures and avoiding poison apples. The main character is 12 years old, but the story is appropriate for all ages, as long as they're ok with a smidge of fighting. Good does win in the end! There are four audiobooks in the series, each one a retelling of a classic fairytale.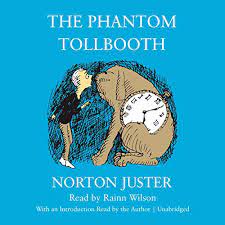 Ahh, the puns in this silly story just warm my nerdy parent heart. This humorous tale is about a little boy who is bored, but luckily an adventure is waiting for him in his bedroom. There are a lot of jokes that depend on understanding the wordplay, so you might have to explain it to younger kids as you go. The plot is slightly disjointed, with each chapter set in a different "land," and it lends itself to pausing after a chapter and discussing any applications you want your kids to think about. For example, in the land of Conclusions it's really easy to jump there, but almost impossible to jump back! When people ask me for recommendations for a WIDE variety of ages, this is the one I always recommend. It is appropriate and enjoyable for babies through grandparents, with no caveats or content warnings.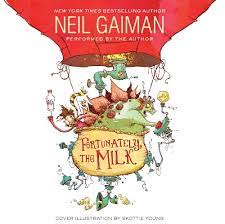 This absolutely hilarious story is about what happened when a dad went out to buy some milk for the family's breakfast. It is silly, and there's not much character development or anything like that, but you'll love how whimsical and absurd the tale is. It's shorter than any other clean audiobook on this list, running for only 58 minutes. FYI before you plan on it passing the time on a cross country trip to visit your cousins in Orlando, it's not that long.
My little kids didn't really get some of the more nuanced humor, but I was cracking up. Heads up for my young-earth-creationist friends that there is a dinosaur from millions of years ago.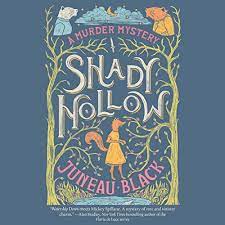 Shady Hollow by Juneau Black, Read by Cassandra Campbell
THIS IS A MURDER MYSTERY. So, it might not be right for you if your family only has a toddler and preschooler right now. Or, maybe it is, who am I to judge? In this series, woodland creatures live in a sleepy little town, until one of them ends up dead! This book is written for an adult audience, but it is squeaky clean, and not overly exciting or scary aside from the unfortunate death, so if you have cozy-mystery loving tweens and teens, it's a good option. (Emphasis on "cozy," don't be expecting any big battle scenes.)
Heads up that there are a few sort of "ehh" things, like a husband complaining about his wife. As grownups, we understand how it plays into the story, but if you have young kids, I only recommend this one if you're listening with them so you can address things like that. I have NOT previewed the rest of the series, so can't vouch for the content of the other books aside from the first one, but the whole series is available as audiobooks. If you listen to the rest of the series, let me know if they're clean!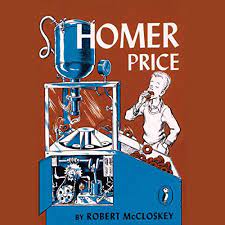 Homer Price by Robert McCloskey, Read by Mike Ferrerir
This silly family friendly audiobook follows the escapades of Homer Price in his small-town. It is wholesome, small adventures. Times have changed since it was written 60 years ago, so you might have to explain a few of the old-timey type things to your kids, but overall they should be able to follow along. I think the sweet spot for these tales is 7 to 11 years old, but they're gentle enough for all ages.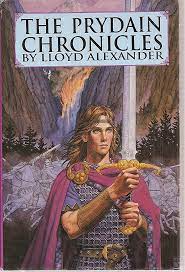 A classic story of good versus evil, with an everyday boy who must become a hero! There is a smidge of romance, but mostly it's all action and friendship. Heads up that the bad guy is BAD. Like, makes-an-army-of-undead-soldiers-from-corpses kind of bad. However, good does triumph, and it's one of those classic hero stories we try to fill our homes with. If your family liked The Green Ember or any books like it, this is the audiobook I recommend from this list. Although there is magic, when there isn't really any in The Green Ember. (The version I linked above is a great use of an Audible credit because you get the first two books of The Chronicles of Prydain in one.)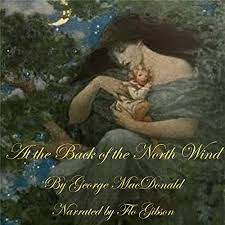 This is a classic story about Diamond, a coachman's son, as he travels on the back of the North Wind. I recommend it especially for families who enjoyed Narnia or The Lord of the Rings series. (BTW, those are also excellent audiobooks, but the narrators can be VERY British, and my kids didn't like them…they asked what language they were speaking. We'll try again someday with a different reader.)
Because At the Back of the North Wind is an older story, the vocabulary can be slightly cumbersome if your kids are not used to the classics, so keep that in mind. It might be best in small doses to begin with, until they get used to hearing classic literature. (Don't worry, it's ok if they don't love it immediately! Take heart, I've learned some things from rough starts with a few books, too!)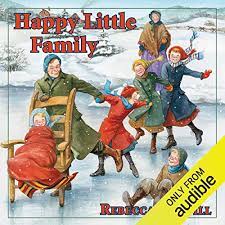 If your family liked The Little House audiobooks, this is the one for you. It's about a sweet family living in Kentucky, and has definite "Little House" vibes. (So, if your family didn't like The Little House books, turn back now! This one is not for you!) I like the four books in this series because the siblings are so nice to each other. There's no grand adventure, but an idyllic pioneer life. (Another option if you like this type of audiobook is The Five Little Peppers and How They Grew by Margaret Sidney. It's an old famous story, so last I saw there are a few narrator options for it on Audible.)