My family has this running joke for when someone makes a mistake that isn't a big deal, but still an obvious blunder. We quote that line from the end of Indiana Jones and the Last Crusade, where the knight says about the guy who just died, "He chose…poorly."
My dad and brother and I love to say that to each other when we make mistakes. We say it to really rub salt in the wound, like a good Christian family does. For example, when I tried to carry in all of the grocery bags in one trip and dropped a carton of orange juice which exploded in the driveway, they said, "You chose…POOOOORLY!"
Thanks, family. Love you, too.
Unfortunately, there have been a few times when I have tried some picking a read aloud book for my kids and it ended up being an epic failure. Three books especially immediately come to mind that I chose…poorly.
I suppose out of the many books that we've read, it's not surprising that we've had a few that didn't work out. Picking a read aloud can be difficult with so many options out there!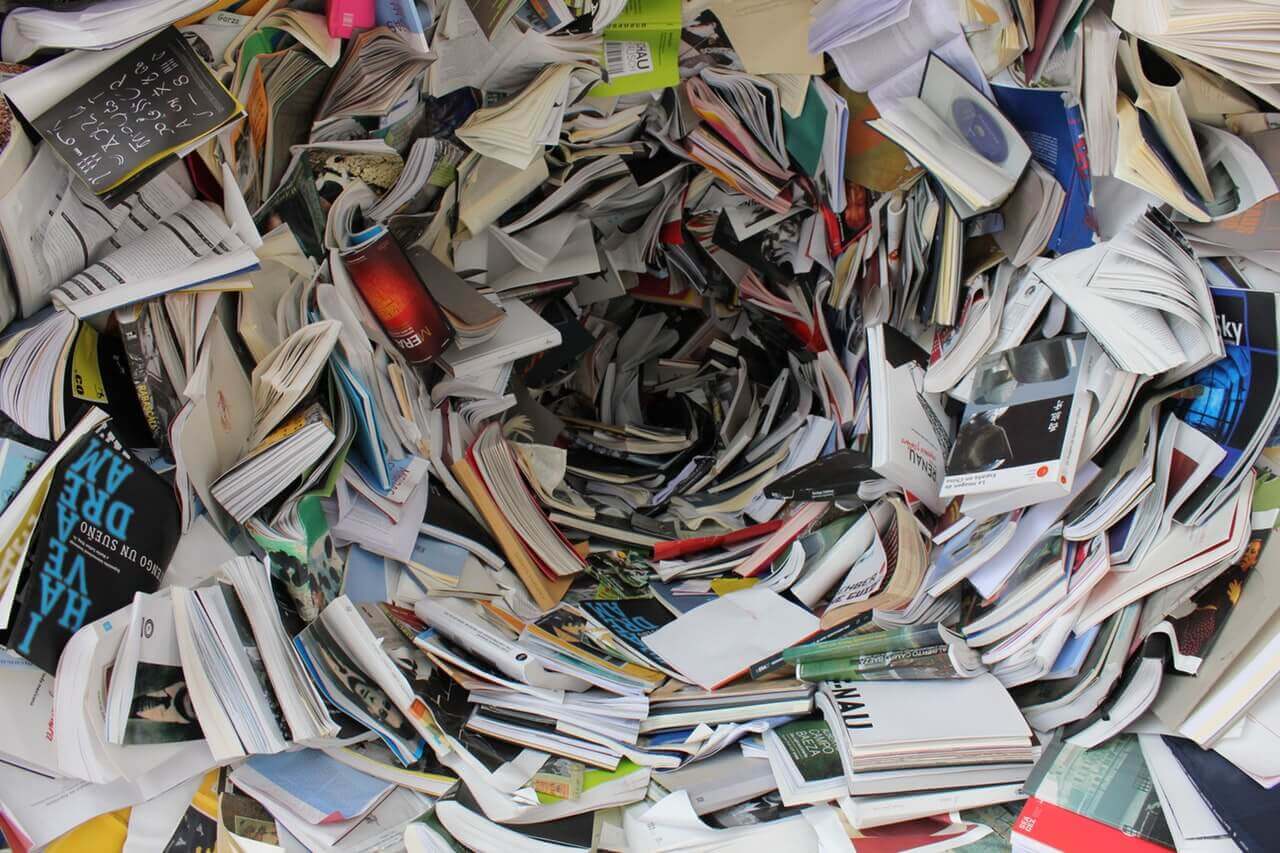 There is nothing wrong with these books, really. If your family chooses to read them, they're great classics. I just chose to read them before our kids were ready for them.
Learn from my mistakes, and you won't choose poorly!
Books We Didn't Finish and How to Avoid My Mistakes
The Book No One Wanted to Read
The Swiss Family Robinson by J
ohann Wyss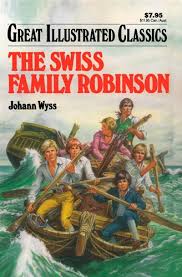 This book seems like it should have been a home run. It's an adventure. It was literally written to try to teach kids about family values. It's a classic book that families have been enjoying for generations.
Unfortunately, none of these things meant that we would actually enjoy reading it. I don't know if it was the number of similar characters, or the translation we read, or what, but my kids did not get into the story at all.
Even worse, I wasn't enjoying reading it to them. I remember liking the book when I was growing up, but for some reason this time around I just wasn't feeling it.
Now, picking a read aloud that was an older classic wasn't the mistake. The mistake was that I didn't stop when we were about 4 pages into the book. Instead, I kept forcing us to read more of it. I finally gave up somewhere about the halfway mark.
Avoid My Mistake
It was a mistake to slog along through more of the book well after it was clear that I didn't like it, and the story line was going way over my kids' heads.
I was stubborn about quitting because I didn't want to admit that we weren't ready for a classic at this level. Because this story is a classic adventure story, we would all automatically love it, right? I mean, I love the classics, and my kids love adventure stories: it ought to be an automatic winner.
I guess not. My stubbornness led to us churning through a few more chapters miserably when I should have just admitted defeat and read something we would all enjoy.
I've said it before, and I'll say it again: if you, the reader and controller of the schedule, do not want to read a read aloud book, do not try to force it! If you don't like a book, it will be torture to read it aloud, and you'll come up with reasons not to. Don't do that!
At least make an effort to choose books that your kids enjoy, too. That doesn't mean they won't complain sometimes when you make everyone settle down to listen, but it does mean that they enjoy it enough to track with the story.
The Book I Didn't Crack Open Before Reading
Boxen by C. S. Lewis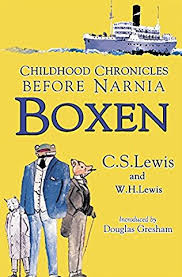 My son loved listening to The Chronicles of Narnia. Also, I am a die hard C. S. Lewis fan.
When I was in a book shop and saw a beautiful yellow cover and a sign proclaiming it to be the first animal story Lewis wrote, complete with color illustrations, I bought it immediately. I did it without even thinking about Dave Ramsey and what he would have to say about this impulse buy.
I was so excited to start reading it together with my kids. Everyone piled on to the bed for our normal reading time right before quiet time in the afternoon.
I opened up this beautiful read aloud chapter book. I took a deep breath to begin our next literary adventure, and…it was a script for a play.
Yes. I attempted to read a script for a play to a preschooler and a toddler.
Not only that, but the sign lauding the "full color illustrations" neglected to say that they were actually colored pencil sketches Lewis had done when he was outlining the book. These weren't beautiful, fully colored illustrations. I was expecting Detective Gordon level illustrations, and ended up with rough sketches like what I do on the back of the bulletin every Sunday morning.
Reading the book aloud went probably as well as you imagine…
Avoid My Mistake
I made the mistake of reading a book I knew nothing about without even previewing it. I had not even once opened the pages!
When you are choosing a read aloud chapter book, make sure you peak inside before you start reading.
Even though I think my mistake of picking out a script to try to read to my young kids is probably not very common, you still need to know what you are getting yourself into when you are picking a read aloud chapter book.
Also, there are some very important things to consider when you are picking out a chapter book for your family to read aloud.
First, picture frequency is extremely important when you are choosing a book. Picture frequency is way more crucial than chapter length. You can always read less than a chapter at a time, but you can't add more pictures to a book. I should have flipped through to make sure that there were enough quality pictures to keep my kids engaged.
Second, style does matter when you are choosing a children's book to read aloud. In this case, the book was a script, and driven by dialogue. Because the dialogue was longer, more complicated sentences, the style of this book wasn't for us.
When you are considering a book to read aloud, vocabulary level of the book should not hold high priority in your decision – you can always pause and explain a word that your kids don't understand. However, complex sentence structure is more difficult to explain. It is good to flip through a book and see how long the sentences are before you dive right in.
The Book With Content That Wasn't Right for Our Family
Poppy by Avi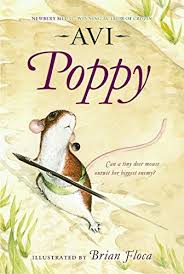 I snatched up Poppy when I saw it on a display at the library for great books about heroic mice. (Who knew that was a genre?!?)
I remember reading Poppy when I was in early elementary school and loving it. Unfortunately, I had forgotten that in the first few pages Poppy's boyfriend, a mouse, violently dies and is eaten by an owl.
Oh, yeah.
You forgot that was in there, too?
Let me just tell you, it's there, complete with a description of the sound of the mouse's neck breaking
Yep. And I was reading this book to a child who still wants to sleep in our bed because of nightmares at least once a week. Parent of the year, right here.
I censored the first few pages to take out the gruesome bits. In fact, I might have done too good of a job censoring the chapter, because when we were done my son asked, "Wait…did that mouse get killed?!?"
I decided we wouldn't continue reading that one.
I'm sure we'll revisit Poppy when the kids are older. It is a classic read aloud, and I do remember really enjoying it. For now, though, we've returned it to the library.
Avoid My Mistake
I made the mistake of assuming that because I read a book when I was younger it was totally fine for my very young children. I think I also rested secure in the fact that it is a "modern classic" and listed on every "must read aloud" book list ever put on Pinterest.
First, you should always keep in mind your child's ability to handle scary things. Children become concerned about different things. What may be appropriate for one 4 year old is too intense for another 4 year old.
For example, when a setting of a book is physically dark, like a forest at night, it really scares my preschooler. However, ninjas or soldiers fighting does not bother him at all.
Second, know what your family is ok with in a read aloud book. For our family, we don't read anything that has young people dating or having crushes. It's a personal decision based on the ages of our kids and how we feel romantic feelings are portrayed in books and shows.
Totally personal decision, I don't expect you to agree or have the same restrictions on what your family reads. However, even if that isn't a line you draw for your family, you should draw other lines. Not thinking about book content is making the choice to allow anything in a book to come into your home.
When you are considering content that is right for your family, it doesn't need to be a long, drawn out agonizing, late-night-prayer-and-fasting decision. Just take a few minutes to think about what you are not ok with being in a read aloud that you read to your kids.
For example, will you read books where the parent figures aren't married? We are fine with reading those types of books in our home, but you might not be. What about books with main characters who make bad decisions that turn out well for them, with no consequences? Or books with words that aren't swear words, but you might not want your child to repeat?
We might come down on different sides of that decision, too. And that's totally ok! It's fine that we have different ideas of what is appropriate content for our kids and their stages. The main thing is that you have thought about it! If you don't know what you aren't ok with, you won't know what books to avoid starting to read aloud.
Finally, thanks to the internet, we can look at what a book contains before purchasing it or starting to read it.
When I review a book, I always include a very thorough discussion of any special considerations that you would want to know about before reading the book aloud.
In fact, some people have said they think I'm rather a prude and am ridiculously conservative with what I consider a special consideration. I'm ok with them criticizing me (is what I tell myself), and also this is why Twitter is the worst.
Check out the books I've reviewed, paying particular attention to the "Special Considerations" sections. If you don't see what you're looking for there, contact me. We've read a bunch of books I've never done a review of, so I may still be able to give you some thoughts even if I haven't done a full review.
If we are starting a new read aloud chapter book and I'm not confident about what is in store, there are some other places where I go for a content preview.
First, for reviews from a Christian perspective, I turn to Redeemed Reader. I prioritize questionable content a little differently than they do, but they always note everything that might be questionable. Their reviews are always very helpful, especially for newly published books.
Second, I have found Common Sense Media helpful for knowing what will be in a book. The reviews on this site are of more recent books, but there are a few classics on there, too. The reviewers are not faith based at all, and what they consider appropriate is different from me. However, they fully disclose everything that will be in a book, which I really appreciate when I am picking a read aloud.
Don't Repeat My Mistakes
These three recent read aloud failures were a good reminder that even though we've been reading chapter books for awhile, I still have to work at choosing a good book!
Finding books that all of us will enjoy and has a message I want to share with my kids isn't always easy. I'm thankful for the resources available to find good read aloud books! It's a privilege to read to my kids, so I'm willing to do the legwork to find some great books.
Now, if you learn from my book choosing failures, you can be more prepared when you are picking a read aloud for your kids!
Have you ever started a read aloud book, and realized it was a terrible mistake? What book was it, and why wasn't it right for your family?