It is so hard to be a patient parent! I've read A LOT of parenting books, trying to become a better, more patient parent. Some of them helped, some of them made me feel guilty, and some of them made me roll my eyes. However, I have found a way to be a more patient parent.
Recently I got a lovely text from a friend. She said, "You are a great mom. I'm blessed to see you with your kids and how gentle and loving you are."
Talk about the sweetest thing ever! It made my heart grow three sizes that day.
If I Gave In to My Natural Temptation, I'd Be An Angry Mom
That text message from my friend was especially like honey for my soul because I have worked really hard to be a gentle and patient parent. Gentleness and patience do not come naturally to me. I have a pretty sharp temper, coupled with a very strong sense of justice, and an extreme desire for independence.
It's not the greatest combination. I hate admitting that. I'm working on it.
This combination of personality flaws created the perfect storm to create an angry mom when my son was born. He just didn't do what I wanted. (Imagine that.) He needed so much emotional nurturing. (Again, who could have seen that coming?)
I would get so angry, and he was just a toddler!
At one point I could not get him to stop crying because he didn't want to go to bed. He wanted snuggles, but I just felt so mad at him. He needed more from me, after I felt like I had given him everything all day. I didn't think there was any more patience or love left in me.
I wanted to yell or throw something. See what I mean about that temper I mentioned earlier?
Getting swept up in my anger wasn't an option, though. I know the kind of mom God wants me to be, and there's no place for angry yelling or temper tantrums in his plan for my life.
So, my brain frantically clawed for anything to help me stay patient, and clamped down on the idea that I could love my son and be a gentle mama for 10 more breaths.
"In, and out," I told myself. "I can do ANYTHING for 10 breaths. ANYTHING, even be patient."
And I did. I was able to comfort him for 10 breaths. Admittedly, I took the fastest breaths ever and almost hyperventilated, because I was sure that I would snap at any moment. But, I didn't snap. So, I committed to another 10 breaths. This time, I took a little bit slower breaths.
I just kept doing that, every time telling myself, "You only have to comfort him for 10 more breaths."
I did it for so many breaths that I eventually calmed myself down, and his little self relaxed into me and he fell asleep.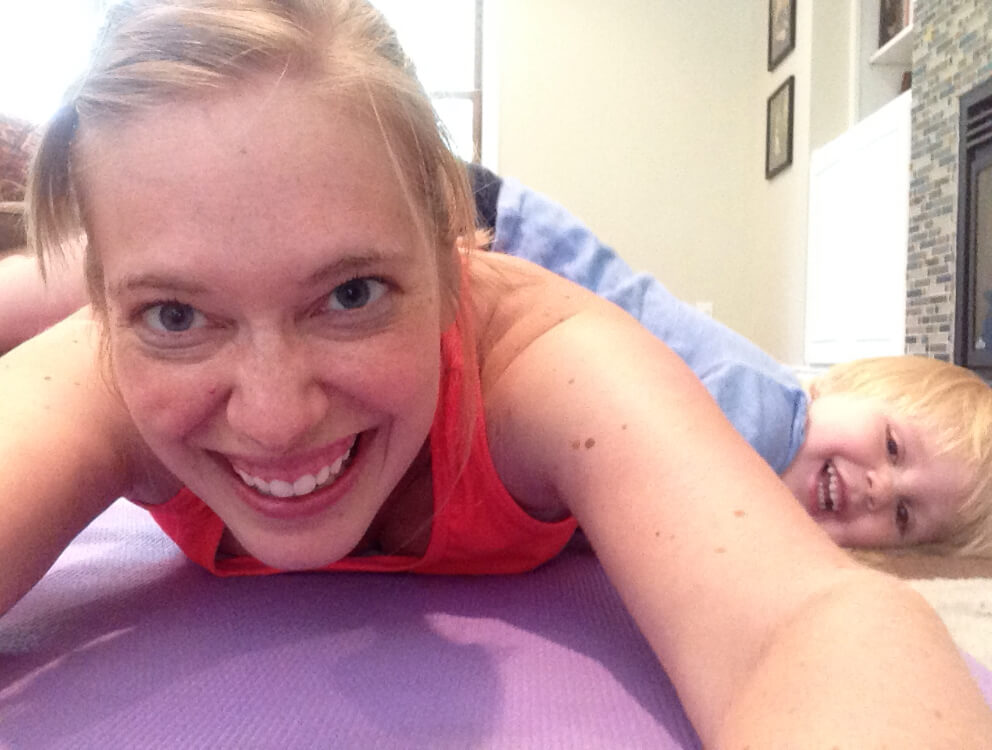 Patience, Sweet Patience
That was a turning point in my parenting. Clinging to patience and gentleness for 10 breaths ended up being the most amazing parenting hack.
Toddler wants me to snuggle them even though I'm so tired and just want to watch Project Runway? Sure, I commit to snuggle for 10 breaths.
Preschooler wants to tell me an excruciatingly detailed story about what happened while they were playing on the playset? Sure, I'll look into his eyes for 10 breaths.
I can do anything for 10 breaths. I can give up my own wants for what's best for my kids for 10 breaths.
You can do anything for 10 breaths.
Also, something amazing happens after taking 10 deep breaths. Your shoulders drop. Your jaw unclenches. You find you had more patience in you all along.
You might find that since you made it for 10 breaths, you might as well listen to the rest of the preschooler's story, and it might end up being a glorious (slightly convoluted) epic.
Or you might not. That's ok, too. I don't want you to come away from this thinking that you need to put all of your needs and self care aside indefinitely. It's ok to set boundaries with our kids.
But, I know that taking 10 breaths to patiently focus on your child and their needs is not going to cut too much into your self care time.
It's hard to be a patient parent who can be emotionally available for your kids. Do it for 10 breaths. After that, try another 10 breaths.
You can do this. If you are just barely hanging on to the last thread of your patience, I'm telling you, you can do this. I know you can do it, even if just for the next 10 breaths.