One time when I was growing up my mom said, "Let's all surprise Dad and be asleep when he gets home!"
I remember it so clearly because my brother and I laughed and laughed. Why would we ever want to do such a thing?
Now I'm a mom myself and I'm like, "Ooooohhhhhhhhhhhhhh."
Yeah, I get it. I am tired sometimes. Like, so tired that the pile of laundry looks pretty inviting for a little snooze. (Doesn't even have to be clean laundry.)
I would guess you are sometimes really tired, too.
Don't dismay! There are ways to use books to still be present and engaged with your kids even when you are super tired and just need to be sitting on the couch.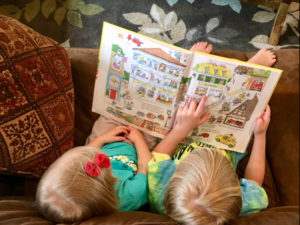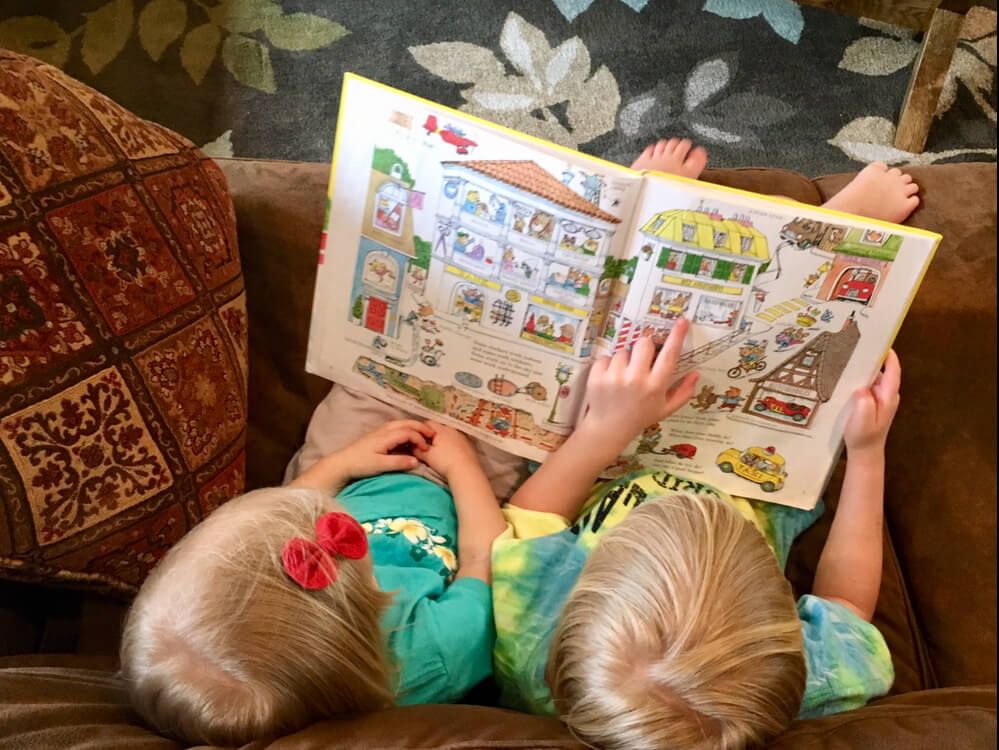 How to Use Books to Engage With Your Kids When You are Exhausted
Listen to an Illustrated Chapter Book Audiobook WHILE Looking at the Book
I turn on the audiobook for an illustrated chapter book, gather the kiddos, then turn the pages at the right time. They get to hear the story and see the pictures, but I do not actually have to talk. My kids are not huge audiobook fans, but they LOVE listening and looking at an illustrated chapter book. Everyone is happy as long as you can stay awake enough to keep the page turning at the appropriate times.
Book Suggestion: Mercy Watson series by Kate DiCamillo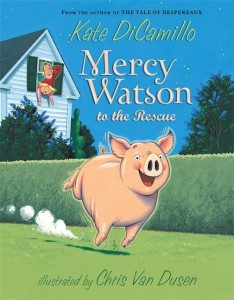 The Mercy Watson series is fully illustrated. Plus, the audiobook has a great reader who doesn't have a British accent that can be difficult for younger kids to understand. (I'm looking at you, The Lion, the Witch, and the Wardrobe. So lovely, but also so British my children started yelling asking what language they were speaking.)
Play "I Spy" With a Picture Book
This works best with a book you have read several times. And if your kids are anything like mine, you probably have a few of those books that you have memorized. After you say "I spy something purple," or whatever it is, you can close your eyes while they try to spy it.
If your little people are not quite great with their colors yet, play, "I spy someone doing…" to make it easier.
Are your kids a little older and bored of colors? Play "I spy something that rhymes with…" to make it a little trickier.
Book Suggestion: What Do People Do All Day? series by Richard Scary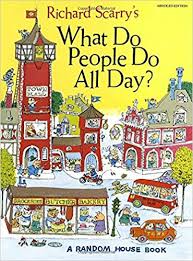 There is so much happening on every page, you will never run out of things to spy. This is a FAVORITE in our home, and I think it should be on your bookshelf, even if you aren't going to play I Spy with it.
Listen to a Fully Produced Audiobook in Candlelight
There is something shockingly calming to kids about lighting a candle and turning the lights off. I am not even joking. I had a friend recommend it for when the kids are bouncing off the walls, and I am pretty sure my response was something like, "I am not a hippy, and will not do that."
But then I tried it, and she is totally right. It is just soothing.
One of the best things to do in the calm candlelight is listen to a fully produced audiobook with different voice actors, sound effects, and everything. It is like watching a movie, but guilt free, because there are no screens!
I like to pop a ton of popcorn, light a candle, and all sit around the table and listen to the audiobook.
Book Suggestion: The Three Ring Rascals series by Kate Klise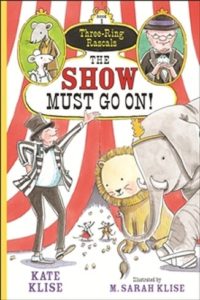 The Three Ring Rascals audiobooks are fully produced with voice actors and sound effects. It is a darling story that will appeal to all ages. It's perfection on 3 CDs.
Related: The Three Ring Rascals series is on this list of 40 easy reader chapter books that are great for reading aloud.
Draw the Story

I call this activity "Observe and Report" because you observe and report. Makes sense, right?
What you do is read a chapter of your current read aloud or a picture book. Then sit down and have your child draw a picture of the setting of the book. I set a minimum color limit, saying, "You must use 5 colors." That way it takes a little bit longer to draw the picture. Then, ask them to tell you all about their picture.
It is a nice, calm way to extend the time around the chapter book reading. I started having my kids do this when they were two and a half, so do not underestimate your kids even if they are very young! Of course, the pictures were only scribbles, and the reporting was, "ALL THE TREES!!!" but it was still fun! And it required very little energy from me.
Related: Here is more information about how to do Observe and Report with chapter books.
Book Suggestion: Little House in the Big Woods by Laura Ingalls Wilder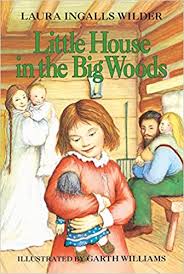 Books with lots of descriptors are great for drawing pictures. This book is also good if your kids are familiar with the woods. It is easier to draw a setting you can actually picture in your head. If you happen to live in the desert, this might not be a great book for your young kids to observe and report.
Wordless Picture Books

Say it with me "wordless picture books." Actually, don't say it with me…
Kids do not have a lot of times of silence. Wordless picture books are great for just sitting quietly. All you have to do is turn the pages! You also have to fight that urge inside to fill the silence with talking. Adults do not have a lot of times of silence, either…it is good for us, too!
If you truly do not want to answer a million questions on every page, you might have to set the expectation before you start reading. It does not hurt to say something like, "We're going to look at the pictures in this book! There is a story, but no words! Isn't that neat? I'm going to be quiet and we will just look at the story, but when we are all done we can talk about the story if you want to."
Of course, if you are awake enough to handle answering 17 questions on every page, you go for it!
Book Suggestion: Spot the Cat by Henry Cole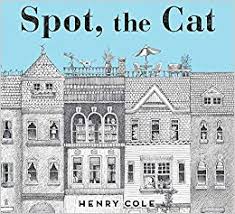 There are lots of amazing wordless picture books, Spot the Cat just happens to be one of my favorites. It tells the story of what a cat, Spot, does all day.
However, I would suggest it for kids 5 years old (or a mature 4 year old) and up because it can be hard to actually find the cat in the detailed pictures on every page and the pictures are only in black and white. If you have younger kids, try a wordless picture book with less happening in each picture. (I like Where's Walrus by Stephen Savage for younger kids.)