There are two recently released titles revamping the classic Christian allegory, The Pilgrim's Progress, for kids. Little Pilgrim's Big Journey and Little Pilgrim's Progress come from the same source material, but they could reach slightly different audiences. Read on to find out who I recommend each book for.
My first exposure to the classic The Pilgrim's Progress was in an Adventures in Odyssey episode. It was a new episode of the audio drama for kids, and my family was listening to it together on the radio. Like, the actual radio. So, now you know that I'm 110 years old.
If you aren't familiar with The Pilgrim's Progress, it is an allegory about a young man named Christian. It is a lovely story about Christian becoming free of his heavy burden and eventually making it to the Celestial City. Of course, it is also full of old fashioned language and complex references. It's really not written for children, at all.
However, since it is such a wonderful Christian classic, some authors have endeavored to make it accessible to children.
This post contains referral links for these products. As an Amazon Associate I earn from qualifying purchases. It does not cost you extra to purchase through my links.
Theology of Little Pilgrim's Progress and Little Pilgrim's Big Journey
I'm covering both books at the same time here because they're the same: both books are true to the original source material. They teach that there is only one way for Christian to become saved: by believing in Jesus. The text also talks about destruction that awaits those who don't believe in Jesus. Basically, an orthodox-Christian allegory. If you believe the theology taught in the original, you'll agree with the theology taught in these kids' versions.
You'll notice as you read my reviews that I don't seem to pick a favorite. That's because both held the message and truth from the original, and that's what I look at when deciding what to put in the kids' book basket.
In Depth Review of Little Pilgrim's Progress by Helen Taylor and illustrated by Joe Sutphin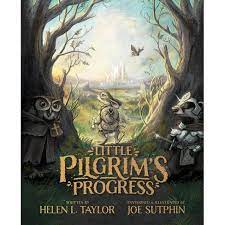 The publisher recommends Little Pilgrim's Progress for ages 8 through 12. I agree that is a fair age for reading the book independently, but as a read-aloud you could definitely extend the ages on BOTH sides. Older and younger kids will enjoy it.
The chapters are short, and it is illustrated, so you could easily read it to younger kids. If you have a wide age range of kids like we do, it's a great opportunity to all read together, then ask the older kids to explain the allegory to the younger kids.
I would personally put the sweet-spot at 5 to 10 years old if you're reading it aloud. If you're letting kids read independently, I would recommend for 9 years old and up. Even then I'd probably check in to see if they're comprehending the allegory. Because of the complexity of the allegory, and the fact that this edition doesn't have any guidance or questions between chapters, I believe your best bet is to treat it as a read-aloud, but you know your child best.
Text of Little Pilgrim's Progress
So, way back in the day Helen Taylor read The Pilgrim's Progress and was like, "wow." Maybe she didn't say that exactly, but she realized it was too confusing for little listeners. She rewrote the story at a younger level.
That became Little Pilgrim's Progress. That story has sold over 800,000 copies!!
This new edition of it is the same text (with only a few words changed to fit the illustrations), but now illustrated beautifully. So, if you've read Little Pilgrim's Progress before, this is that same text, but with new pictures.
Illustrations in Little Pilgrim's Progress illustrated by Joe Sutphin
Oh. My. Goodness.
The illustrations in this new edition of Little Pilgrim's Progress are stunning. It re-imagines the story with…brace yourself…DRESSED WOODLAND CREATURES. I love it.
One of the things I like about the fact that this version uses animals is that it means I can read it to any child, and not have to worry about them being represented in the pictures.
The illustrations are black and white, no color.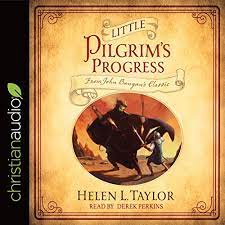 There is an audio book option of the original Little Pilgrim's Progress. HOWEVER, it is from the original text by Helen L. Taylor. Therefore, the characters in the audio book version are people. So, where the text of this new edition that I'm focusing on says, "paws" or things like that, the audio book says "hands."
This isn't a huge deal, but something to keep in mind. It makes it difficult to listen to the audio book while flipping pages since they don't match perfectly.
What else to know about Little Pilgrim's Progress
There are so many named characters. So. Many.
And, because many of them are only in the story for a few pages, it can get confusing to keep them all straight. This isn't a bad thing, nor does it change what age I recommend this story for. However, it may mean you move through the book at a much slower pace than you would normally move through an illustrated chapter book.
I loved this edition of Little Pilgrim's Progress. I highly recommend it for all families.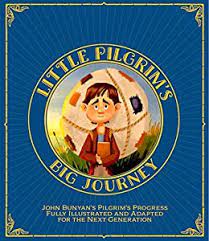 It took me an uncomfortably long time to figure out the two-volume situation of Little Pilgrim's Big Journey because both volumes are books called Little Pilgrim's Big Journey.
Here's the scoop – the BOY volume called Little Pilgrim's Big Journey is volume 1. The GIRL volume called Little Pilgrim's Big Journey is volume 2.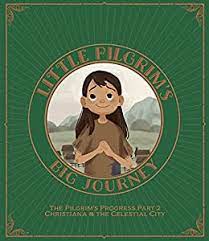 Volume 2 is a continuation of the first volume. I thought maybe it was two versions of the same story (one for boys, one for girls) but that is NOT what's happening. Instead, the book with the girl on the cover is a story about a friend following Christian's lead into the Celestial City.  If you go to buy them on Amazon they literally have the same titles, so look at the covers before buying. (Personally I would have named it something different, like Another Little Pilgrim's Journey, but no one asked me.)
You do NOT have to read volume 2 after volume 1; volume 1 is a stand alone story. However, volume 2 does NOT stand alone by itself because it refers to things that happen in volume 1.
The publisher recommends for ages 2 through 10 years old.
If you are looking for a read-aloud story, I agree with that age recommendation. Of course, don't expect the 2 year old to comprehend much. I also think you could push the age up, since it is an allegory and fairly hard to catch the nuances of the story.
Obviously that age recommendation does not take into account independent reading. I would say the vocabulary/sentence structure itself is at about a second grade reading level, but the story line is more complex, so don't be surprised if your independent reader doesn't latch on to reading this by themselves.
The discussion questions are written at a much higher level.
I highly recommend using these books as read-alouds as a family! The chapters are slightly longer, and with the questions included with each chapter you could definitely use them as family worship or during a devotion time.
Text of Little Pilgrim's Big Journey
The text of Little Pilgrim's Big Journey is a complete revision of the original Pilgrim's Progress. It takes the original story and makes it accessible to little people, both in vocabulary and style. It also removes some characters and shortens the story.
You could probably read through the entire first volume in an hour if your kids were REALLY into it. It would be really pushing it, but I know some of y'all have told me you'll read an entire Adventures of Pug book in one sitting, so you could totally read this through in one sitting. However, that would be with very minimal discussion time.
Illustrations in Little Pilgrim's Big Journey
The main character in volume one is a Caucasian boy. The main character in volume two is a Caucasian girl. There is some diversity of characters, especially in volume 2. (Although all of the main characters are skinny, apparently normal children, so I guess not that much diversity.)
The book is fully illustrated in color, which is very nice. However, I would not call the style or quality of illustrations a strength of the book.
Audio book of Little Pilgrim's Big Journey
As of this writing, there is not an audio book option for Little Pilgrim's Big Journey.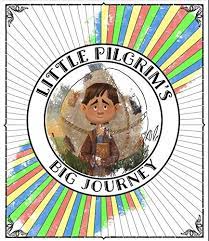 However, there is a nice (and fairly inexpensive) coloring book that corresponds to the story. So, if you have wigglers who need to move while listening, you could utilize that instead of an audio book option.
What else to know about Little Pilgrim's Big Journey
The chapter summaries and discussion questions to explain the allegory are my number one favorite feature of this version of the classic Christian story. They are definitely the selling point. Anyone can make the language of a classic story more accessible, but it takes real mastery to be able to make the nuances of the story actually relatable to little kids.
However, the allegory explanations are at the end of the chapter. Because there are so many characters, I found it helpful if I glanced at the questions BEFORE I read the chapter to my kids. Then I could help them tease out the allegory while we were reading, instead of finishing the chapter and having to remind them who-was-who while we discussed the questions.
Related: Christian Chapter Books to Read Next if Your Family Loved The Green Ember