Nobody in Arthur Bobowicz's family really liked turkey. – opening line of The Hoboken Chicken Emergency by Daniel Pinkwater
This year at Thanksgiving we had pot roast. None of us really love turkey, to be honest. In The Hoboken Chicken Emergency, nobody in Arthur's family really likes turkey, either. That's how they ended up with a 266 pound pet chicken on Thanksgiving Day.
Actually, it wasn't really that simple…long story short, Arthur has a 266 pound pet chicken named Henrietta. You haven't heard the story of the 266 pound chicken named Henrietta? Then it's time to check out this classic novel! The story moves quickly, and shows the beautiful friendship between a boy and his chicken.
Check out the review below to find out what I liked and didn't like about the book, what ages it would be good for, and anything questionable that you need to know about before picking this series up.
Make sure to scroll down to read the Special Considerations section so that you aren't blindsided by something in the book that might be a touchy subject for some families.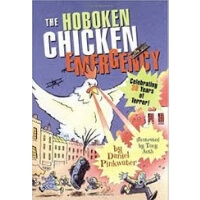 Title: The Hoboken Chicken Emergency
Author: Daniel Pinkwater
Illustrator: Tony Auth
Details: Simon and Schuster, Sep 25, 2007
Number of Pages: 101 pages
Number of Chapters: 14 chapters
Average Chapter Length: highly variable, ranges from 11 pages to 1 page
Picture Frequency: at least one large black and white picture every 4 pages, with smaller pictures more frequently
The Good: This is a hysterical story about friendship, love, community, and a 266 pound chicken. It's fast paced storyline and funny premise kept us all entertained.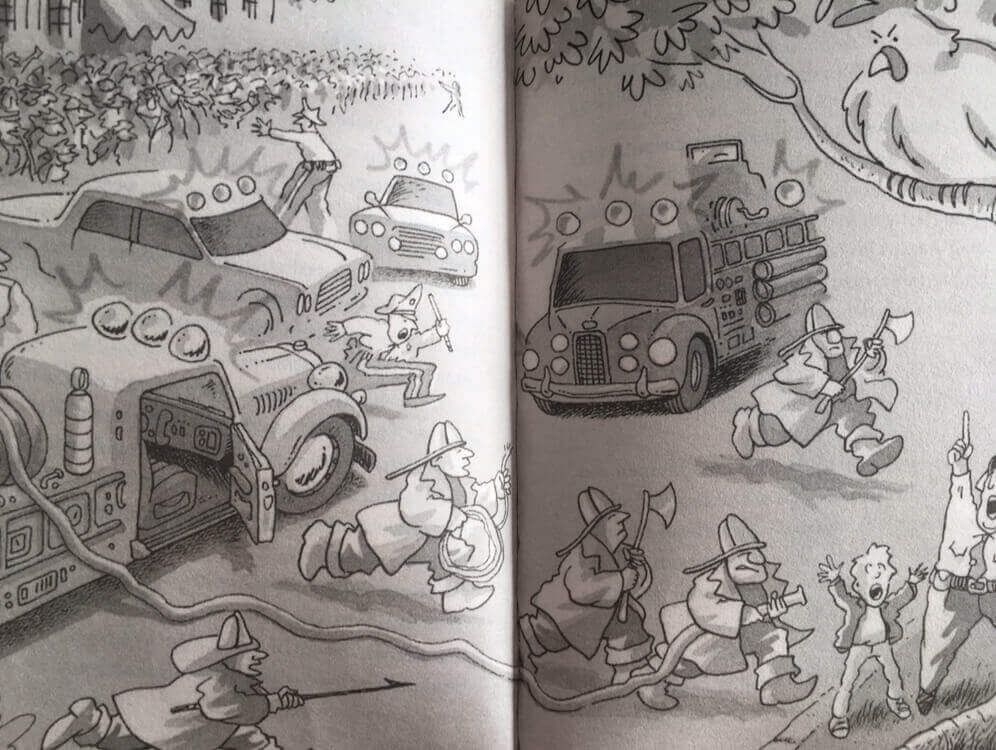 The pictures in the newest edition from 2007 are awesome, and add a lot to the story. There are A LOT of pictures, too.
The Bad: The story is absurd. My kids and I loved it, but if you aren't in to that, you might not like it.
Also, Arthur is a first generation Polish American growing up in a Polish neighborhood in Hoboken in the '70s. If you're looking for a book with a lot of diverse characters, this isn't it.
Special Considerations: Arthur sneaks out of the house at one point to go find Henrietta. He also talks about how he can't tell his parents about a problem he has because they wouldn't understand, and they never change their minds. It is certainly not a main theme in the story, but it is mentioned.
These are perfect opportunities to tell your kids that they can talk with you about anything! It didn't detract from the story at all, but situations like this are certainly a remnant from the parenting styles of when the book was originally written in the '70s. (AKA, "my way or the highway.") Our generation tends to be more open to talking with our kids, so make sure that's brought up when you read this book!
My Thoughts: My kids and I both loved The Hoboken Chicken Emergency. It is just SO funny.
(SPOILER ALERT) When the Goodyear blimp was hired to pull a banner over the town that read, "CHICKENS NEED YOUR LOVE," I thought my son was going to fall off of the couch from laughing so hard.
The book's content is suitable for any age. There are lots of pictures, and it's a very simple story with only three main named characters. Arthur's brother and sister aren't even given names, and just referred to as, "Arthur's brother and sister." This makes the story very easy to follow.
However, the sentences are fairly long, and the vocabulary level is higher than many other short chapter books. My toddler had a hard time getting into the story, and she didn't end up finishing it. I don't know that she even lasted through the first chapter. For that reason, I recommend it for ages 4 years old and up. Because of the long sentences, don't be discouraged if your 4 year old doesn't get into it! Just save it for when they're ready.
I highly recommend this sweet story. I think every kid will fall in love with Henrietta, the 266 pound chicken! As Poppa Bobowicz says in the book, "Every boy should have a chicken."
Don't forget to sign up for the email list to be notified when new reviews are posted!