This is a very special guest post from a lovely children's author who I've shared A LOT about before. (She has a board book on this list of my favorite Easter picture books about Jesus, and a different board book that I thought was one of the top board books of 2022.) The reason I share so much about her books is because I think they're so good! I like the TRUTH wrapped up in sweet rhymes for our littlest listeners. Her newest book is no exception. Read on to learn about it, and get some tips for reading Bible story books to families with a wide age range.
This post contains referral links for these products. As an Amazon Associate I earn from qualifying purchases. It does not cost you extra to purchase through my links.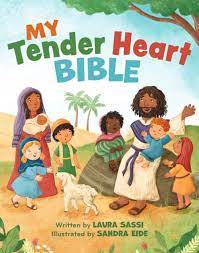 Earlier this month, I celebrated the release of my eighth children's book. Published by Paraclete Press, My Tender Heart Bible introduces littlest ones to twelve of my favorite stories from the Old and New Testament, rendered in poetic rhyme which, both individually and together, point to God's redemptive love. Each retelling is accompanied by a Bible citation, a beautiful illustration by Sandra Eide, and a Heart Moment of prayer. The book is inspired by memories of sitting with my own children when they were little to read or re-tell Bible stories so they could grasp just how much God loved them.
Because the collection is presented in board book format, the book is pitched for ages 0 – 4. However, I have noticed in my interactions with kids up through age 8, that it definitely has broader appeal.
This is great new Bible story book for families looking for a Bible story book that can be read simultaneously with multiple ages as part of a family Bible time or bedtime routine. With that in mind, here are five tips for reading My Tender Heart Bible (or the Bible story book of your choice) to multiple ages.
Tips for Reading Bible story books to a wide age range
PREVIEW THE STORY WITH WONDER. Before reading the Bible story you've selected, take a few minutes to preview it together. Let different ages focus on different things. Littlest ones can point to and name clues they see in the illustrations. Pre-readers can do that plus also look for letters they recognize, or even a name they might recognize like GOD or JESUS. Let your oldest ones wrap up the preview by actually reading the title of the selection as well as the verse citation. Let them share what they might already know about the story and let them guess and wonder what it might be about.
READ THE STORY TOGETHER WITH JOY. Now is the time to just read and enjoy the story, pausing to ask questions along the way. Let your littlest ones point to things in the pictures that correspond with the text. Your older ones can, again, point to words they recognize. And all through this, you, as the parent, can also ask your own questions or add context based on your understanding of the story.
DIG IN DEEPER with a BIBLE DIVE! As a parent, teacher, author and Christ follower, I think it's important that our kids know that the stories about God that we share aren't made up or random. They come from God's Word. That's why in My Tender Heart Bible, I wanted to be sure to include Bible citations for each story, so that families and their little ones could know the source and read God's actual Word for themselves. This is a task that your older ones can take charge of with their own Bibles and then read the Bible passages to their younger siblings and you. They will LOVE doing this, I promise, at least if your kids are anything like mine!
HAVE A HEART MOMENT TOGETHER. Just reading reading God's Word isn't enough. It begs us to respond! So, after reading your chosen Bible story, be sure to take a few moments to connect the story to your children's experience. Help them see how it is relevant to them today. Let it touch their hearts, and maybe yours too, and be a reminder to all that God is good, that He keeps His promises, and that He loves you and them very much.
WRAP IT ALL UP IN PRAYER. Wrap up your Bible story time in prayer, thanking God for stories from God's Word that remind us about God's love for us. This is a sweet opportunity both to model prayer with your child and also to let them add to the prayer in their words. If you are reading My Tender Heart Bible, I have included a "Heart Moment" prayer for each story to help you do this.
EASY Lent Reading Plan Using ONE Book
And now for the Lenten Challenge! Nothing too pressured and very flexible — but wouldn't it be neat to set aside 12 "Bible Heart Moments" with your little ones between now and Easter to read 12 stories that point to God's redemptive love and culminate with the glorious resurrection of our Savior Jesus Christ on Easter morning?
Here's a map for doing just that using My Tender Heart Bible. Sweet blessings to you all! (And it starts next Wednesday so you have time to order your copy.)
March 1, 2023 Creation Joy Genesis 1:1 – 2:3
March 5, 2023 God's Garden Genesis 3:1-24
March 8, 2023 Star Promise Genesis 15:1-6
March 12, 2023 Great Escape Exodus 14:10-31
March 15, 2023 Tasty Blessings Exodus 16:11-18
March 19, 2023 Brave Queen Esther 14:13-17
March 22, 2023 Welcome, Jesus Luke 2:8-19
March 26, 2023 Dove Love Matthew 3:13-17
March 29, 2023 Precious Children Mark 10:13-16
April 2, 2023 Worry Cure Matthew 6:25-33
April 5, 2023 Donkey Parade Luke 19:35-38
April 9, 2023 Easter Joy Matthew 28:1-10
About the Author: Laura Sassi has a passion for telling stories in prose and rhyme. She is the author of five picture books including the best-selling Goodnight, Ark, which was a 2015 Christian Book Award Finalist (and which I reviewed on this list of Christian baby books); Goodnight, Manger (which I reviewed with other great Christmas picture books about Jesus); and Love Is Kind, which was a 2020 Anna Dewdney Read Together Award Honor Book (and which can be found on this list of great non-romantic Valentine's Day picture books). Check out more at her website.