I didn't use to cry at books. There were a few exceptions, of course, but up until a few years ago I could count the number of books that had made me cry on one hand with a few fingers to spare.
That's all changed since having my babies – I have become a major weeper at a good story!
I'm not talking about grown up books making me cry, either. I'm talking about having my heart stirred by the simple stories that I read aloud to my kids.
When Diggory seeks forgiveness for being tempted to disobey Aslan to save his mother in The Magician's Nephew, I welled up a little bit.
When Detective Gordon felt too old and worn out by his own sin that continually needs forgiveness in A Case in Any Case, I had a few sniffles.
We can now add the sweet read aloud series The Lighthouse Family to the list of children's chapter books that have brought me to tears. This charming series is by prolific author Cynthia Rylant. You might be familiar with her longer series, Mr. Putter and Tabby.
The Lighthouse Family makes my eyes "sweat" because the characters are such lovely souls. They give up everything for others with no fanfare. The family is gentle with each other, an increasingly rare way for literature to portray families. The tender moments of forgiveness make my eyes well up every time!
Read on for my full review of The Lighthouse Family. Make sure to pay attention to the Special Considerations and the age I recommend for this series, as it is older than you might expect.
"In a lonely lighthouse, far from city and town, far from the comfort of friends, lived a kindhearted cat named Pandora."
– opening line of The Storm, The Lighthouse Family #1 by Cynthia Rylant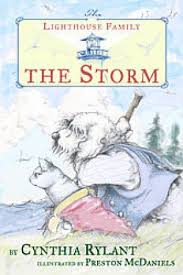 Title: The Storm
Series: The Lighthouse Family
Author: Cynthia Rylant
Illustrator: Preston McDaniels
Details: Scholastic Inc., 2005
Number of Pages: 80 pages
Number of Chapters: 4 chapters
Average Chapter Length: 20 pages (varies in the other books in the series)
Picture Frequency: a black and white picture every few pages, with a full two page picture at the start of each chapter
Special Considerations: It's not all perfect in the little world by the sea. First, three of the main characters are orphaned siblings who run away from their orphanage when they are going to be separated. They end up being adopted by Pandora and Seabold, so it ends happily. Second, the orphans do not behave like traumatized children…but, they rarely do in books. (I'm looking at you, The Boxcar Children.)
My Thoughts: This is just a genuinely simple, sweet read aloud series. The sentence structure and prose are lovely and more complex than most of the other illustrated read aloud books I have read recently, making it a very melodic read aloud.
The stories are fairly formulaic. No cliffhangers here! There are moments when the little mice children get into scraps, but there are no epic adventures. It is more normal levels of childhood excitement.
There are currently eight books in the series. You do not need to read them in order, but it is helpful to read the first book first so that you know the story of how the family found each other.
To break up the stories there are lovely, detailed black and white illustrations.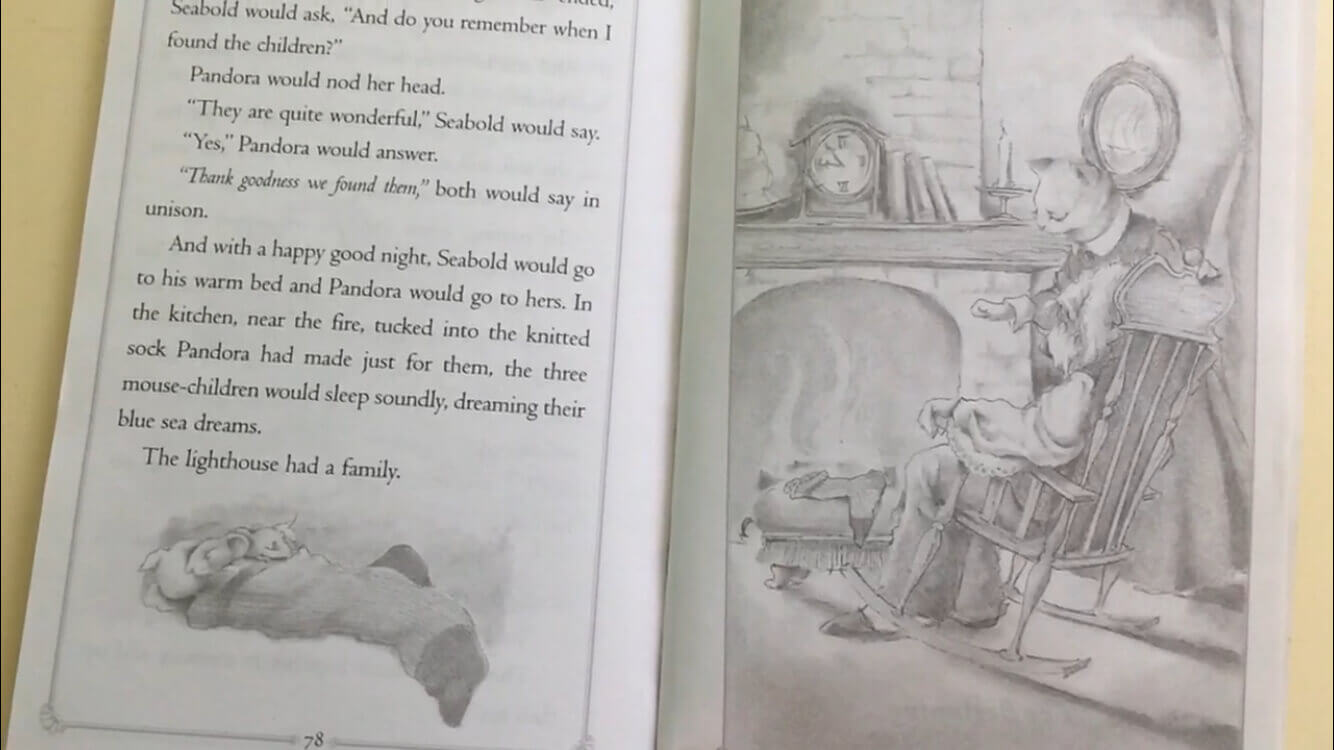 Because of the complexity of the sentences, these books are most enjoyed by slightly older children. This might surprise you when you pick them up and see how short they are; you can read these books extremely quickly.
This series did NOT hold my toddler's interest at all. The more melodic prose and gray and white pencil drawings just don't keep the very young kids' attention as well. (Here's how to pick a great book for the toddler set!)
However, my son enjoyed these as a preschooler and still does now that he's in elementary school.  He was most receptive to them at bed time, or when he was tired and wanted to listen to something a little quieter.
As for a mom's opinion on them, I love these books, but you might have picked up on that by now.
Listen, The Lighthouse Family is a sweet read aloud series. Like, syrupy sweet. However, that's why I adore them. There are beautiful lessons about caring for family, and doing hard things that no one will ever see, and being a good neighbor.
You know how right now dystopian literature is very popular? This series is literally the exact opposite of that.
To be honest, the world is pretty dark right now, so I don't feel a need to read dark books. The Lighthouse Family is a beacon that I happily read to my kids. I think you should read it, too!
P.S. Are you signed up for the weekly Big Books, Little Ears newsletter? Sign up today to get the best bookish news and reviews like this in your inbox every week!