Do you have a longer series that you just loved going through?
When I was growing up, the long series I read all the way through was Nancy Drew. I LOVED Nancy Drew books. I wanted to be the smartest person in the room, just like Nancy. I wanted a light pink convertible, just like Nancy. I wanted to solve a mystery in a clock tower, just like Nancy.
One summer in middle school I'm pretty sure I read over 25 Nancy Drew mysteries.
The wonderful thing about a nice long series is that you can keep returning to these wonderful characters, book after book. The adventure doesn't end after one volume. If you're Nancy, the adventure doesn't end after 60 volumes!
The allure of a long series didn't end when I grew out of Nancy! (Although, let's face it, does anyone really grow out of Nancy Drew?)
I love finding a long read aloud series to share with my kids. It is nice when we find a series with lots of books that we all like  because it takes the guess work out of what we are going to read next. We're just going to return to this new world we discovered in the previous books!
Our Favorite Long Read Aloud Series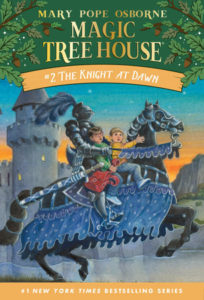 There are lots of read aloud series that have many books! If you are looking for suggestions, here are a few of our favorites to check out:
Geronimo Stilton – so many…well over 50 if you count all of the spin-offs
Magic Treehouse – 54 books
The Ramona Books – 12 books
Swallows and Amazons – 12 books (for older kids)
Mercy Watson – 11 books
The Bad Guys – 10 books
Ninja Meerkats – 8 books
Lighthouse Family – 8 books
The Challenge of Borrowing a Long Read Aloud Series
However, there is one downside of falling in love with a long series: you are constantly searching for the next book!
If you are like me, and most of your reading comes from your local library, then you are constantly getting on the list to request the next book.
I am so thankful for our library and that we can request books! However, sometimes I fall behind in my requests, and we fall behind in a series that my kids are loving.
Enter, my secret weapon: my Library Request Organizer.
I created this printable to keep track of what we wanted to read from the library.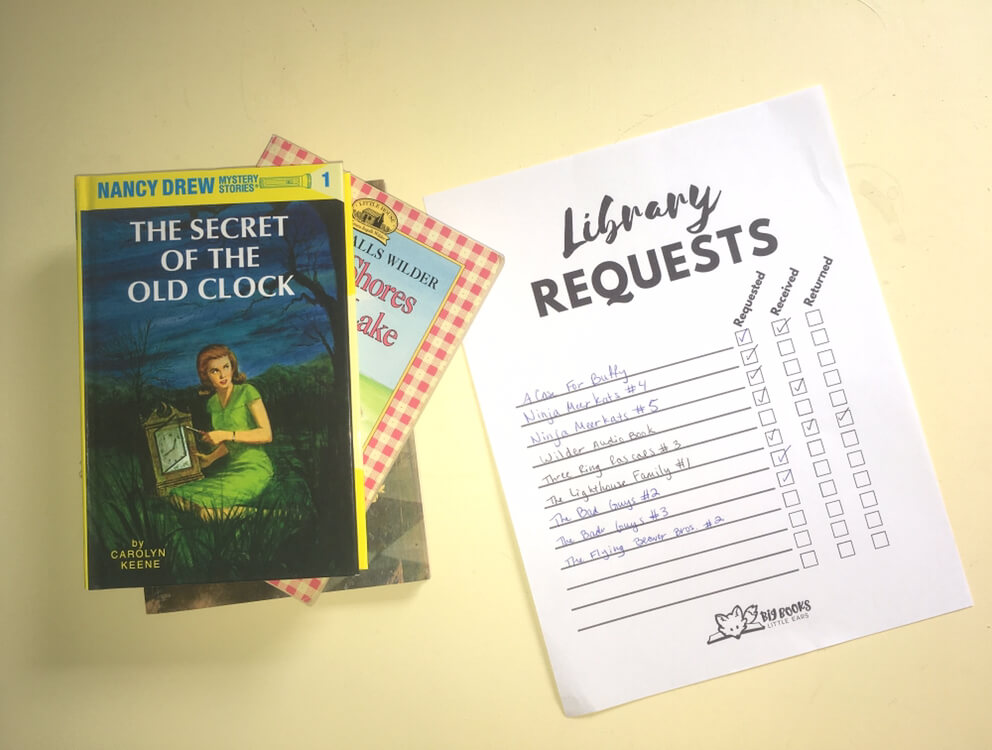 All I do is jot down the next few books in a series that we are working through, or that I know we want to read soon. Then, I can see at a glance what I've requested.
Using this sheet, we never miss the next book in the series!
If you home school, you could also use this sheet to keep track of the books you need for your upcoming school units.
Also, if you know you want certain books for upcoming holidays, you can use this sheet to keep track of what you have requested and received.
I keep my Library Request Organizer in our library bag. There have been so many times that we have been at the library and a book has caught my eye, but it is the third of a series, or something like that. No problem, I just jot down the first book in the series on my Library Request Organizer. Then I request it when we check out, and it's there waiting for us next week.
This simple sheet has helped me increase the amount that we read because there is always a book waiting for us in the requested section when we get to the library every week!
My kids are a little too young to be introduced to Nancy Drew yet, but when that time comes, I'll have this sheet ready to request the whole series!
What longer series do you recommend? What longer book series has kept your kids attention?