"Home is where the heart is, or so she'd heard." – opening line of A True Home
Imagine if you ran a hotel for woodland creatures. Seriously, take a second and think about it. If you are picturing a cozy place in a giant tree where every detail for every type of guests is thought of, you are basically picturing the Heartwood Hotel!
I recently read A True Home, the first book in the Heartwood Hotel series. I think I appreciated way more than my kids did the fact that the author had thought of EVERY detail it would take to run a hotel for small woodland animals. Also, it could just be that I could really use a few nights of uninterrupted sleep at a luxury hotel – I was way more interested in the private bird balconies and skunks' hot tubs than I should have been.
Check out the video review below to find out what I liked and didn't like about the book, what ages it would be good for, and anything questionable that you need to know about before picking this series up.
You can scroll past the video for just the bare book details. If you don't watch the video, make sure to scroll down to read the Special Considerations section so that you aren't blindsided by something in the book that might be a touchy subject for some people. (Honestly, though, the video review is much more comprehensive, and it's only a few minutes long.)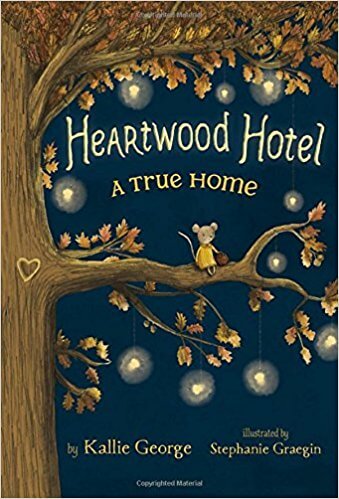 Title: A True Home
Author: Kallie George
Illustrator: Stephanie Graegin
Series: Heartwood Hotel, Book 1
Details: Disney Hyperion, July 2017
Number of Pages: 162 pages
Number of Chapters: 16 chapters
Average Chapter Length: 10 pages
Picture Frequency: averages 2 black and white pictures per chapter
Special Considerations: Mona, the main character, is an orphan and has lost her family in an unnamed tragedy.
There are some mean-girl dynamics between Mona and a squirrel at the hotel. The squirrel is not a good friend, and is catty and mean.
The wolves are the enemies of the animals staying at the hotel. They are violent, and talk in a way that even your youngest kids will pick up on the fact that they are trying to kill and eat the residents of the hotel.
Some characters say, "gosh" or things like that.
My Thoughts: I recommend this book for ages five years old and up. The reason for the older age range is because the story has a lot of named characters. It also depends on long conversations to move the story along, which is more difficult for a younger child to follow than descriptive action scenes.
I loved how the author perfectly captured what a hotel for woodland creatures would be like. However, it did take a lot of pages before the pace of the story picked up. For that reason I give it 3 out of 5 ears.
A True Home is worth picking up at the library, especially if you have members of your family who love woodland creatures!