UPDATED WITH NEWLY PUBLISHED ADVENT DEVOTIONALS TO READ IN 2022!! Looking for something to read around the Christmas tree with your family during this Christmas season? These Advent Devotional guides are no-prep, and theologically sound. My favorite way to teach gospel truths is when surrounded by twinkle lights!
When does Advent start in 2022?
Traditionally, Advent starts on the fourth Sunday before Christmas. This year Advent starts on Sunday, November 27, 2022.
However, most modern Advent calendars are 25 days long, and most Advent reading plans are 25 days long. They anticipate you starting the Christmas Advent devotional with your family on December 1.
How long do we have to read during Advent?
Most Advent devotionals have 25 sections to correspond with the 25 days leading up to Christmas.
Now, just so we're all on the same page, I love a good Advent reading book. A little structure can be nice when you're counting down the days to Christmas! However, our family has never successfully completed one…ever. It just never happened for us that we did an Advent study every day for 25 days, in between Christmas concerts, and church rehearsals, and trips to Grandma's and ALL THE THINGS!
However, everything worth doing is worth doing poorly. So even though it won't be perfect, give it a go! Try out one of these lovely Christ focused Advent calendar books for kids!
This post may contain affiliate links. If you buy from these links, I may make a small commission to use to fill our book basket. If you click on the book title it will take you to the Amazon page to purchase the book. As an Amazon Associate I earn from qualifying purchases.
The Best Christian Advent Devotionals for Families with Kids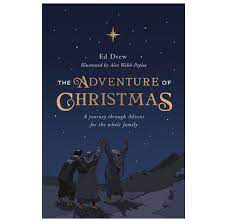 This is my family's current top choice of Advent books with scripture readings for every day. If you have a really wide age range of kids, this book is the one I recommend. It's somehow both accessible and deep at the same time.
Publisher's Age Recommendation: 3-12 years old
Pros: The questions that go with the readings are split up so there's one for each age, from toddler, elementary, through teens. (Families with lots of kids and a wide age range like us, REJOICE!) The readings are straight from the Bible. The pictures are comic-book style.
Cons: I don't love the "optional extras" of every day. It's three extra conversations or activities. They're fine. They aren't wrong, it just felt like more work (and slightly overwhelming). Also, heads up that the "prayer" to finish each lesson isn't actually a written out prayer, it's just a prompt to close in prayer. Which is fine, but does stand in contrast to many others on this list that have a literal prayer written out.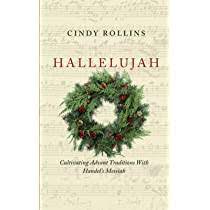 I almost didn't include this one, because it's written for adults. However, it's really wonderful for families to do parts of it together, so I'm including it. Basically, it's a calendar for listening to Handel's Messiah over the Christmas season in 10 to 20 minute daily chunks. There are also readings to explain what you're listening to. I did the readings personally, and turned on the music when the kids and I were in the car or having snack after school. Someday I hope to be able to include my big kids in the readings, but for now we just enjoy the music. To God be the glory!
Publisher's Age Recommendation: adult
Pros: IT TELLS YOU HOW MANY MINUTES IT WILL TAKE YOU TO LISTEN TO THE MUSIC THAT DAY!! As a busy mom, this is crucial. There are weekly scripture readings, then every day there's a little background to the music, and a suggestion of how much of Messiah to listen to. What a beautiful way to celebrate an art-filled holiday!
Cons: It is certainly meant for adults. If you're looking for questions to ask your toddlers, this is not it. Also, it is perhaps a bit more ecumenical than anything else on this list. There are included discussion of how to celebrate Epiphany, and the feasts of St. Nicholas and St. Lucia; those are things not normally done in my denomination.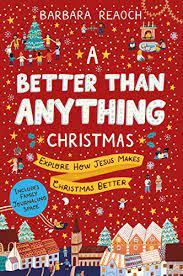 A Better Than Anything Christmas is broken up into 25 chapters. There is a Bible reading, then a little lesson for every day with a few guided questions. Then there is a prayer to close out your family time together. Overall, I highly recommend it. I like it especially for it's ease of use and accessibility for all of my kids, even though they have a wide age spread.
Publisher's Age Recommendation: 4-11 years
Pros: This Advent family study is super Bible focused. It is also good for a wide age range of children, although I think it maxes out around 12 years old. Your young teen will not be impressed. If you're tight on time or just starting out, there are only a few Bible verses to read every day. IT IS ALL HERE so you can stop looking for Advent things to do – the verses, the questions, the prayer, optional art activities, it's all included.
Cons: There is one mention of Santa (but it was in comparison to Jesus, so…). There is a whole page every day for "family journaling space," that feels wasted on our busy/young/not writing yet family. One section about new life with Jesus asks every child to write a prayer asking Jesus into their hearts, which might not gel with how you think salvation should be presented. Also, I think it is a one-time-use product, because there's space for writing and drawing.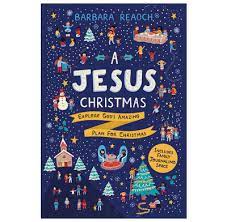 Same vibe as A Better Than Anything Christmas, but with a slightly different focus.
Publisher's Age Recommendation: 4-11 years old
Pros: This takes a sort of unique approach, in that the readings are not "the Christmas story." Instead, they start in Genesis and explain how Christ's birth aligns with the full story of the Bible. The writing style is very easy to understand. This is, in my opinion, the best option for thoughtful 6-10 year olds. It's obviously geared right for that age range.
Cons: Again, work-book style, and not to be reused year after year. Also, the activities require drawing or writing, but there's only space for one family member to do that in the book. The publisher recommends getting every child their own copy of the book but…we have a lot of kids. Of course, you could just give each child paper. Alternatively, we used it as discussion questions, and didn't actually have everyone write an answer.
Related: Christmas themed Christian read aloud chapter books for families with a wide age range of kids (like us!)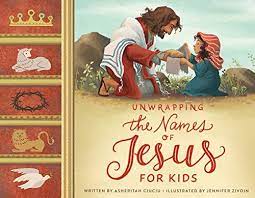 So, I'm including this here because I've seen it all over this year being marketed as a family Advent book. I think that's because the author had a very successful Advent book for grownups about 25 names for Jesus. However, this book only looks at 9 names of Jesus, and definitely ISN'T going to take you through the whole Advent season.
Publisher's Age Recommendation: 5-8 years old
Pros: The theology is ON POINT. So good. The theme of the book is looking at a few different names of Jesus. It's certainly deep, and although the publisher recommends for through age 8, you can DEFINITELY push that up. There's also a lot of words, and I think you could easily use this with tweens.
Cons: This is not an advent devotional book! It's a really lovely picture book for the season, however. I do HIGHLY recommend it, but you'll easily get through the 32 pages in a few days, max. I think even our young family could do the whole book in one sitting.
Related: Christmas picture books about JESUS! (Updated with 2022 new releases.)