So, you might have heard that the world has basically come to an end: the libraries have closed. (Curse you, coronavirus / COVID-19 / whatever the kids are calling it now days!!) And if they haven't closed, they have suspended programs, like story times.
If you depend on good library programming, here is a pretty comprehensive list of online story times to keep your kids busy and learning during the corona virus shutdown. And because it's me, and y'all know I think more is more, I've included information about each one so you can get a sense of which one is right for your family.
(P.S. Also, I didn't include any plain-old YouTube channels that read picture books – these are just websites. I'll have to do a YouTube round up, also! Look for that in the coming weeks. If you want to know when that comes out, make sure you're signed up for my weekly email updates with book suggestions and no-prep activities HERE. FYI that my reviews tend to be faith-based, so you can decide if that's right for your family.)
Stay safe, wash your hands, and happy reading!
Related: The Best FREE Apps for Elementary Aged Kids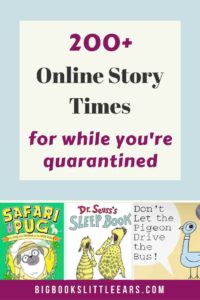 Online Story Times to Keep Your Kids Busy During Corona Virus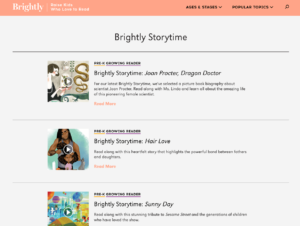 Brightly is super secular, so FYI that I do not at all agree with what this site considers appropriate for middle-grade or tween readers. But their online story times are great with (in my opinion) the best production of any I've seen!

This list of STEM picture books are read by astronauts…in space. It's awesome.
Storyline Online is sponsored by the Screen Actors Guild. In this collection famous actors read picture books. There are SO many books available!
KidLit TV has dozens of picture books read aloud. Out of all of the online story time resources I know of, this one has the most picture books featuring diverse characters and readers, which is awesome!
World Book Day has produced this collection of picture books being read by famous British actors. Notice I said "British." My kids can't understand what some of the readers are saying. But the books are fabulous, so if your children have more culture than mine, it's a great resource!
Story Place is a service of the Charlotte Mecklenburg Library. The story's are original, and not classic storybooks, so mentally prepare for that. Each one has a full "story time" to go with it – including songs and activities.
Every week Seattle Opera releases a storytime from the opera house, complete with enrichment activities. It's super fun, and an easy way to add the arts into your storytimes.
Related: Looking for more ways to pass the time? Here's a super popular list of no-prep activities to go with books or audiobooks.
P.S. I didn't include any "interactive storybook" websites on this list because they take so many clicks to turn the page, or make the text read, or make the pictures move or things like that. They just aren't right for my kids at their ages right now. However, if you're looking for something like that, Unite for Literacy is my favorite. They have hundreds of books and narration is available in 43 languages!!! Make sure you pass it on to your fellow mamas who are raising kiddos who speak languages other than English!