Nancy Drew books are written at a reading level appropriate for 8 to 12 year olds. However, there's some content that probably isn't right for every girl. Check out these mystery books to read instead of Nancy Drew. Or, if you already have a Nancy Drew-lover in your home, check out even more clean mystery books for tween girls!
Related: What Age Should Read Nancy Drew?
These squeaky clean mysteries are great for tweens, and some even dip down into mid-elementary age. Heads up that even though I specify that this list is for mystery loving girls, most of the books will be enjoyed by boys, too.
This post contains referral links for these products. As an Amazon Associate I earn from qualifying purchases. It does not cost you extra to purchase through my links.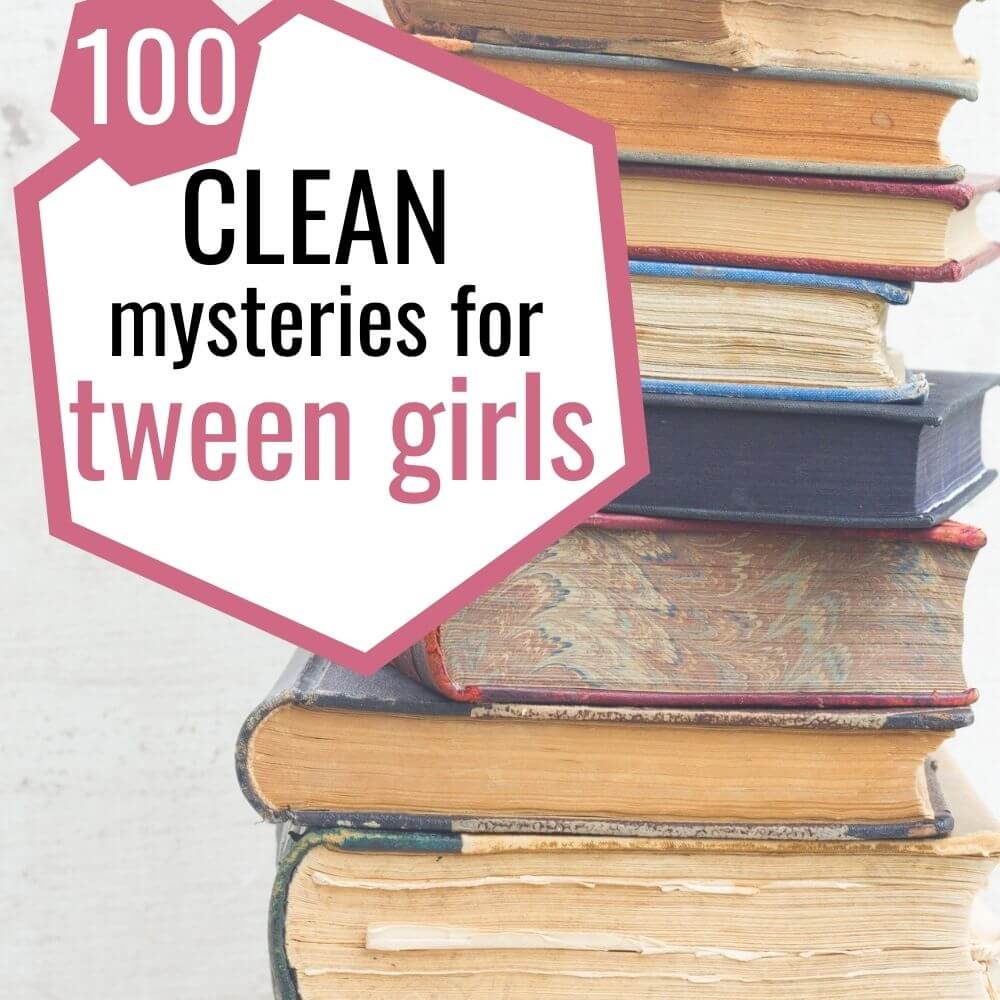 Clean Mystery Books like Nancy Drew for Tween Girls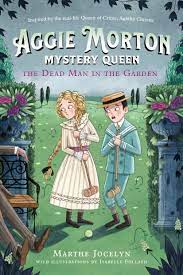 For the lovers of classic murder mysteries, I give you the perfect series for your tween daughter. Aggie Morton Mystery Queen series is a rough re-imagining of Agatha Christie as a 12 year old girl.
The stories have some gore, and they are MURDER mysteries. However, nothing horrible. And the literary style is simple, but with a good vocabulary. Meaning that it's written at a 10 year olds' reading level, with content that is appropriate for a 10 year old. I highly recommend it for ages 10 years old and up. (10 and up instead of 8 and up because of the…you know…murder.)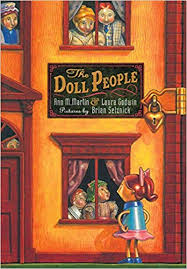 The main character of The Doll People is an 8 year old girl named Annabelle. Just a regular 8 year old, except for the one little issue that she's a china doll. Annabelle has to solve the mystery of where her aunt has gone, while facing the limitations of being 4 inches tall.
I love this series because of the real-to-life family dynamics, sibling kindness, and vivid imagery. Highly recommend for all ages! Listed reading level is 8 – 12 year olds. It has the occasional illustration, so if you have a very precocious 7 year old, you might be able to have them read it independently earlier. Content wise, it's fine for younger. (It's on this list of read aloud chapter books for families with wide age range of kids.)
(Heads up that this is the first book in a series. While all of the books are appropriate content wise for all ages, there is a death and a true "bad guy" in the second book. FYI if you have sensitive readers.)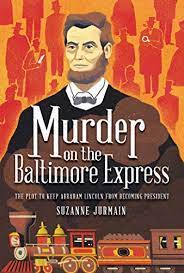 This one is perhaps not what you're looking for, but hear me out! It's a nonfiction book about an attempt to murder President Lincoln. However, it's told like a thriller! The main character is a detective trying to foil the plot to assassinate the president. There's a lot of history squeezed in the story, and readers should come away with a new found respect for Lincoln. (I am not a historian, so I'm not sure how accurate every detail is. But it's a fun historical clean mystery for tweens, even if it blurs the fiction/nonfiction line. It is marketed as nonfiction, so I'm assuming most of it is true.)
I recommend for ages 10 and up. I say start at age 10, and not younger, because there are a few swear words. Like, historical curse words in copies of letters. If you give it to younger kids, maybe take a sharpie to those words first.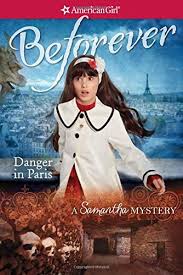 American Girls are smart, resourceful, and work hard. Thankfully, the publisher of these books is also a stickler about content, and they are all squeaky clean mystery books for tweens. Highly recommend for ages 8 to 12! And, because they are so very clean, you could read them aloud in your family to younger kids. (Caveat that I haven't read ALL of them, so do always preview first. Here's an easy how-to for previewing a chapter book.)
I also like the fact that many of the books feature minority characters from lots of different places in America.
Heads up that these are different from the "normal" American Girl books you might be thinking of from your childhood. Books called American Girl Historical Characters are the stories about the different girls. (Molly for life!) Those skew even younger than the mysteries, more like 7 to 10 year olds.
The mysteries that I'm recommending here are called American Girl Beforever Mysteries. They feature the same characters and the covers aren't that different, so it can be a little confusing. American Girl Beforever Mysteries are clean mystery books for tweens, whether or not they ever got into the American Girl thing. Girls do not have to read American Girl Historical Characters books to understand American Girl Beforever Mysteries.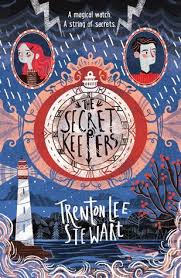 The main character in this magical mystery is a 12 year old boy. He has to solve a mystery around an old watch. The story is extremely fast paced, and will hold the attention of every adventure-lover.
There are WONDERFUL moral lessons in this mystery, too, about truth, and family, and doing the right thing. Plus, grownups aren't idiots. That can be hard to find in a book marketed to tweens. It is excellent.
I recommend this mystery for both genders ages 9 and up, as long as your 9 year old is ok with the fact that this is a truly deadly mystery in the book. (AKA, there are some intense parts.) Sweet spot would be tweens who resonate with the 12 year old main character.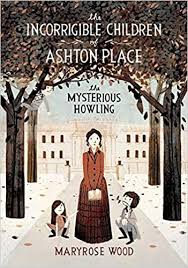 This mystery series, set in a time of petticoats and carriages, will capture any reader's imagination. Where did these wild children come from? And can their governess, Miss Abigail Lumley, solve the mystery while maintaining proper decorum? The writing style is almost Austen-like, with a female narrator who likes to use big words, and frequently ponders the people she meets.
This mystery series is meant for 8 to 12 year olds. However, the main character is 16, the and the sentence structure is fairly complex, so you could easily push that age older. Personally, I enjoyed it as a grown up.
Heads up that in the series there is some romance and crushes. Very minimal, and always age appropriate between adults, so I feel comfortable putting this series on this list. (And I'm PICKY about romance.) Also, the children are abandoned then adopted, but not adopted into a loving family. (Sort of like the Lemony Snicket books.) It could be an issue for some families. Letting you know in case you want to push back the age you put this series in your child's hands.
Related: Thorough Review of ALL of the Christian Picture Books About Adoption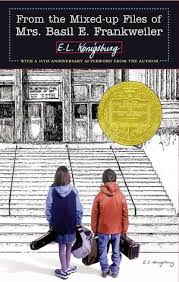 This classic mystery is a classic for a reason. It's a super engaging story about a brother and sister who run away, and find themselves in the middle of a mystery. I don't want to give much away, but I will say that they are seriously the most resourceful children ever. And I love the strong sibling relationship!
Because of the content, and how much they talk about school issues, I recommend this mystery book for ages 8 and up. Definitely for both genders – don't fear handing this book to your son, even though it's on a list for Nancy Drew-lovers!
Don't forget to tell your child, "In our family, we do not run away, and you can tell me anything."
Really can't say that enough. Especially when you're encouraging them to read excellent literature about running away!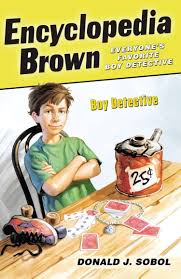 Don't forget these classic mysteries for tweens! Encyclopedia Brown solves mysteries for the neighborhood kids from his garage. The series is squeaky clean, no crushes, and good family dynamics. Heads up that there are bullies, but they always get their comeuppance when Encyclopedia solves the case.
Highly recommend these mysteries for ages 8 and up, or a 7 year old voracious reader. However, I do think the sweet spot is around 9 or 10 years old, because that's the age when the reader has a chance to actually figure the case out. They're a fast read, so get a few books from the series at a time!
These are also fun to read aloud to your kids starting at about 6 or 7 years old. We had a tradition when we went through them that if the kids figured out the right answer they could have ice cream for breakfast. It made them much more excited to sit and read together!
Related: What age should read Enola Holmes series?
Some Faith Based Books Like Nancy Drew
If you're looking for a Christian Nancy Drew…I don't have one to offer. However, these faith based mysteries for tween girls will appeal to your mystery lover, while teaching important Biblical truths!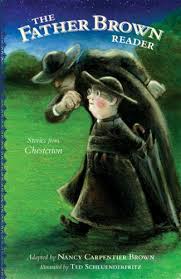 This adaptation of the original Father Brown mysteries makes these classic stories accessible to kids. (Also, if you're a grown up mystery reader who never got into the original Father Brown stories, this is a great option!) Even though the text is simplified, the stories aren't.
These mysteries for tweens have complicated mysteries, but they're clearly expressed in modern language, clearing up some of the complexities of Chesterton. Plus, there are all sorts of great moral lessons, and Father Brown always has a spiritual quip to takeaway. If you come from a similar faith background as us, you might have to explain a bit what a "Father" is.
HIGHLY recommend for ages 8 and up. (It might be a tad advanced if your 8 year old isn't a voracious reader, so don't worry if you need to hold back a few years. They really are good for ALL ages.)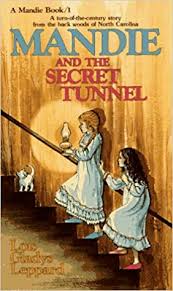 Mandie was THE Christian fiction series for kids of the 80s and 90s. They mystery series for tweens holds up today! Mandie solves mysteries all over the south with her family and friends.
Heads up that there are some crushes and a little romance in the books, especially the later ones. There is also a wicked-stepmother theme throughout the books, so be aware that may require a conversation. You should also know that in certain books the Native Americans seem very stereotyped. However, overall Mandie is proud of her Cherokee heritage, and has a diverse friend group.
I recommend this series for ages 9 and up, with the sweet spot being around 10 to 14. Don't be fooled by the title character being a girl – this series can be enjoyed by both genders.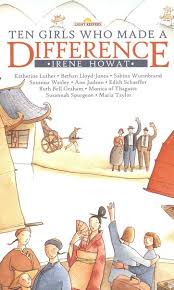 These faith based books are not mysteries. However, they provide amazing bright, brave female role models for our children, even better than Nancy Drew. Each chapter gives a brief look at a woman who lived for God. Some are famous, some are lesser known. All of them have characteristics we should emulate.
(Of course, it doesn't get into the intricacies of some of the situations, but it's for kids, so you can't expect a robust discussion of the economic impact of short term missionaries.)
Highly recommend for all ages to read aloud together. For independent readers, it is written fairly simply, and you could probably hand it to your 7 year old. The publisher recommends it for ages 7 to 12.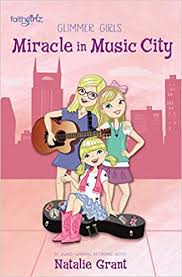 Full disclosure: this series to read before Nancy Drew is not a literary masterpiece. There are some vocabulary or storyline choices that I think…huh. That doesn't mean that your daughter won't love it. Glimmer Girls follows three sisters (blond, skinny, pretty sisters, making me say…huh) who travel with their mom, dad, and nanny. They solve mysteries, with a good dose of morals and occasionally God thrown in.
The girls are 10 years old, but this mystery series is definitely for a younger audience. You could easily read aloud to 5 year olds and up, or give to a first or second grader to read independently. It's definitely mystery-lite genre, and probably a little thin for well-read 9 year olds. However, it's squeaky clean, and an awesome way to introduce very young kids to mystery, without worrying about the content. Could also be great for female reluctant readers!